Brief Profiles of the NFC Teams for the 2011 Season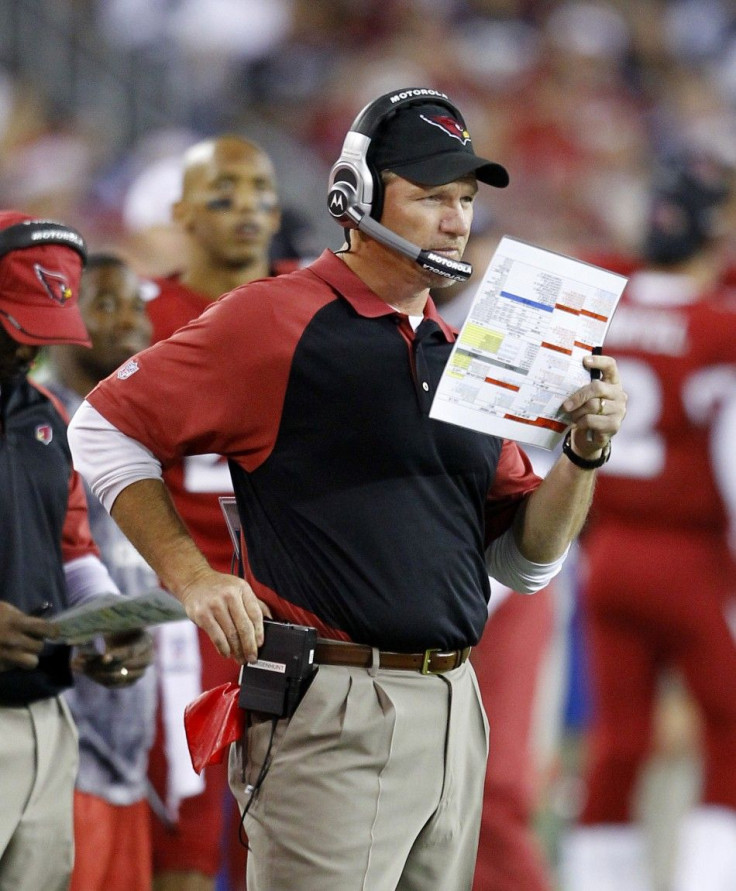 Following are brief profiles of the 16 teams in the National Football Conference (NFC) ahead of the 2011 National Football League (NFL) season.
- -
ARIZONA CARDINALS
Head coach: Ken Whisenhunt
2010 record: 5-11 (finished last in the NFC West one year after winning the division)
The offseason acquisition of former Philadelphia Eagles quarterback Kevin Kolb should give the Cardinals a much-needed lift but they will also need running back Beanie Wells to improve from a disappointing 2010 campaign.
- -
ATLANTA FALCONS
Head coach: Mike Smith
2010 record: 13-3 (finished top in the NFC South after recording a third straight winning season for the first time)
Led by quarterback Matt Ryan and beefed up by the addition of wide receiver Julio Jones, the team's explosive offense is again expected to flourish for these likely Super Bowl contenders. Defense should be much improved but there are a few question marks over their pass rush and secondary.
- -
CAROLINA PANTHERS
Head coach: Ron Rivera
2010 record: 2-14 (finished bottom in the NFC South just two years after heading the division)
Much will be expected of rookie quarterback and number one draft pick Cam Newton as the Panthers try to redeem themselves after a woeful 2010 campaign. Wide receiver Steve Smith, a 10-year league veteran, should benefit from Newton's arrival after failing to spark over the last two seasons.
- -
CHICAGO BEARS
Head coach: Lovie Smith
2010 record: 11-5 (finished top in the NFC North division and failed to make the playoffs for a third straight year)
Quarterback Jay Cutler should improve further in his second year under the guidance of highly-touted offensive co-ordinator Mike Martz. While the much vaunted Bears defense will again hinge on playmakers such as Julius Peppers and Brian Urlacher, the offensive line remains a problem.
- -
DALLAS COWBOYS
Head coach: Jason Garrett
2010 record: 6-10 (slipped to third in the NFC East)
Quarterback Tony Romo is back to full fitness after suffering a season-ending broken collarbone in 2010 and his return, along with the arrival of defensive coordinator Rob Ryan, should give Cowboys fans hopes of a much improved 2011 campaign.
- -
DETROIT LIONS
Head coach: Jim Schwartz
2010 record: 6-10 (finished third in the NFC North with an improved record after racking up 30 losses over the previous two seasons)
Much will depend on the health of quarterback Matthew Stafford, who has looked good in the pre-season but has already missed 19 games in his brief career. A consistently fit Stafford will spark one of the NFL's most explosive offenses.
- -
GREEN BAY PACKERS
Head coach: Mike McCarthy
2010 record: 10-6 (ended up second in the NFC North before going on to capture the Super Bowl)
The reigning Super Bowl champions will again by spearheaded by influential quarterback Aaron Rodgers and they are widely tipped to defend their title with the return to fitness of key playmakers Jermichael Finley, Ryan Grant and Morgan Burnett.
- -
MINNESOTA VIKINGS
Head coach: Leslie Frazier
2010 record: 6-10 (finished bottom in the NFC North just one year after advancing to the NFC Championship)
Much is expected of veteran quarterback Donovan McNabb, running back Adrian Peterson and new offensive tackle Charlie Johnson in an aging team that will need to make significant improvements in both offense and defense.
- -
NEW ORLEANS SAINTS
Head coach: Sean Payton
2010 record: 11-5 (finished second in the NFC South one season after claiming the team's first Super Bowl)
Backed by many as likely Super Bowl champions, the Saints beefed up their defense since last season and, with quarterback Drew Brees again calling the shots, boast one of the game's most lethal and unpredictable offenses.
- -
NEW YORK GIANTS
Head coach: Tom Coughlin
2010 record: 10-6 (finished second in the NFC East but missed the playoffs for the second straight year)
Quarterback Eli Manning is unlikely to throw as many interceptions as he did last year and the Giants possess one of the most talented rosters in the league. Much is expected of second-year defensive end Jason Pierre-Paul from a team that ranked a lowly 26th in total defense last season.
- -
PHILADELPHIA EAGLES
Head coach: Andy Reid
2010 record: 10-6 (headed the NFC East division but lost opening round of playoffs to Green Bay)
Electrifying quarterback Michael Vick and explosive running back LeSean McCoy will again make the Eagles highly competitive in a closely contested division. The offseason addition of former Pro Bowl cornerback Dominique Rodgers-Cromartie gives the team arguably the best secondary in the league.
- -
ST. LOUIS RAMS
Head coach: Steve Spagnuolo
2010 record: 7-9 (finished second in the NFC West just one season after posting the league's worst record at 1-15)
Further improvement is likely for the Rams this season with second-year quarterback Sam Bradford the best in the division. The addition of wide receiver Mike Sims-Walker and offensive co-ordinator Josh McDaniels should provide extra spark.
- -
SAN FRANCISCO 49ERS
Head coach: Jim Harbaugh
2010 record: 6-10 (finished third in the NFC West after ending a string of six consecutive losing seasons the year before)
Much will depend on quarterback Alex Smith regaining the form he showed in 2009 and whether the 49ers can improve significantly in offense. The team gained a welcome preseason boost when twice Pro Bowl running back Frank Gore agreed to a three-year contract extension.
- -
SEATTLE SEAHAWKS
Head coach: Pete Carroll
2010 record: 7-9 (Finished top of a weak NFC West despite stumbling through a losing regular season)
In Sidney Rice, Mike Williams, Zach Miller and Marshawn Lynch, the Seahawks possess an abundance of offensive playmakers but a team going through a steady rebuild will need quarterback Tarvaris Jackson to fire on all cylinders.
- -
TAMPA BAY BUCCANEERS
Head coach: Raheem Morris
2010 record: 10-6 (Finished third in the NFC South just one year after struggling to a dismal 3-13 record -- their worst since 1991)
Former first-round pick Josh Freeman enters his third year with many predicting he will become an elite quarterback and Tampa Bay's youthful offense can sizzle. However, question marks loom over a defense which can be hit or miss.
- -
WASHINGTON REDSKINS
Head coach: Mike Shanahan
2010 record: 6-10 (finished bottom of the NFC East for the third straight season)
Shanahan is pinning his hopes on the quarterback options of John Beck and Rex Grossman while much is expected of running back Tim Hightower who was acquired in a July trade. Overall, though, expectations are low for a team with a questionable defense.
© Copyright Thomson Reuters 2023. All rights reserved.