Bucks County, Pennsylvania: A Microcosm Of America's Post-War Suburban Sprawl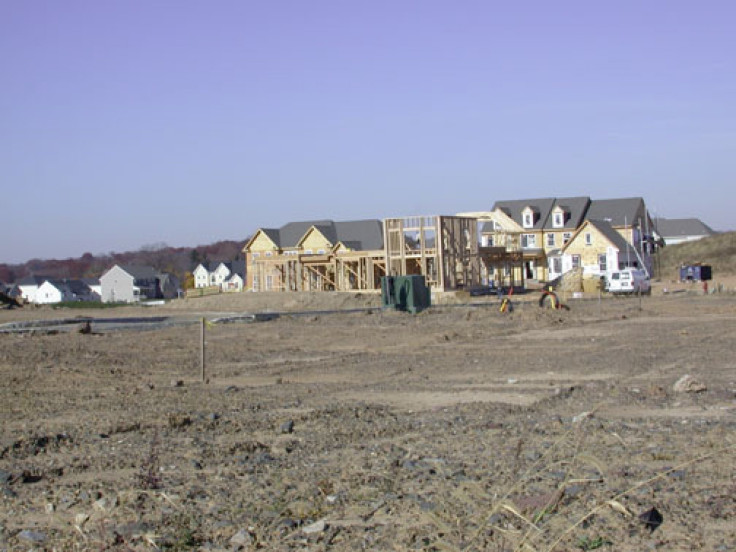 Bucks County in Pennsylvania, just to the north of the city of Philadelphia, is widely known as an affluent suburb with a long and glorious history stretching back to the days of William Penn.
Named after Buckinghamshire County in England, Bucks boasts beautiful farmlands, post-colonial-era architecture, including charming covered bridges, meandering streams and glittering lakes.
It has also served as the home of some prominent 20th-century Americans, including writers Pearl Buck and James Michener and cultural anthropologist Margaret Mead.
However, Bucks could also represent a microcosm of one of the most dominant and pivotal themes of post-World War II U.S. history -- the expansion of suburbia and concurrent gradual disappearance of unspoiled countryside.
With an estimated population of about 627,000, as of 2012, according to the U.S. Census, Bucks has witnessed a 30 percent jump in residents since 1980, and the population has more than doubled since 1960, according to local government figures.
As of 2010, the population density in Bucks County amounted to about 1,005 people per square mile, vastly higher than the 276 average figure for the state of Pennsylvania, and 81 for the country as a whole, Census data revealed.
Over the past three decades the rising population of Bucks and the nearby suburban counties of Chester, Montgomery and Delaware, accompanied a concurrent plunge in the population of Philadelphia. Between 1970 and 2012, the City of Brotherly Love lost almost one-fifth of its population, many of those who fled the city comprised the so-called "white flight" into the suburbs.
Bucks remains overwhelmingly white (90 percent of the population, according to U.S. Census); while only 3.9 percent are black, in a state where more than one in 10 people are African-American. However, as in many other regions of the state, Hispanic and Asian population numbers in Bucks are climbing (each group having almost doubled since 2000).
Bucks is also quite wealthy – the average median income for a household is about $76,000 (versus approximately $52,000 for Pennsylvania, according to Census data); while only about 5.2 percent of the county's people live below the poverty line (compared with 12.8 percent for all of Pennsylvania).
Real estate doesn't come cheap in Bucks either. The median value of owner-occupied housing in the county clocks in at $319,600, according to the Census, almost double the state's average figure of $163,200.
Bucks residents are also highly educated – Census data indicated that more than one-third (34.7 percent) of adults in the county hold at least a bachelor's degree (versus 26.7 percent for Pennsylvania as a whole).
Historically, Bucks' biggest employers were steel, waste management and chemical plants -- but now in the early 21st century, biotechnology is increasingly hiring local workers. By 2020, one-quarter of all Bucks residents are projected to draw their income from the biotech industry.
Politically, once a stronghold for Republicans (GOP presidential candidates Richard Nixon and Ronald Reagan easily attracted more than 60 percent of the vote), Bucks has since become more a "swing" district, supporting Democrats just as often as Republicans.
But the cost of all this growth, prosperity and success has been high -- that is, the gradual and perhaps irreversible destruction of Mother Nature in favor of housing developments, shopping malls, subdivisions, parking lots and office complexes.
Suburban sprawl in Bucks did not commence in earnest until the early 1950s with the founding of the second "Levittown" planned community, based on a successful prior model in Long Island, N.Y. Virtually synonymous with the very notion of "suburbia," Levittown, designed by William J. Levitt, provided affordable housing and backyards to thousands of former city-dwellers. At its peak, Levittown -- famous for its rows and rows of identical, cookie-cutter homes-- had almost 74,000 residents. Between 1950 and 1960, Bucks' population skyrocketed by 113 percent, according to the Bucks County Planning Commission.
By the 1970s, tract housing, shopping centers and other monuments to commercial progress proliferated across Bucks County – in the process, wiping out thousands of acres of farms and forest lands.
As long ago as the summer of 1992, Douglas Kane, professor of environmental design at Delaware Valley College, in Doylestown, Bucks, lamented the inexorable extent of suburban sprawl.
"The things we praise about Bucks County, we are destroying because of development," he told the Philadelphia Inquirer.
Kane also noted that the practices of some well-heeled homeowners of the post-war era – including the maintenance of large, well-manicured lawns – served only to deplete groundwater resources and further squeezed out farmers.
A blogger named David Hanauer documented Bucks' suburban sprawl in a photographic essay that depicted how new housing developments and roads have displaced pristine farmlands and forests.
Indeed, the U.S. Department of Agriculture reported that between 1950 and 1997, 70 percent of Bucks' farmlands vanished – with only about 84,000 such acres remaining.
In 2002, a Bucks resident named Kevin Corrigan complained to the local Daily Intelligencer newspaper: "We're losing not only our agricultural and natural heritage, but the very reason why people want to move here and stay here and raise their children here."
Mark Arbeter, 53, the chief technical strategist at Standard & Poor's, is a lifelong resident and has witnessed the dramatic changes in his hometown and environs. He recalls the charm and natural beauty of Bucks of his youth.
"I was blessed to grow up in the country, and that's just what Bucks County was in the 1960s, 1970s, and [even into the] 1980s," he told IB Times.
"My house was situated on five acres with the back property line bordering the Neshaminy Creek. On the north side of our property, our neighbors lived in a gorgeous house built in the 1700s with many fireplaces and a spiral staircase. On the south side, our other neighbors lived in a beautiful stone house built in the 1800s. Out front and across the road was a farmer's field. So, in a simple way, my immediate neighborhood symbolized what Bucks County once was: a rural, farming community with incredible history and architecture."
Arbeter noted that as a child, he could walk along the banks of the Neshaminy Creek for hours, traversing miles of beautiful countryside and never see another person, a road, or a house.
But that Eden would not last.
Indeed, the Bucks County Planning Commission reported that between 1990 and 2009, the percentage of real estate occupied by residential units (single-family, multi-family and rural) increased from 40 percent to 45 percent. Lands defined by the commission as "agricultural" or "undeveloped" fell from 38 percent to 25 percent of the total.
Between 1990 and 2009, "agricultural" lands alone lost 7 percent, or about 27,000 acres, while "undeveloped" land lost 6 percent, or almost 24,500 acres. Combined, more than 50,000 acres of both undeveloped and agricultural land had vanished in just two decades, the group stated.
"As with undeveloped land, agricultural lands will continue to face development pressures in the future," the commission noted.
Arbeter lamented that if one were to utter words like "four-lane highways," "shopping malls," "strip malls," "fast food joints," "housing developments," "condos," "townhouses," etc. during the 1960s or 1970s, he wouldn't have known what they were talking about.
"I don't really know exactly when the beautiful landscape started to get gobbled up, but it has transformed and scarred a lot of the county forever," he said.
"Some call it progress, I call it devastation. It is honestly very hard for me to drive anywhere near where I grew up. Housing developments on top of stores on top of traffic lights on top of new schools on top of a massive population explosion."
But suburban expansion in Bucks may need to continue -- for one thing, more homes will need to be constructed to accommodate an ever-rising population. The Delaware Valley Regional Planning Commission projects that Bucks' population will climb to more than 727,000 by the year 2040, a 16.3 percent jump from 2010 and one of the fastest rates of growth in the Delaware Valley.
By 2030, when Bucks' population is expected to reach between 678,000 and 692,000, the number of residences could amount to up to 280,000 units, up from about 246,000 in 2010. Of course, all these new housing units will require more precious space.
The continuing weak economy in tandem with rising population will give Bucks some serious headaches in the coming decades.
Leigh Gallagher, a native of Delaware County who authored a book entitled "The End of the Suburbs: Where the American Dream Is Moving," noted that, as poverty levels have arisen in a suburban belts around the county, due to a confluence of factors, including steep unemployment and the housing mortgage crisis, not even Bucks has been spared.
"Sprawl development continues to hinder us economically, environmentally, and socially -- traffic congestion keeps getting worse, our natural and agricultural heritage has become more fragmented and diminished, and our neighborhoods remain disconnected from each other," warned the commission.
Arbeter offered some consolation, however -- despite the massive changes he has witnessed in his native Bucks some parts of the country indeed remain beautiful, untouched and pristine, particularly in Upper Bucks (the northern corner of the region). For example, one of the saving graces of the county, and woefully underrated as a scenic and recreational attraction, he noted, is the 41-mile-long Neshaminy Creek.
"The creek winds its way through a major portion of the county, until it finally flows into the Delaware River," he said. "Because of its length and the wild course it sometimes takes, it has long created a buffer from development. This can also be said about the Delaware River, at least in some areas."
In addition, Arbeter thinks suburban sprawl in Bucks may have already reached its limit or at least will appreciably slow down in the coming years, despite the projection from local government officials,
"In some areas, of course, sprawl may persist," he said. "However, in many areas, unless another farm goes under the attack of the bulldozers, there just isn't a lot of open and available space for further building."
Arbeter also indicated that the collapse of the housing market in 2007-08 certainly delayed many such development projects in Bucks.
"But as things improve, I'm sure they will eventually be completed," he said.
"As far as I can see, we did not have a huge increase in housing prices during the boom years, so we never really had a major housing recession during the bust years. Yes, things slowed down, and prices adjusted downward, but it was no way near the devastation seen in other parts of the country."
R. Scott Ziegler, an architect with Ziegler Cooper Architects in Houston, pointed out some of the problems the United States is expected to face in the coming decades with respect to population growth and suburban expansion.
Population is expected to continue climbing, but suburbs may have outlived their usefulness.
"We have entered a new era of urbanization, where undoing the damage of sprawl has become the greatest urban challenge of the 21st century," he wrote.
"Throughout the 20th century suburban sprawl was a way of life. Today, our suburban communities have become cumbersome to navigate and their infrastructure costly to maintain. Low-density development will continue to destroy our natural areas by paving and developing greater swaths of land, increasing air and water pollution, escalating our infrastructure costs and degrading our quality of life."
Moreover, suburbs have becomes less attractive places to live, particularly for the aging Baby Boomers and now the Millennials.
"The 2008 financial and foreclosure crisis along with soaring gas prices, has forced more people to rent and relocate to ... neighborhoods adjacent to large employment centers," he noted.
The Brookings Institution estimated that the U.S. population will jump to more than 376 million in 2030, an increase of 94 million since 2000, creating about 34 million new households.
"This explosion of new households and renters is having a profound impact on the landscape of American cities as we brace ourselves for strong urban growth, where we are already seeing an increase in real estate values," Ziegler said.
But where will all the new Americans live? Probably in urban centers, as the high cost of gasoline and a distaste for long commutes will force more people to live closer to large employment centers -- i.e., large cities, not suburbs.
Perhaps this suggests that suburban sprawl has already hit a dead-end, partly because there is nowhere left to build, and because Americans will gradually be compelled to abandon their once beloved suburbs.
Gallagher, who is also an assistant managing editor at Fortune magazine in New York, told IB Times that she thinks suburban sprawl has "paused" everywhere, pending the revival of the housing market.
"One of the main arguments I make in my book is that when [the housing market] comes back, developers are going to build different kinds of communities," she said. "They are already trying to. That applies to Bucks County and to suburban areas everywhere."
FOR FREE to continue reading
✔️ Unlock the full content of International Business Times UK for free
offer available for a limited time only
✔️ Easily manage your Newsletters subscriptions and save your favourite articles
✔️ No payment method required
Already have an account?
Log in
© Copyright IBTimes 2023. All rights reserved.