Cadel Evans playing a better Leipheimer than Leipheimer at Tour de France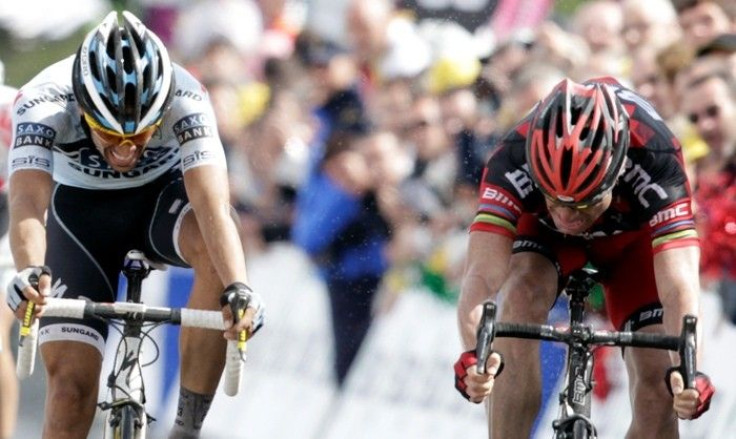 RadioShack leader Levi Leipheimer's racing style was on full display before the Tour de France began, when he surprisingly won the Tour of Switzerland.
Damiano Cunego, the race leader before the final time trial was doing a superb job dominating on the mountain stages. Leipheimer seemed content to sit back in second place, and limit his losses on the climbs.
Then, out of nowhere, Leipheimer put on a superb final time trial and overtook Cunego by only 4 seconds to win the race.
Leipheimer's strategy was frustrating to some fans who wanted to see a winner with an attacking style, like Alberto Contador who is known for having some viscous accelerations up climbs.
I have to calculate, Leipheimer said about his style of racing. The goal is to get from Point A to Point B in the least amount of time possible.
That's how I've always raced, Leipheimer added.
In the Tour de France, Leipheimer is not doing nearly as well sitting in 25th place 16:48 back after Stage 14. He has lost time due to crashes, but also hasn't been able to stay with the contenders on the climbs.
Instead, the rider doing his best Leipheimer impression at the Tour de France is Australian rider Cadel Evans of BMC.
Evans is sitting in 3rd place in great position, two minutes behind race leader Thomas Voekler, but more importantly sandwiched in between Frank and Andy Schleck in the GC standings.
Stage 12 and 14 featured some of the hardest final climbs in the Pyrenees. Frank made multiple attacks on Stage 12, while Andy did the same on Stage 14.
Both times, Evans followed their wheels and limited his losses, not launching any concerted attacks on both the stages.
In fact, Evans' team appears very content with the style of racing which is reminiscent of Leipheimer's strategy in the Tour of Switzerland.
In our situation, we don't have problems, BMC team manager John Lelangue told Cycling News after Stage 14.
We're in a situation where we can play defensively. We had to react to different attacks and reacted each time, whether it was to Frank or to Andy or to (Ivan) Basso.
The reason for this is that the Schleck brothers are well known for their individual time trial struggles, which they will have to do on Stage 20.
In particular brother Frank, who is 17 seconds in front of Evans will probably lose much more than that on the time trial.
Andy isn't much better, though he performed admirably in the final time trial last year, limiting his losses to Contador, but still ceding the yellow jersey.
In fact, the rider Evans may have to worry about the most is Contador, who is less than 2 minutes behind Evans.
Contador has proven excellent in the final time trial and if Contador's reported knee trouble heal before the Alps stages, Evans will need to stay on Contador's wheel if he launches any of his trademark attacks.
Another rider to worry about is Frenchman Thomas Voeckler, who currently holds the yellow jersey, over 2 minutes ahead of Evans. Voeckler has been the revelation of this year's Tour battling his way with the contenders up the Pyrenees.
It remains to be seen if Voeckler can hold it up through the Alps, but if he falters, Evans just needs to stay with the elite group up the Alps stages.
If Evans can do that, he may just time trial his way to the yellow jersey on Stage 20 and win the whole race.
Evans' strategy, though perhaps frustrating to fans, would win him the Tour de France, just like how Leipheimer won the Tour of Switzerland.
More Tour de France Coverage
READ: Thomas Voeckler: Superstar of Tour de France 2011

READ: Vanendert wins stage, Voeckler keeps Tour lead

READ: Tour de France (Live Coverage - Stage 14)
© Copyright IBTimes 2023. All rights reserved.