California Drought 2014: 'Exceptional' Drought Levels Now Cover More Than Half The State; Soil Water Levels 'Nearly Depleted'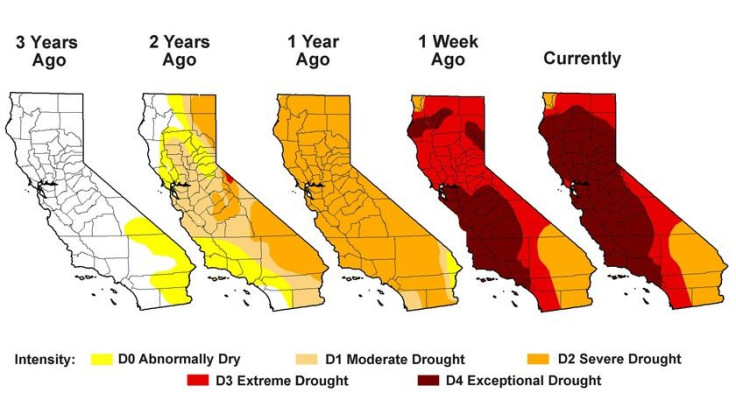 California's crippling three-year drought is spreading like a wildlife, its flames now lapping nearly every corner of the Golden State.
"Exceptional drought" -- the highest of the U.S. Drought Monitor's five ratings -- now covers 58 percent of the California, up from 36 percent a week ago, as the drought expands northward. The agency defines this level as causing widespread crop and pasture losses and shortages of water in reservoirs, streams and wells that can create water emergencies.
All of California is in "severe drought," and 82 percent is considered "extreme drought," the agency said in its latest update. Water reserves in the state's topsoil and subsoil are nearly depleted, while the state's rangeland and pastures were rated 70 percent very poor to poor on July 27 by the U.S. Department of Agriculture. The USDA said that "range and non-irrigated pasture conditions continued to deteriorate," and in recent days "new wildfires have collectively charred several thousand acres of vegetation in northern and central California," according to the Drought Monitor.
Earlier this month, California researchers found that drought is expected to cost the state's economy $2.2 billion this year, including about $1.5 billion in lost crop revenues and dairy and livestock value. More than 17,000 seasonal and part-time jobs could also be lost in 2014 lost due to declining agricultural productivity.
The struggle to find enough water supplies is causing farmers and residents across the U.S. Southwest to tap unprecedented levels of groundwater, researchers at NASA and the University of California at Irvine said last week. In a new report, they found that since 2004, the Colorado River basin has lost 53 million acre feet, or 17 trillion gallons, of water. That's nearly twice the volume of Nevada's Lake Mead -- the nation's largest reservoir -- and is enough to supply more than 50 million households with water for a year.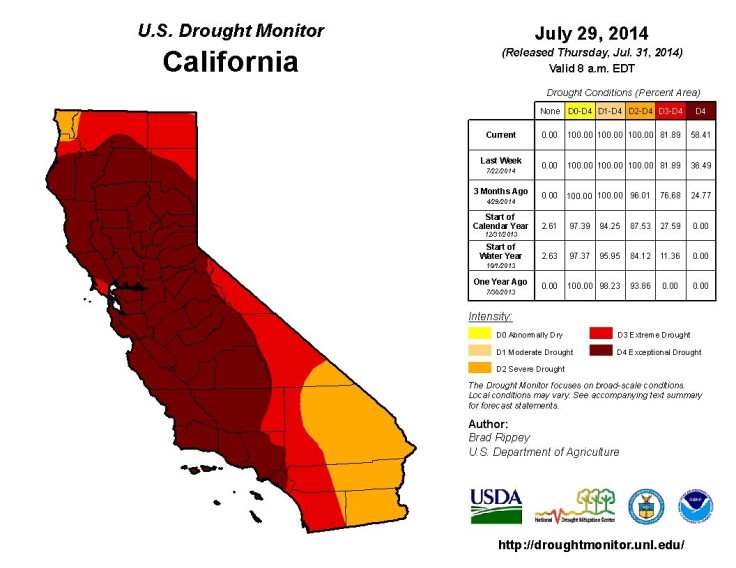 © Copyright IBTimes 2022. All rights reserved.
FOLLOW MORE IBT NEWS ON THE BELOW CHANNELS