California Wildfire Forces Evacuation Of Thousands, Doubles In Size, Threatens Structures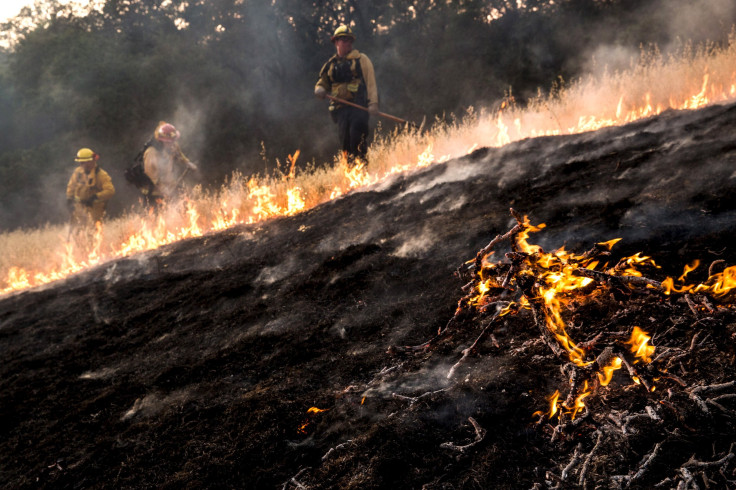 A wildfire in northern California prompted the evacuation of thousands of people as it doubled in size Sunday, threatening thousands of structures. The blaze, north of San Francisco, has been raging since Wednesday.
Jody Traversaro, regional administrator for the California Office of Emergency Services, reportedly called the blaze's overnight doubling in size an "unprecedented behavior." The wildfire, which has spread across an area of 54,000 acres east of Lower Lake, a town about 110 miles north of San Francisco, was the most dangerous of the 20 large fires across the state, authorities reportedly said. The fire, which has destroyed 24 homes and 26 structures, threatens 6,300 buildings, the Associated Press reported. More than 9,000 firefighters were working to quell the fast-moving blaze, of which only 5 percent has been contained so far.
Nearly 2,000 firefighters Sunday were battling another wildfire -- the so-called Rocky Fire, which started burning east of Clear Lake in California Wednesday.
"Firefighters continue to construct fire lines in an effort to achieve full perimeter control," the U.S. Forest Service, said in a statement, according to Los Angeles Times. "Damage assessment teams have begun initial assessments based on access through fire affected areas."
About 12,000 people across the state have been ordered to evacuate, Los Angeles Times reported. Authorities reportedly said that the main causes of the nearly two dozen wildfires that have engulfed the state in the past week are dry thunderstorm, lightening and wind. A firefighter was killed late last week at the scene of a wildfire at the Modoc National Forest, about 100 miles south of the Oregon border.
Gov. Jerry Brown has declared a state of emergency in California and ordered the California National Guard to help with disaster recovery.
"There are pretty widespread evacuations," Brad Alexander, chief spokesman for the governor's emergency services office, reportedly said. "The big issue is this is an area that hasn't had burning in several decades.
"They've got chaparral that is over 6 feet tall," Alexander said, adding: "When you have vegetation that big and dense in an area like that it is going to cause flames to race up and down canyon walls and hillsides."
© Copyright IBTimes 2023. All rights reserved.