Carmelo Anthony Cements His Place In NBA History
Carmelo Anthony might be one of the most polarizing superstars in NBA history, but there is no doubt that he's one of the top offensive players the league has ever seen. The veteran reached 10th place on the NBA's all-time scoring list Monday, surpassing Elvin Hayes with 27,318 career points.
Anthony solidified his spot as a top-10 scorer with 14 points in the Portland Trail Blazers' loss against the Atlanta Hawks. The 36-year-old has seven more games this season to catch Moses Malone, who is just 91 points away in ninth place.
"Being in the top 10 in a really special accomplishment," Blazers guard Damian Lillard told reporters. "For him, it's probably a little more special. A lot of people counted him out and tried to finish him."
It appeared that Anthony had played his final NBA game two years ago when he was released by the Houston Rockets. Anthony revived his career in Portland, becoming a key role contributor on a playoff team. Anthony is averaging 13.6 points per game and shooting 40.5% from three-point range 18 years after he was made the No. 3 overall pick in the 2003 NBA Draft.
"Top 10 in anything of all time is a special thing," Anthony said. "I don't want to take this moment for granted. I understand how big this moment is. It don't seem real because I'm still in it, I'm still doing this."
As a member of that historic draft class, Anthony's legacy has often been compared to that of LeBron James, Dwyane Wade and Chris Bosh. James, of course, is the best of the group, in the conversation for the greatest basketball player of all time. Wade and Bosh won multiple championships with the Miami Heat.
Anthony has been criticized for never even reaching the NBA Finals, but his career numbers and accolades make him a first-ballot Hall of Famer and one of the best players of his generation.
Anthony is a 10-time All-Star with two All-NBA Second Team appearances and four selections to the All-NBA Third Team. The forward won the scoring title in 2013 when he finished third in MVP voting and led the New York Knicks to their best season of the last two decades.
For his career, Anthony has averaged 23.0 points, 6.3 rebounds and 2.8 assists per game. He averaged more than 25.0 points per game in eight different seasons.
Anthony's longevity has further cemented his place in history. James and Anthony are the only two players from the 2003 draft still active in the league. Anthony joined the NBA after leading Syracuse to the national title as a freshman, while James skipped college altogether.
During his time in Portland, Anthony moved past the likes of Hakeem Olajuwon, Oscar Robertson, Dominique Wilkins, Tim Duncan, Paul Pierce and Kevin Garnett on the all-time scoring list.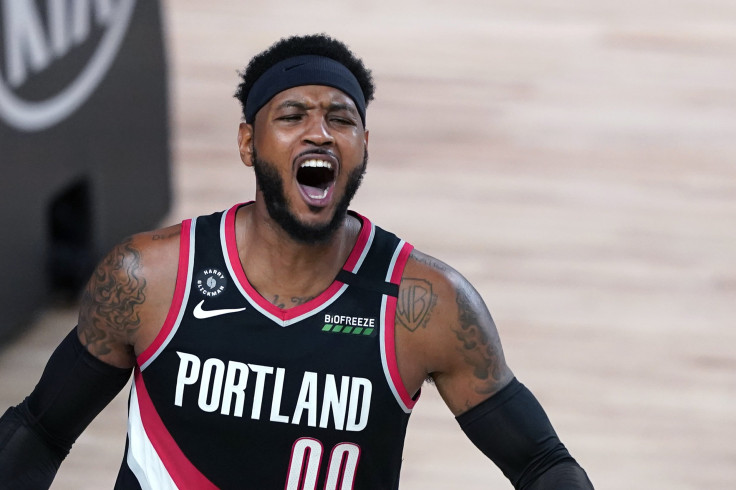 © Copyright IBTimes 2023. All rights reserved.