Carrier Number 4? Satellite Images Trigger Rumors That China Has Begun Preparations For Type 004
KEY POINTS
Defense analysts believe China has begun pilot training preparations for a fourth carrier
This is also the first time analysts are getting a comparative view of the aircraft
China recently released a video implying the third aircraft carrier is coming soon
Days after China hinted that its third aircraft carrier will be unveiled soon, satellite images from a naval airbase suggest that the People's Liberation Army (PLA) might actually be developing its fourth aircraft carrier.
Satellites have spotted two FC-31 Gyrfalcon stealth fighters lined up along with J-15 carrier-based fighter jets at the PLA flight training facility in Liaoning province. According to defense analysts, this suggests that China has begun pilot training preparations for a fourth aircraft carrier, reported South China Morning Post.
However, it is not yet clear whether work has started on Type 004. The third carrier, Type 003, is expected to be commissioned soon with sea trials planned.
Besides, this is also the first time that analysts are getting a comparative view of the aircraft. The images showed the two FC-31s – fifth-generation stealth aircraft – to be slightly shorter than the J-15s. Their dark grey livery identified them as stealth warplanes.
According to the report, their side-by-side appearance hinted that the FC-31 might also become a ship-borne fighter jet like the J-15. The J-15s, also called the "Flying Sharks," are deployed in China's first two aircraft carriers, the Liaoning and Shandong.
The testing and training complex where these jets are stationed is dubbed China's own "Nitka," named after the Soviet-era training range in Crimea. "Nikta" is said to have inspired the complex at the Chinese base. The training site boasts ski-jump simulating ramps and catapult systems suited to the flat-top flight decks.
Recently, as part of the PLA Navy's 73rd anniversary, China released a video that implied that the country's third aircraft carrier is coming soon. The sea trials for the same are expected to begin soon and will serve as a reference point for future Chinese aircraft carriers. As part of its modernization process, China had already revealed its plans to build at least four aircraft carrier strike groups by 2030 to become the world's second-biggest modern bluewater navy after the U.S.
While the three carriers, including Liaoning and Shandong, are conventional diesel-powered platforms, the fourth one will likely be powered by nuclear reactors.
Meanwhile, although the FC-31s were spotted at the base, analysts said it is unlikely that stealth jets would be used for future carriers. According to them, the J-15 would remain the sole active ship-borne fighter jet for the Type 003, as well as the Liaoning and Shandong. "The FC-31 is still a test aircraft that is yet to be reserved by the PLA Air Force or Navy under their formal development programs," a source told South China Morning Post.
Beijing-based naval expert Li Jie also thinks flight safety was a key concern. "It's too risky to fly new aircraft on a totally newly designed aircraft carrier," Li told the news outlet.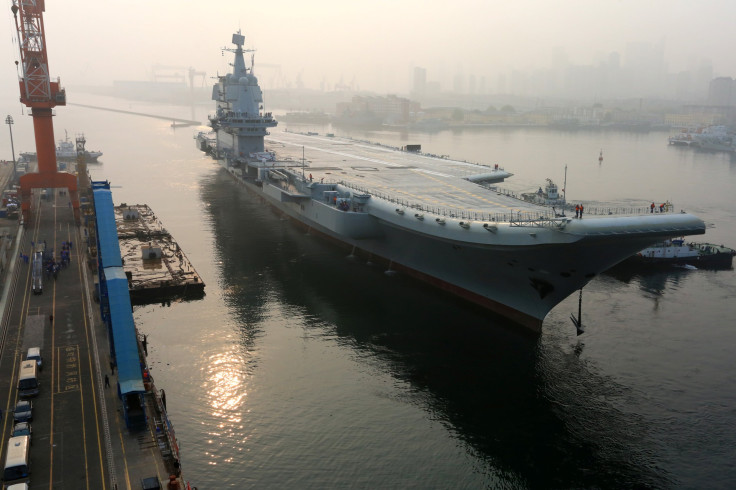 © Copyright IBTimes 2023. All rights reserved.