Chelsea News: Arsenal Takes Lead In Willian Sweepstakes, Offers Three-Year Deal
KEY POINTS
Chelsea await Willian move after offering three-year deal
Willian expected to sign contract and stay at Stamford Bridge
Willian still questionable for Champions League clash with Bayern Munich
Chelsea F.C. gave in to the three-year deal wish of Willian Borges da Silva and now await his decision. FC Barcelona and Inter Miami are other clubs interested in the Brazilian but pundits feel that the Blues are now in the lead.
According to Sky Sports, Chelsea formally made the three-year contract offer to Willian. However, the report also said that it was way short of the terms offered by Barca and Inter Miami.
Now, the attention shifts to Willian. Last month, the Brazilian was quoted saying he would immediately sign once a three-year deal is given to him.
"This is what I asked the club for, three years of contract. If you give me that, I'll get the pen and sign the contract tomorrow," Willian said.
Before the recent offer, the Blues initially offered Willian only a two-year pact. That led to speculations of a potential exit by the Brazilian with multiple teams interested in taking him in. Aside from Barca and Inter Miami, Willian also drew interest from Arsenal and Manchester United.
At his age, Willian wants to secure his financial future. He knows that this could be the last chance that he can get a huge contract and wants to make the most out of it. Before his current injury, the Brazilian was performing well. He made 47 appearances across all competitions for the Blues. He finished the Premier League season with four goals to his credit.
Willian failed to play in the FA Cup and remains questionable for the Blues in their Champions League clash against Bayern Munich this weekend. But looking ahead, Willian is a vital piece to Frank Lampard's plans.
Chelsea plans to address its defensive shortcomings and need to sell some players to do so. The Blues spent huge for Timo Werner and Hakim Ziyech and need the right budget to take in the right players.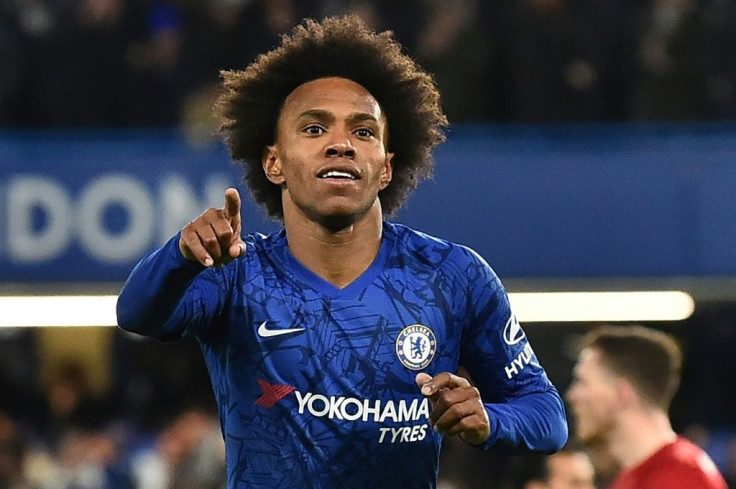 Among the names still on Lampard's list include Kai Havertz. No formal offers have been made for the German though Petr Cech is set to fly to Germany this week and meet with club representatives. Bayer Leverkusen is seeking roughly $88 million for the German midfielder.
© Copyright IBTimes 2023. All rights reserved.