Chinese New Year 2017 Animal: Year Of The Fire Rooster Zodiac Sign, Meaning Explained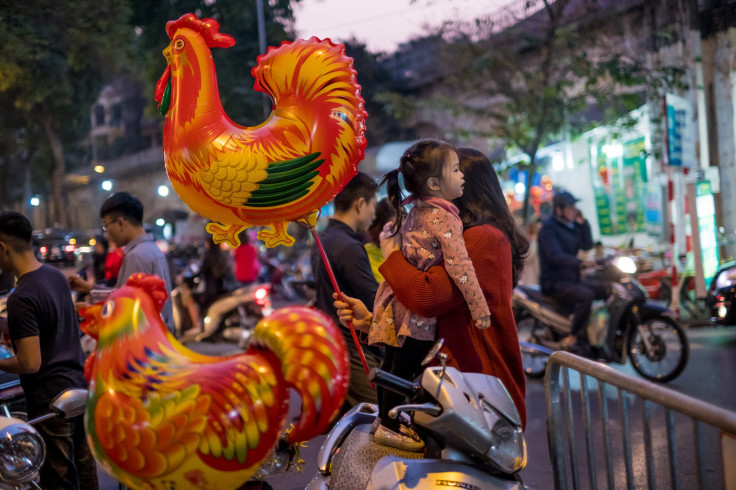 Welcome to the year of the rooster.
The Chinese New Year starts Saturday, and so do the celebrations centered around traditions like honoring the lunar calendar, preserving luck, exchanging money and gathering with family. And if you find yourself watching a fireworks or buying Chinese New Year merchandise, you'll notice rooster decorations partying alongside you.
2017 is a fire rooster zodiac year in Chinese astrology, and that means the next 365 days and the people born during them will take on certain attributes.
For example, roosters are active, responsible, honest and outspoken, according to China Highlights. They like to brag and live healthy lifestyles, and they're in good company: Comedian Stephen Fry, composer Hans Zimmer and director Dolph Lundgren are all fire roosters.
"Fire by its very nature is the element associated with brilliance, warmth, passion, spark," Zhao Li, director of the China Culture Centre in Sydney, Australia, told the Canberra Times. "So a brilliant and enthusiastic rooster, combined with the salient characteristics of fire, heralds an enterprising and fruitful year, a year of results, achievements. This year we can fulfil all of our dreams."
Unfortunately, tradition dictates that if your zodiac sign matches the current year's, you're going to be unlucky. But there are a few actions you can take to hold on to every piece of good fortune possible. Roosters seeking blessings should seek out gold and brown, their lucky colors, use 5, 7 and 8, their lucky numbers, and check out gladiolas, their lucky flowers.
"Unlucky folks are also encouraged to make merit, do good deeds and engage in charity. To lessen the impact, they can ask for blessings at nine temples and pray to Tai Sui Chinese deities, who determine fate and fortune," feature reporter Kanokporn Chana Songkram wrote in the Bangkok Post recently. "Applying feng shui practices, such as wearing lucky charms and placing ornaments in the house and office, will further help attract positive energy and dispel bad luck in order to get through an anticipated tough year."
© Copyright IBTimes 2022. All rights reserved.
FOLLOW MORE IBT NEWS ON THE BELOW CHANNELS