Chris Pronger Injury: Could Eye Injury Lead to Mandatory Wearing of Visors in the NHL?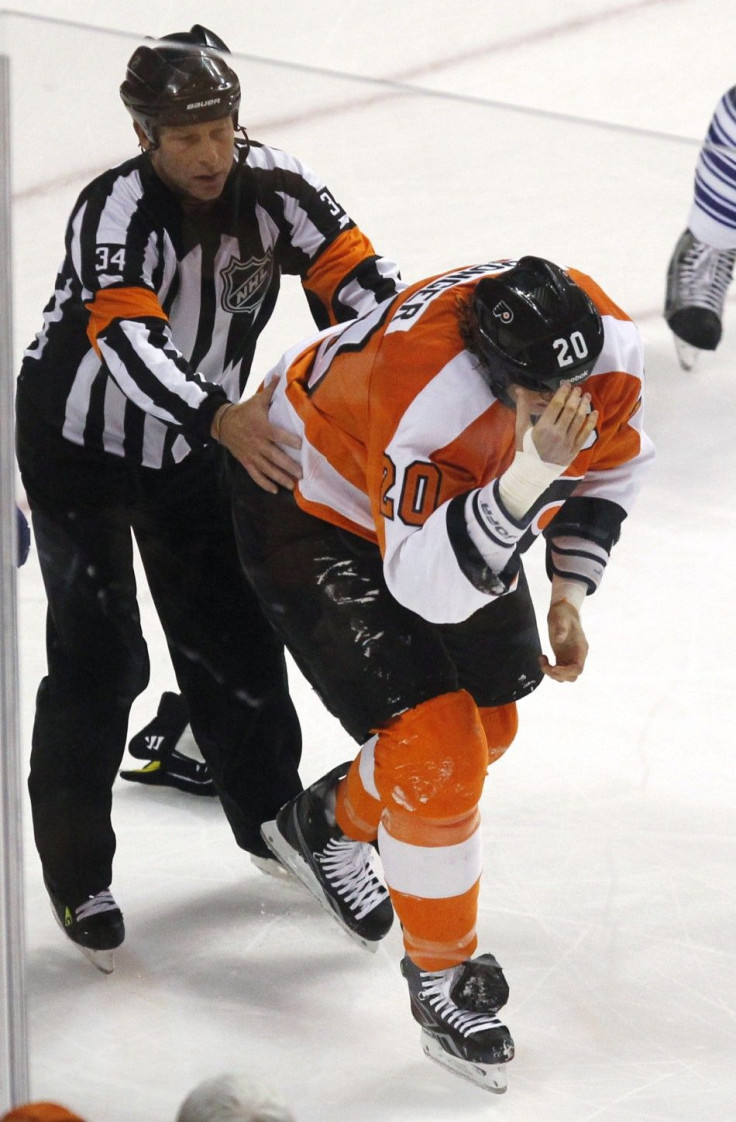 Chris Pronger is helped off the ice after suffering an eye injury Tuesday night.
Chris Pronger suffered what appeared to be a gruesome eye injury Monday night, overshadowing the Philadelphia Flyers' 4-2 victory over the Toronto Maple Leafs and re-opening discussion about the possibility of mandatory visors or shields in the NHL.
On the video, you see the Maple Leafs' Mikhail Grabovski try to shoot home a rebound. But as he follows through, his stick catches Pronger in the right eye. He immediately falls to the ice, and his screams are audible.
Helped by a teammate and a referee, Pronger scurried his way to the Flyers' locker room. He was running on his skates as he moved past the bench, so urgent to get to the locker room.
Flyers GM Paul Holmgren told reporters after the game that Pronger suffered a cut on the outside of his right eye. He will remain on bed rest for three to four days to let swelling subside, and then he will be reevaluated.
Holmgren said that Pronger, a 17-year veteran and the Flyers' captain, could return to the team's lineup in three to four weeks.
Pronger does not wear a visor. So, the injury has reignited some debate about whether visors should be mandatory in the NHL. For his part, Pronger will wear one when he comes back to the ice, Holmgren told reporters.
Holmgren followed that up by saying he thinks visors should be required for all players.
We made it mandatory in the American Hockey League. To me, it's not an issue - players should wear them. Obviously, some of these guys have been around a long time and for whatever reason they don't want to wear one.
I think the improvements with the visor over the last number of years, compared to what it was 10 or 15 years ago, are tremendous. Other than getting a little sweat on there sometimes, or maybe a little water, I don't think the visor is a big issue.
But the problem reared its ugly head on Tuesday.
According to Philadelphia Sports Daily, there are only six players on the Flyers to currently not wear a visor based on personal comfort -- Pronger, Max Talbot, Andreas Lilja, Jody Shelley and Matt Walker. The reasons vary. Walker said he's not comfortable wearing one. Lilja said he's not comfortable seeing through it.
It's a personal choice, Walker said. Some guys have obviously worn themtheir whole life and are fine with them.
I tried a bunch of times, Lilja said. I want to wear a visor, but I can't. I can't see in it.
Whatever the case, the visor issue seems to be this hockey generation's debate -- much like helmets were in the 1970s. Currently, the AHL requires visors. The NHL only strongly recommends them.
The NHL has experienced a number of high-profile incidents with eye injuries that could have been prevented by a visor. The Flyers' Ian Laperriere suffered a brain contusion when he was hit in the face with a shot in the 2010 NHL playoffs. He returned and said he would wear a visor for the rest of his career, saying the previous incident was the last warning.
And all the way back in 2000, Maple Leafs defenseman Bryan Berard lost most of the vision in his right eye after he was hit with a high stick.
Perhaps the most telling quote coming from Tuesday night's aftermath was one from Holmgren.
I'm not sure our doctor would clear Chris to play if he wasn't wearing a visor, Holmgren said. I think Chris was really scared by this incident here tonight. I would like to believe that he would want to wear one.
Pronger isn't a special case. This can happen to anyone in the wrong place at the wrong time. If Pronger isn't cleared to play, why should anyone else? Or will players and the NHL continue to wait for something catastrophic to happen before taking full action?
© Copyright IBTimes 2023. All rights reserved.