Cleveland Cavaliers News: Tyronn Lue To Return Thursday Against Washington Wizards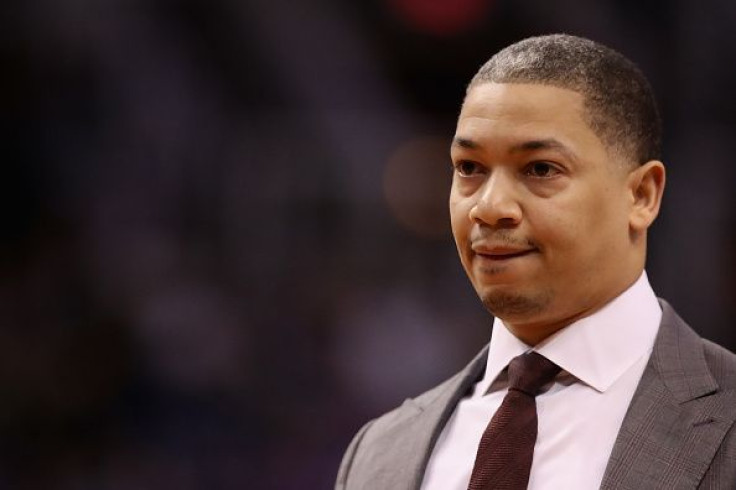 Cleveland Cavaliers head coach Tyronn Lue will be returning to the court Thursday against the Washington Wizards after a nine-game absence.
Lue has not overseen a game since failing to see out the 114-109 win over the Chicago Bulls at the United Center on March 17 where he did not return for the second half of the game.
Following that game, LeBron James stated the 40-year-old's absence was affecting the Cavaliers who had already been struggling this regular season with various injuries.
"I mean he's the captain of the ship, so absolutely," James said, when asked if the team was being impacted by his absence. "We worry about his health, obviously. That's way more important than this game of basketball. We know he's been doing everything he needs to do to stay healthy -- (maybe he should) take even more measures to get himself right."
"Everything that's been going on with our year, it's just another one. It doesn't catch us off-guard because he's been dealing with it for so long now but anytime he doesn't come back to the bench, it's just an alarm going off, obviously. Like I said, his health is more important. He's not going to talk about it so I don't want to talk about it no more either. That's just how he is and I don't want to get too much into it," James added.
Being the third time this regular season that he missed portions of a game due to what has been reported as health problems, Lue stepped aside indefinitely with assistant coach Larry Drew temporarily taking over his coaching duties.
Since then, the Cavs (48-30) have put together a solid 8-1 run over the last two weeks and with the team seemingly peaking at the right time ahead of the NBA playoffs, they will be boosted by Lue's return, who, according to sources close to Cleveland.com, is ready to resume his coaching duties.
The report adds that he had been suffering from various symptoms such as chest pain and sleep deprivation. However, he has since taken medication, changed his diet, adjusted his sleeping patterns and begun an exercise program, while recently being around the team before and after games at their training facility in Independence, Ohio.
"He's [Lue] kind of been gradually getting back into it," Drew said Tuesday before the win over the Toronto Raptors. "I can see that the guys have already embraced him. So it's just a matter of him being more hands on now once he does get back."
"He wants us to play fast as well," shooting guard Rodney Hood said, as he compared Lue to Drew. "I think it will be the same. We're very happy to having him back. We look forward to having him back, having his voice back in the locker room."
The Cavaliers are No. 3 in the Eastern Conference with just four games remaining in the regular season as they now hope to win a second NBA title in three seasons with the playoffs beginning on April 14.
© Copyright IBTimes 2023. All rights reserved.