Coronavirus Update: 70% Of Germany Could Get Infected By COVID-19, Merkel Says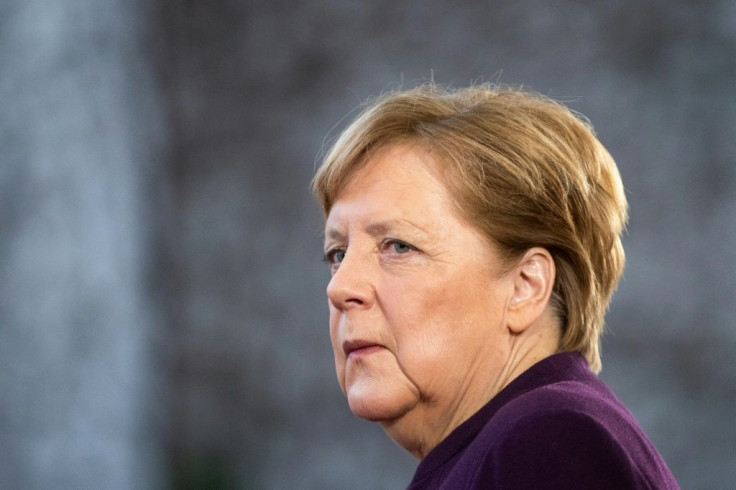 KEY POINTS
German Chancellor Angela Merkel predicted that up to 70 percent of Germany's population will contract the novel coronavirus
Parliament was reportedly in dead silence after hearing Merkel's statements
Merkel's comments came as Italy's COVID-19 cases passed 10,000 on Wednesday
German Chancellor Angela Merkel reportedly said during a parliamentary meeting on Tuesday that she is expecting "60 to 70%" of the entire German population to be infected with the novel coronavirus that killed thousands around the world.
German tabloid Bild first reported that after Merkel dropped her statistic estimates, parliament was left in silence. She also told MPs that several big events will most likely be canceled depending on Germany's coronavirus situation.
As with other countries that already canceled parliamentary meetings and related proceedings, Merkel reportedly added that the German parliament may also adopt the measure.
Aside from the initially reported parliament meeting, Merkel went on to share her predictions on the country's future regarding the COVID-19 strain at a media briefing on Wednesday.
According to BBC, Merkel was accompanied by German health minister Jens Spahn when she made her proclamation in public. She said the country should focus on delaying the spread of the coronavirus.
For his part in the government's statements about the country's coronavirus battle, Spahn said during an interview Wednesday morning with Deutschlandfunk that he believed the football match between Bayern Munich and Union Berlin set for Saturday should be called off.
Also, on Wednesday, Germany saw its third COVID-19 death in North Rhine-Westphalia. As of late Tuesday, the country reported 1,296 coronavirus cases, as confirmed by data from the Robert Koch Institute (RKI).
Merkel's statements came after another European member nation, Italy saw its coronavirus cases pass 10,000 as of Wednesday.
Italy's civil protection agency and the Johns Hopkins University both confirmed that the country now has 10,149 confirmed COVID-19 cases, as well as 631 deaths related to the fast-spreading disease.
Following the confirmation, Italian Prime Minister Giuseppe Conte announced that the budget allotted for Italy's coronavirus battle will be at 25 billion euros or approximately $28.3 billion, CNBC reported.
The initial amount dedicated in tackling the coronavirus situation was at 7.5 billion euros.
Italy is still in lockdown, restraining the movement of some 60 million people. Merkel did not give away whether Germany will follow suit should the COVID-19 situation in her country progress negatively.
Meanwhile, Italian ambassador to the European Union (EU) Maurizio Massari said Brussels should move with urgency in terms of handling the coronavirus crisis in Europe, The Guardian reported.
Massari said member states should "go beyond engagement and consultations" and come up with quick and effective solutions to help contain the virus and prevent further COVID-19 infections across Europe.
© Copyright IBTimes 2023. All rights reserved.