Coronavirus Update: Duterte Claims Filipino Antibodies Can Prevent Covid-19 Transmission
KEY POINTS
President Rodrigo Duterte alleges Filipino antibodies will prevail against Covid-19
He calls the coronavirus threat an "idiot"
In the event of a pandemic, Duterte promised to use the military "for order and obedience"
Philippine president Rodrigo Duterte, already infamous for a drug war that's seen the muders of more than 12,000 Filipinos, went on another rant Tuesday, this time bragging Filipinos should rely on their inborn "antibodies" to defeat the deadly coronavirus infection.
He also said his government, which is being widely criticized for its pro-China response to the outbreak, was "on top" of what he called the "idiot" coronavirus threat. He also ordered Filipino doctors to work double-time to find a cure for Covid-19.
Duterte's statement is almost similar to that of his spokesman, Salvador Panelo, who was harshly criticized for saying last week Filipinos should strengthen their immune systems to fight-off Covid-19.
"So if you say it's a matter of contamination, we will just have to rely on how strong the antibodies of the Philippines are," Duterte said in a speech before local chief executives, Rappler reported.
"Filipinos don't get sick easily. First of all, they pray a lot.... It's when you do not follow rules that trouble comes in and that's true for every human act," he added.
And, in the event the coronavirus outbreak becomes a pandemic that leads to civil disorder in the Philippines, Duterte promised the Philippine Army will quell any protest by the Filipino public.
"If you say it's really a pandemic already, then I will have to utilize for order and obedience of people, the military and the police," said Duterte.
There are only three confirmed Covid-19 cases in the Philippines. All of them involve mainland Chinese visitors to the country. The Philippines' lone death from the coronavirus was a Chinese man from Wuhan who was on vacation. His body was cremated in the Philippines.
The Philippines' Department of Health is currently investigating 382 people (locals and foreigners) for Covid-2019 as of Tuesday afternoon. This total compares to the 314 reported on February 10.
Of the 382, 266 are hospitalized while 111 were sent home but are under close monitoring. This means health officials check-up on them daily in case they begin to show symptoms of the disease.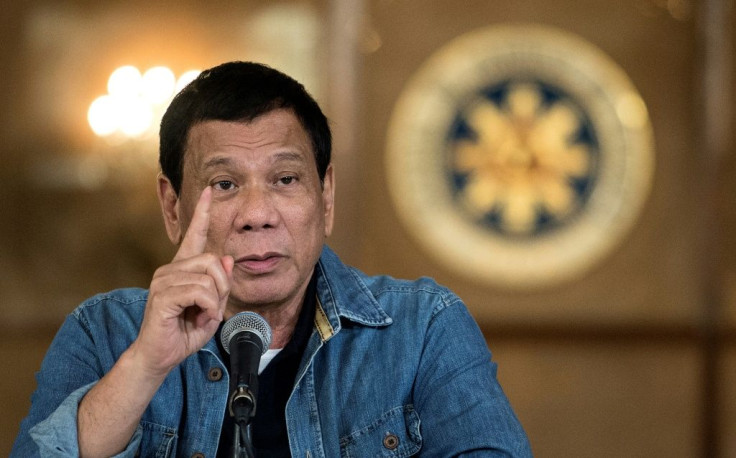 And, in a rash move, Duterte on Tuesday unilaterally terminated the Visiting Forces Agreement (VFA) with the United States because the latter refused to grant a visa to the Philippines's former police chief that helped carry out his drug war launched in 2016.
U.S. Defense Secretary Mark Esper said it's "unfortunate" Duterte has withdrawn the Philippines from the VFA. He called Duterte's action "a move in the wrong direction" if the goal is to deter China from fulfilling its expansionist plans in the Asia Pacific.
© Copyright IBTimes 2023. All rights reserved.
FOLLOW MORE IBT NEWS ON THE BELOW CHANNELS