Daytona 500 Start Time: Doubtful to Start at Noon; Could be Night Start for NASCAR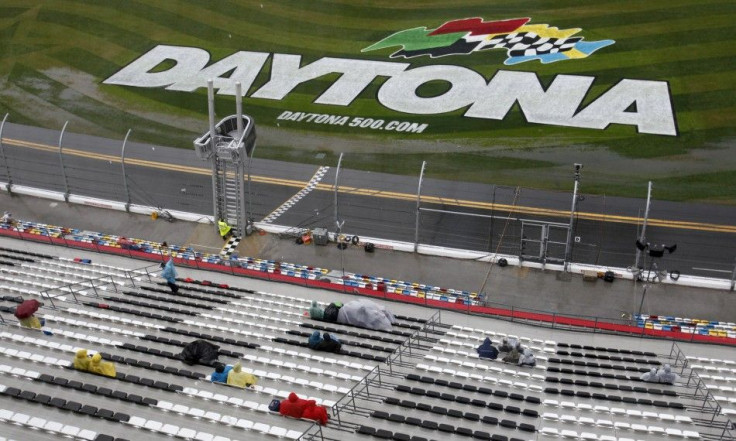 The Daytona 500 appears doubtful to start on Monday afternoon, but has been scheduled to start at noon on Fox.
The Great American Race was pushed back to Monday for the first time in the race's 54-year history and might need to be pushed back until Tuesday if the poor weather continues.
Jeff Gluck of SBNation reported that on Monday morning that it looked extremely doubtful that the race would start on noon and that it was much more likely that it would begin on Monday night, if it happens at all on Monday.
If you're at work, stay there! Don't leave to try and get in front of your TV for the scheduled noon start time. That ain't happening.

— Jeff Gluck (@jeff_gluck) February 27, 2012
The uncertainty of the start time is a big hit for NASCAR's biggest race, especially with ratings. The move to Monday makes it difficult for many of the sport's most diehard fans to be able to watch the famous race due to work obligations. Fox has committed to showing the race during the afternoon, but it's unclear whether it would dump its Monday primetime shows for the Daytona 500. NASCAR officials were hopeful on Sunday night that a scheduled noon start would give them a lot of leeway to get the race in, which typically takes about three-and-a-half hours, but Mother Nature continues to disrupt those plans. The latest forecasts have an 80 percent chance of precipitation that could run throughout the entire afternoon. That could mean another long day of waiting around for NASCAR's drivers. This is one of the toughest things for us drivers, Carl Edwards told reporters afterwards. You plan on it and get all geared up, then you put it off for a day and it's now who can really stay focused. But not just for the drivers. It's the pit crews and the crew chiefs, as well. Race officials need two hours to fully dry off the track surface once the rain has stopped, which is why an afternoon start is in doubt.
© Copyright IBTimes 2023. All rights reserved.