'Debris' Found In Search For Missing Titanic Sub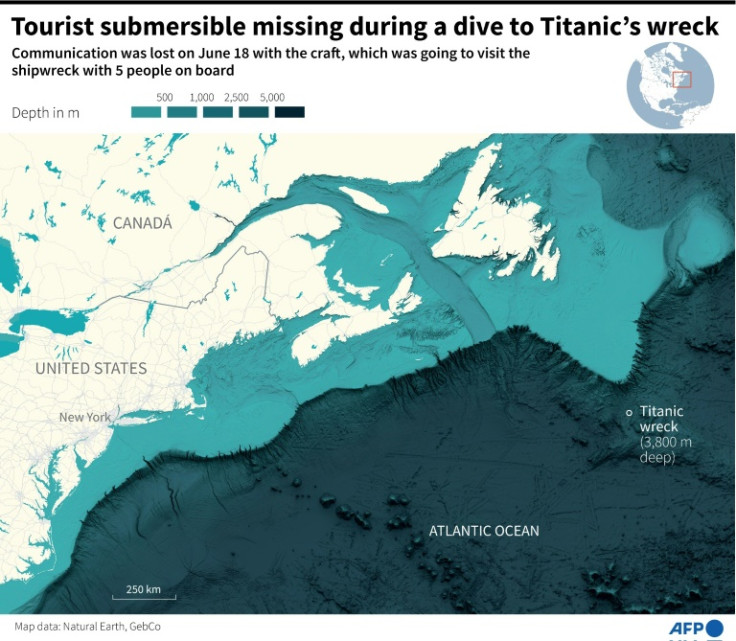 A "debris field" has been discovered by an underwater robot searching near the wreck of the Titanic for a missing submersible with five people on board, rescuers said Thursday.
The development came after rescuers insisted that the multinational mission to locate the craft was still focused on finding the crew alive despite fears that the vessel's oxygen may have run out.
"Experts within the unified command are evaluating the information," the US Coast Guard said in a tweet.
The coast guard said the debris field was found "within the search area by an ROV (Remotely Operated Vehicle) near the Titanic."
It did not give more details but said it would hold a press briefing at 3:00 pm (1900 GMT) in Boston.
Two more robots were deployed Thursday in the hunt for the Titan sub, lost somewhere in a vast swathe of the North Atlantic between the ocean's surface and more than two miles (nearly four kilometers) below.
Based on the sub's capacity to hold up to 96 hours of emergency air, rescuers had estimated that the passengers, which include fee-paying tourists, may have run out of oxygen in the early hours of Thursday.
But as that possible deadline passed, US Coast Guard Rear Admiral John Mauger said rescuers were "fully committed" to search operations.
"People's will to live really needs to be accounted for as well. We're going to continue searching," he told NBC's Today show.
A surge of assets and experts have joined the operation in the past day, and sonar has picked up unidentified underwater noises.
Organizers of the response -- which includes US and Canadian military planes, coast guard ships and teleguided robots -- are focusing their efforts close to the sounds.
The noises, heard Tuesday and Wednesday and which have been described as sounding like "banging," raised hopes that the passengers are still alive, though experts have not been able to confirm their source.
The French research ship Atalante deployed an unmanned robot able to search at depths of up to 6,000 meters (nearly 20,000 feet) below water on Thursday, the US Coast Guard tweeted.
Experts have called the Victor 6000 "the main hope" for an underwater rescue.
The Canadian vessel Horizon Arctic also deployed a robot that had already reached the ocean floor and begun its search.
Mauger has also said that vessels carrying medical staff and a decompression chamber are en route to the area.
The 21-foot (6.5-meter) Titan began its descent at 8:00 am on Sunday and had been due to resurface seven hours later.
But the craft lost communication with its mothership less than two hours into its trip to see the Titanic.
It was carrying British billionaire Hamish Harding and dual Pakistani-British citizens Shahzada Dawood, a tycoon, and his son Suleman. OceanGate Expeditions charges $250,000 for a seat on the sub.
Also on board is OceanGate's CEO, Stockton Rush, and a French submarine operator Paul-Henri Nargeolet, nicknamed "Mr Titanic" for his frequent dives at the site.
Ships and planes have scoured 10,000 square miles (around 20,000 square kilometers) of surface water -- roughly the size of the US state of Massachusetts -- for the vessel.
The Titanic's watery grave is situated 400 miles off the coast of Newfoundland, Canada, and more than two miles below the surface of the North Atlantic.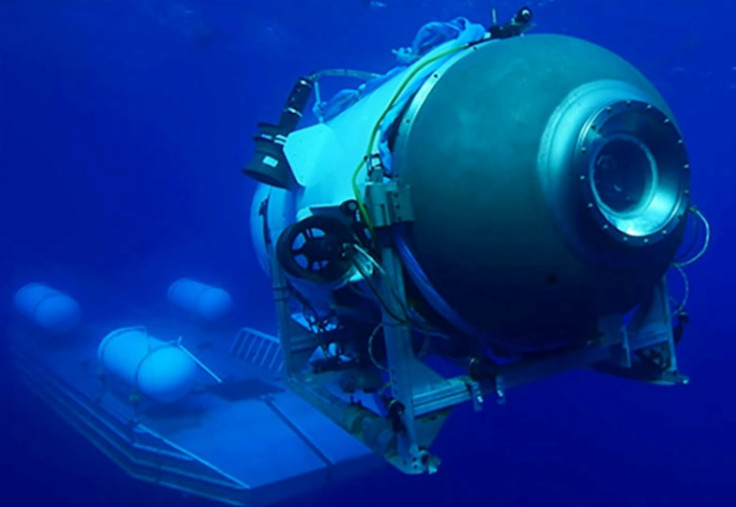 Experts say that even if the submersible is found, raising it from deep water would be challenging.
The Navy has sent a specialized winch system for lifting heavy objects from extreme depths along with other equipment and personnel, while the Pentagon has deployed three C-130 aircraft and three C-17s.
The Titanic hit an iceberg and sank in 1912 during its maiden voyage from England to New York with 2,224 passengers and crew on board. More than 1,500 people died.
It was found in 1985 and remains a lure for nautical experts and underwater tourists.
The pressure at that depth as measured in atmospheres is 400 times what it is at sea level.
Tom Zaller toured the Titanic 23 years ago in a submersible much like the missing one.
"You're sending a very small vessel two and a half miles down, which is incredibly complicated and technical," he said. "It's just this very seemingly unsophisticated sphere."
Zaller has known Nargeolet for decades and was in touch with Rush before he embarked on Sunday's tour.
In 2018, OceanGate Expeditions' former director of marine operations David Lochridge alleged in a lawsuit that he had been fired after raising concerns about the company's "experimental and untested design" of Titan.
© Copyright AFP 2023. All rights reserved.