Denver Broncos vs. San Diego Chargers 2016: Prediction, Betting Odds For Week 6 Thursday Night Football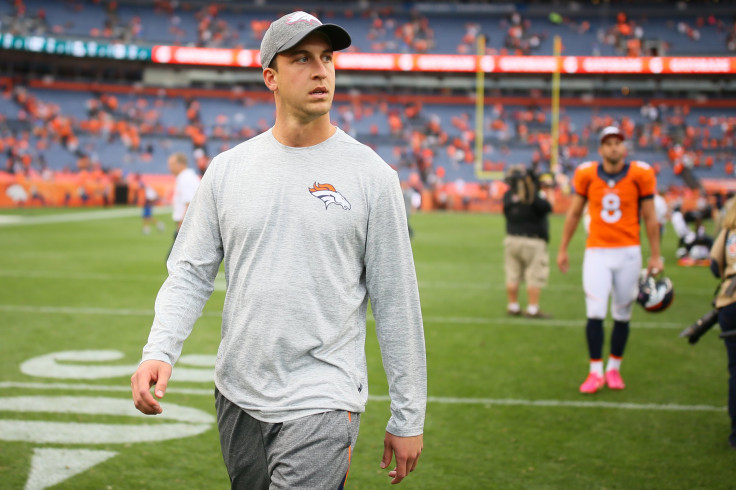 The Denver Broncos are no longer undefeated, having suffered their first loss of the 2016 season at the hands of the Atlanta Falcons on Sunday. They have a chance to get back in the win column just four days later when they visit the San Diego Chargers in Week 6 on "Thursday Night Football," though there are questions surrounding the health of both their starting quarterback and head coach.
Denver's first misstep since Week 15 of last year came with rookie quarterback Paxton Lynch at the helm. Starter Trevor Siemian went down with an injury to his non-throwing shoulder in the Broncos' Week 4 victory against the Tampa Bay Buccaneers, and he didn't see the field against Atlanta. But according to NFL Network's Ian Rapoport, Siemian is expected to start on Thursday.
At times, Siemian has looked every bit like a quarterback that had never attempted an NFL pass before the season began. But his presence was missed on Sunday when Lynch led the Broncos to just 16 points. The game wasn't as close as the 23-16 final score might indicate, and Lynch padded his stats when the game was largely decided to post a mediocre 81.0 passer rating. He was sacked six times on Sunday, and Siemian was sacked just five times in his first three starts.
Since throwing for one score and two interceptions in the season opener, Siemian has thrown five touchdown passes and one interception. He's tied for ninth in the NFL with a 99.6 passer rating, and his 67.3 completion percentage and 8.16 yards per attempt also rank in the top 10.
Head coach Gary Kubiak was on the sidelines during the Week 5 loss, but it's unknown if he'll be able to coach on Thursday. He was taken to the hospital by an ambulance on Sunday night with what was diagnosed as a "complex migraine." Denver is reportedly "encouraged" by Kubiak's medical tests, and he's expected to be released from the hospital on Monday afternoon.
Despite how poorly they played on Sunday, the Broncos are three-point road favorites at Las Vegas and online sportsbooks, via OddsShark. The Chargers have had a hard enough time winning any games in 2016, and they could struggle against the Broncos if Denver is mostly healthy.
Sunday marked the fourth heartbreaking loss that San Diego has suffered this season. The Chargers entered Week 5 at 1-3, having led every game in the final two minutes. They found yet another way to lose, botching the snap on a field-goal attempt with just over two minutes left against the Oakland Raiders. The field goal would have tied the game at 34-34, but San Diego suffered a three-point loss, instead.
The Chargers have proven that they have the talent to compete with the rest of the AFC West, especially on offense. San Diego is the AFC's highest-scoring team with 30.4 points per game after winning in Oakland. In the season opener, the Chargers blew a 21-point second-half lead against the Kansas City Chiefs.
"They're not finishing right now," former All-Pro Chargers linebacker Shawne Merriman told International Business Times on Monday. "It's not their talent level. It's not how they're playing. It's their mentality that they have right now. It's kind of when they get their backs against the wall now it's like, 'here we go again.'"
San Diego blew a lead with 1:17 remaining against the Indianapolis Colts in Week 3. The Chargers led the New Orleans Saints by 13 points with less than seven minutes to go in their Week 4 matchup, but they fumbled twice in their own territory and lost the game.
The Chargers' late-game struggles won't serve them well against the Broncos, who are among the favorites to win the Super Bowl. Denver already has wins against two of last year's division winners, and their elite defense should be able to force San Diego into making mistakes if the game is close down the stretch.
Even as the Falcons and their No.1 ranked offense had success in Denver, they still only managed to score 23 points, which is the highest total the Broncos have allowed all year. The final score of Thursday's contest could fall just below the over/under of 45, leaving the Chargers with another disappointing defeat.
Prediction: Denver over San Diego, 24-20
© Copyright IBTimes 2022. All rights reserved.
FOLLOW MORE IBT NEWS ON THE BELOW CHANNELS