Derrick Rose Injury: Thibodeau And Chicago Bulls Point Guard Criticized For Playoff Absence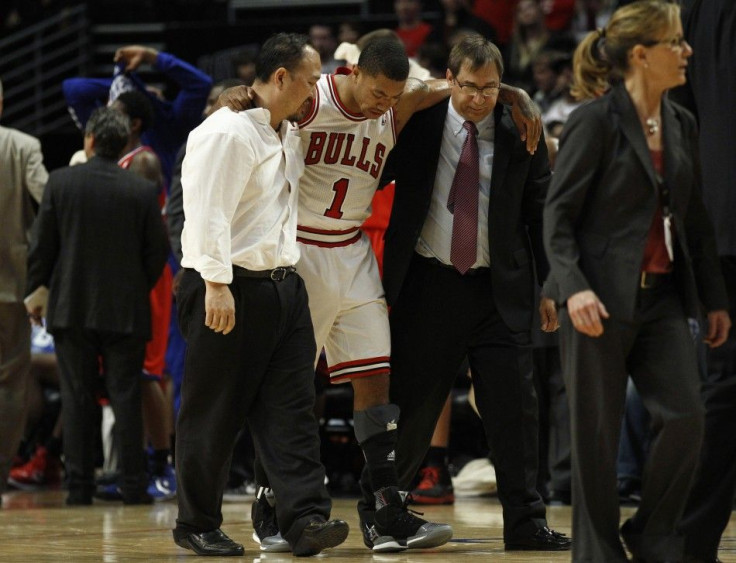 After months of hoping for a Derrick Rose return, the Chicago Bulls seem to have accepted that their star won't play until next season.
This weekend, head coach Tom Thibodeau announced that the team doesn't expect to have a healthy Rose in the playoffs.
"He's most likely out but you never know," Thibodeau said on Saturday. "The playoffs are stretched out, too, so you have to factor that in. So who knows another week from now where he is? You always want to leave that possibility open."
Rose suffered an ACL tear in last year's postseason that required him to have surgery. Even as no return date had ever been set for Rose to play in 2013, the team had left open the possibility of him coming back.
Despite the injury being very serious, both Rose and his head coach have been criticized for the way the situation has been handled. Many fans and media members have expressed their frustration over Rose's absence this season. The point guard has been medically cleared to play for several weeks, but chosen not to return.
Without Rose, Chicago managed to win 45 games in the regular season. They beat the Miami Heat twice and ended the club's 27-game winning streak. The Bulls' success with Rose on the bench has led some to believe that with the addition of Rose, Chicago would have the best chance of preventing LeBron James and company from reaching the NBA Finals.
The Bulls will likely face the Heat in the second round if they can defeat the Brooklyn Nets. The Bulls were blown out in Game One, falling 106-89 at the Barclays Center.
Now, it appears that the Bulls dream of making a deep playoff run with a returning Rose is dead. According to Thibodeau, the former MVP isn't on the bench for a lack of wanting to come back.
''I know his character," said the head coach. "He's done amazing things for our organization, and he's doing all he can. That's all you can ever ask a guy to do. So there's always going to be some negativity, but I think the vast majority of it is very positive.''
Even though people outside of the Bulls' organization may be questioning Rose's toughness, his teammates are not expressing the same sentiment. Luol Deng recently urged fans not to judge Rose because of the injury, while another Chicago player said that Rose is doing the right thing for his body because "he knows it better than anyone."
Rose's initial recovery time was set at eight months to a year. He underwent surgery to repair his ACL on May 12.
© Copyright IBTimes 2023. All rights reserved.