Dozen Dogs, Deer Fall Off Cliff During Hunting Expedition [Video]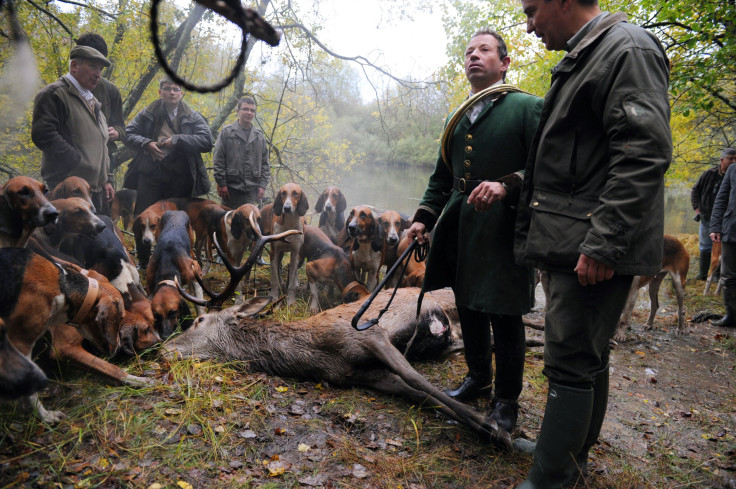 A horrifying footage shared on Facebook by an activist Sunday showed a pack of dogs and a deer falling off a cliff during a hunt in Spain. The hunter remained unidentified.
Juantxo Lopez de Uralde posted the video with the caption, "I received this video from a day of hunting that ends in real disaster with dogs and a deer falling down a ravine. I really do not understand how you can enjoy this."
In the video shot near the village of Herreruela in the western province of Caceres, Spain, an onlooker can be heard screaming "run, the dogs are falling" as first dogs fall off the cliff while the others feast on the deer.
The hunter was then seen coming toward the animals and attempting to kill the deer by stabbing it. The other dogs too go over the edge and fall off the cliff followed by the deer that falls with a loud noise.
Details about the incident including the number of animals that survived the fall remained unknown.
Spokesman for the Royal Spanish Hunting Federation however said, "Immediately afterwards the dogs involved were assisted by vets at the scene and at veterinary surgeries," Daily Mail reported.
"The people responsible for this atrocity only have one name: criminals. Let's end this once and for all and punish those who are guilty," Pablo Iglesias, leader of Spain's left-wing party Podemos said, the Sun reported.
Spanish political party The Party against the Mistreatment of Animals (PACMA) said, "The Party against the Mistreatment of Animals. The cruelty of hunting. A deer and several dogs fall over the edge of a cliff. It's time to demand responsibility from politicians who are insensitive to the suffering and lives of animals."
"This is love for dogs? And animals?" Spanish actor Dani Rovira Tweeted.
Pro-hunting organized called this incident an "isolated accident" which was a result of the "instinct and the nature of the dogs."
© Copyright IBTimes 2023. All rights reserved.