Duke Basketball: Why Are The Blue Devils So Hated?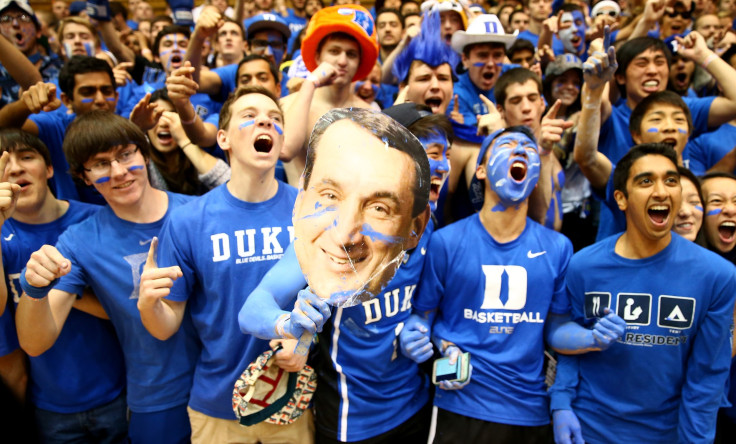 Having reached the Final Four with a victory over Gonzaga, Duke is just two wins away from the 2015 national championship. While the Blue Devils will have their share of supporters in Indianapolis on the last weekend of the NCAA Men's Basketball Tournament, plenty of "Duke Haters" will be rooting against them.
Duke is arguably the most-disliked team in college basketball, and one of the most-hated teams in all of sports. In 2010, a USA Today poll found that 49 percent of responders rooted against the private North Carolina university. There have been songs written about fans' hatred for Duke, and a recent ESPN documentary entitled "I Hate Christian Laettner" went into depth about the vitriol that many have for the school and one of its best all-time players.
Why is Duke so hated?
There are a number of reasons why fans root against Duke, but the biggest is its consistent success. The Blue Devils' trip to this year's Final Four is no surprise, as they are national title contenders every year.
Since 1984, Duke has missed the NCAA Tournament only once, going five games under .500 when head coach Mike Krzyzewski missed most of the 1994-1995 season because of back surgery. In the past 30 years, the Blue Devils have won four national championships, reaching the Final Four 12 times. Only Connecticut has won as many titles during that span, but they've missed the NCAA Tournament seven times in the last 25 years.
Success breeds fans, but it brings about even more detractors. Five Super Bowl appearances in the 1970s made the Dallas Cowboys "America's Team," but a recent poll calls them the most-hated team in the NFL. Second on the list is the New England Patriots, who have been more successful than any NFL team in the last 15 years. LeBron James made the Miami Heat the NBA's most-despised team by leading them to four straight NBA Finals, and the New York Yankees' 27 championships might make them more hated than any other team in professional sports.
But saying that people don't like Duke only because they are winners wouldn't be correct. Not only does Duke always have good players, but many of them are often easy to dislike.
Fans have often had problems with the way some Duke players have played the game. Notorious moments like Laettner stomping on Aminu Timberlake's chest in the 1992 Elite Eight or Gerald Henderson hitting Tyler Hansbrough in the face and giving him a bloody nose have not helped their reputation. Duke is often criticized for flopping, with Greg Paulus drawing the ire of many fans.
Because Duke is always so good, some of their players have carried an air of arrogance that fans of other teams haven't appreciated. Laettner was perceived as being cocky, while J.J. Redick has admitted to being arrogant on the court, head-bobbing when he would make a shot, later calling his persona "annoying."
Many of Duke's most hated players have been white, and the color of their skin seems to play a definite role in the hatred many fans have for the school. Former Michigan star Jalen Rose said in ESPN's "The Fab Five" documentary that he didn't like Duke because they didn't recruit inner-city black kids. Former Duke star forward Grant Hill has called it "white on white hate," as white fans dislike good players because they don't look like prototypical basketball stars.
Duke fans aren't part of the team, but they haven't helped the school's reputation around college basketball. Without knowing much about them, having a name like "The Cameron Crazies" already makes them somewhat unlikeable. While the enthusiasm and chants from the crowd might be appreciated by the Duke players, it can be insufferable for opposing teams and fans. It also doesn't help that the student body, fair or not, gives off an "elitist" appearance due to its highly selective admissions policy.
Ultimately, it's Duke's culture of winning that is the impetus for most of the hatred that's directed towards the basketball program. In addition to a certain level of jealousy, the team's constant success has created a perceived bias among both the media and officials.
When Duke gets upset in the NCAA Tournament, it's because the media overrated the Blue Devils, who never should have been given such a high seed. When a bad call goes Duke's way, it's because the referees favor the Blue Devils.
That's how the "Duke Haters" see it, anyway.
It's that level of hatred that has made some of Duke's player so unlikeable. Players like Laettner and Redick didn't shy away from their team's reputation, but instead they embraced it.
As long as the Blue Devils continue to win, they'll continue to produce players and teams that fans across the country love to hate.
FOR FREE to continue reading
✔️ Unlock the full content of International Business Times UK for free
offer available for a limited time only
✔️ Easily manage your Newsletters subscriptions and save your favourite articles
✔️ No payment method required
Already have an account?
Log in
© Copyright IBTimes 2023. All rights reserved.