Durant, Westbrook Save Thunder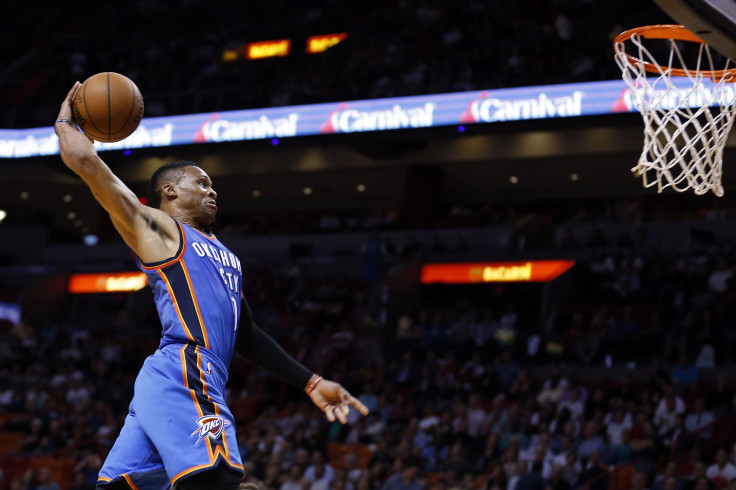 The Oklahoma City Thunder survived a great challenge from the Sacramento Kings Sunday, winning to the tune of 98-95 but not before trailing late in the final quarter.
The Thunder held a double-digit lead, 76-64 at the start of the fourth but the Kings made a major rally and turned things around for a 90-84 advantage with 3:54 to go in the game.
Behind Russell Westbrook and Kevin Durant, the Thunder willed their team back into the game and the lead, 96-95 with 23 seconds to go. The Kings had a couple of chances to steal back the lead and force the game to overtime but both times Sacramento failed to find a basket as the Thunder escaped with the close win.
Westbrook had a triple-double of 19 points, 11 rebounds and 10 assists, his third of the season, and added 3 steals while Durant posted his own double-double of 20 points and 10 rebounds for the Thunder, which avoided a three-game losing streak.
Durant committed 10 turnovers for the night but made up for it with the go-ahead jumper with 23 seconds to go and hit the crucial free throws in the end game.
The Kings were led by Rudy Gay's 20 points but their starters combined to shoot 21-o-58 from the floor and none worse than DeMarcus Cousins' 5-of-20 field goals. The Kings big man had 13 points and 10 rebounds and Rajon Rondo added 7 points and 10 assists.
The Thunder will be tested in their next four games facing the Memphis Grizzlies, Atlanta Hawks and Utah Jazz (twice) in their next four games. The Grizzlies and Hawks have beaten the Thunder earlier this season.
© Copyright IBTimes 2023. All rights reserved.