East Flatbush Calls For End To Violent Protests Over Death Of Kimani Gray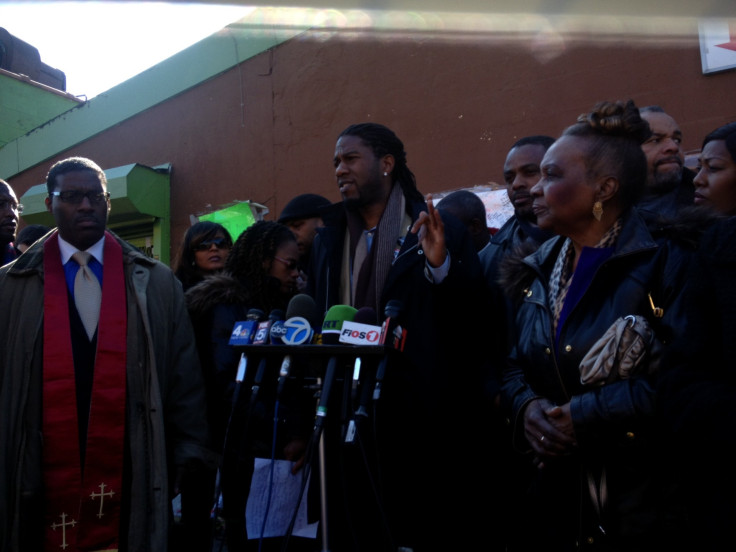 Community leaders in East Flatbush, Brooklyn, called Thursday for an end to the violent protests that have followed the police killing of a teenager.
They met Thursday afternoon for a news conference on the corner where 16-year-old Kimani "Kiki" Gray was shot dead by two NYPD officers Saturday night.
Those in attendance, who included Gray's father and New York City Councilman Jumaane Williams, urged an end to the unrest that has plagued East Flatbush since Monday night, culminating in more than 40 arrests and an injured police officer late Wednesday.
Many present, including Williams, derided "outsiders" who swept into the community Wednesday evening and are believed to have incited violent acts by the protesters. The NYPD said the violence included hitting an officer in the face with a brick and breaking car windows, including the windshield of a police cruiser.
Wednesday's violence came two days after a peaceful vigil for Gray turned violent when about two dozen youths broke off and trashed several local businesses and threw bottles and stones at the nearby 67th Precinct. Williams made an impassioned plea Thursday for the "outsiders" – whom he refused to identify either by name or affiliation, but which included members of Occupy Wall Street – to refrain from inciting violence, which he controversially referred to as a "riot" on Monday.
"What has happened here the last couple days is not acceptable," he said. "You're not helping us with the way we know police sometimes activate … [these youths] are angry justifiably and you are not helping."
Gray's grieving father, meanwhile, refused to speak, except to say "I just want the truth."
But Williams spoke on his behalf, saying that "he's not happy with the violence that's occurring. He's not happy about destroying the community. He's not happy about 43 people in jail bleeding."
Gray's family previously attempted to call off Tuesday night's protest and vigil but was unable to do so. Jose Lasalle, a member of both Occupy Wall Street and the Harlem-based Stop & Frisk Freedom Fighters group, said the nightly events will continue through Saturday evening.
"This is a community issue," he said. "It's about Kimani Gray, but it's also about future kids who may end up like KImani Gray."
Lasalle added later that "everyone needs to understand that we have a problem in our community and it's police brutality."
He said a fourth protest march on the 67th Precinct is planned for Thursday evening, when he said three demands will be delivered, which he would specify.
A procession of local community, spiritual and political leaders also offered their thoughts and prayers during Thursday's press conference.
Anita Taylor, district director for U.S. Rep. Yvette Clarke, D-N.Y., offered a statement on her behalf calling for an end to the violence, but also pleading with the NYPD to exhibit more restraint.
"New York PD needs to understand that there is a cultural sensitivity when they come into our community," she said.
Pastor Gilford Monrose of the Clergy Council offered his prayers and condolences for the Gray family's loss.
"For us today, we are saying that we stand with one voice, not to take back our community but to take hold of what's going on in our community," he said.
© Copyright IBTimes 2023. All rights reserved.