Euro 2016 Betting Odds: France, Germany, Spain, England Among Favorites To Win Soccer Tournament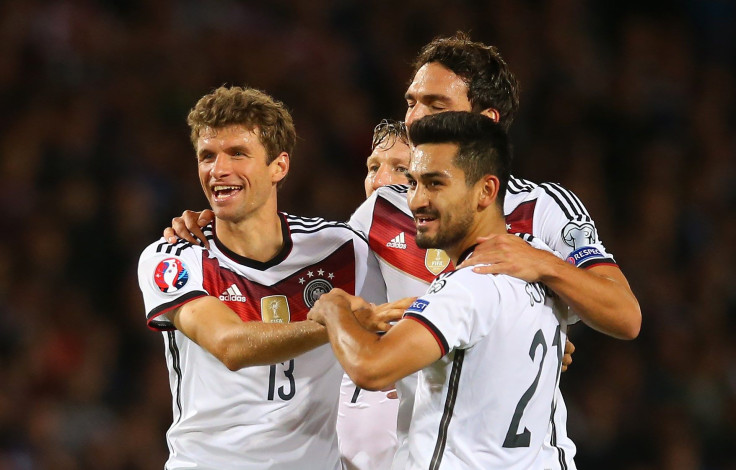 The 2016 European Championship begins Friday, with 24 teams competing for the title. More teams than ever will vie for the tournament's top prize, and a select few stand out as the favorites.
France (+300) has the best odds of any team at Euro 2016, and they are considered a virtual guarantee to advance beyond the group stage. Only eight teams will fail to reach the knockout stage, and France has -350 odds to win Group A. Their biggest competition in group play comes from Switzerland (+6600), who has the 11th-best odds to win the tournament.
Germany (+450) and Spain (+500) are also among the favorites, as usual. Spain has won the last two European Championships, and Germany fell just short in 2008, losing 1-0 in the finals. Germany last won the title in 1996, and they are -300 favorites to win Group C.
Portugal is led by the player that's been given the best odds to score the most goals. Cristiano Ronaldo has +700 odds to lead the field in goals, and he's followed by Germany's Thomas Muller at +750. France's Antoine Griezmann (+900) and Olivier Giroud (+1200) are expected to be in contention to lead the tournament.
Group E is considered to be the most unpredictable. It's led by Belgium (+900), but Italy (+1600) could just as easily come out on top. The group also includes Sweden and the Republic Of Ireland. Italy lost to Spain in the Euro 2012 finals, and the country is looking for its first title since 1968. Italy came up short in the 2000 finals, as well.
Hungary (+25000), Northern Ireland (+25000) and Albania (+25000) are the biggest long shots at Euro 2016, and it would be surprising to see any one of those teams reach the Round of 16.
Euro 2016 Winner [Bovada]
France +300
Germany +450
Spain +500
England +800
Belgium +900
Italy +1600
Portugal +1600
Croatia +2500
Austria +4000
Poland +4500
Switzerland +6600
Wales +8000
Russia +8000
Turkey +8000
Ukraine +8000
Iceland +10000
Czech Republic +10000
Sweden +10000
Slovakia +10000
Republic of Ireland +15000
Romania +20000
Hungary+25000
Northern Ireland +25000
Albania +25000
Group A Winner
France -350, Switzerland +400, Romania +1000, Albania +2200
Group B Winner
England -140, Russia +325, Wales +600, Slovakia +900
Group C Winner
Germany -300, Poland +450, Ukraine +500, Northern Ireland +3300
Group D Winner
Spain -185, Croatia +300, Czech Republic +1000, Turkey +900
Group E Winner
Belgium EVEN, Italy +155, Sweden +600, Republic of Ireland +1100
Group F Winner
Portugal -140, Austria +190, Iceland +700, Hungary +1400
© Copyright IBTimes 2023. All rights reserved.