Fantasy Football 2016 Team Names: 21 Funny Ideas To Earn League Bragging Rights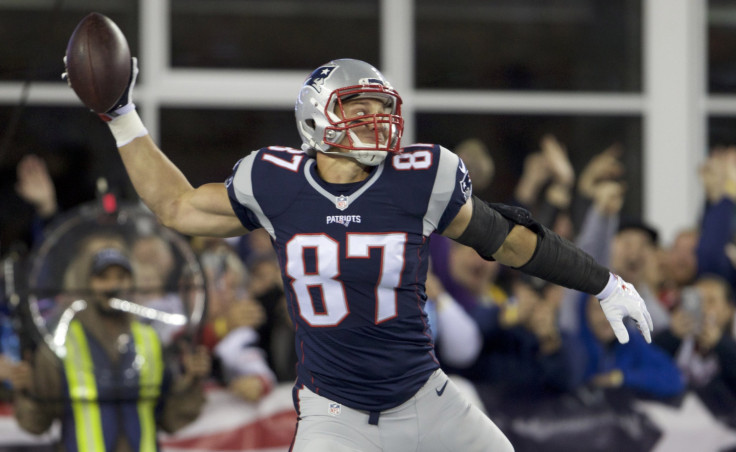 The 2016 NFL season is set to begin Thursday, which means fantasy football returns to the lives of fans everywhere. Playing fantasy football can be a maddening endeavor, with the NFL seemingly conspiring against your roster. It's a hobby that'll leave you screaming about player injuries, bad luck, dropped passes and stupid coaching decisions.
But there is one thing you can control when it comes to your fantasy football team: the name. It's the way you show off to your competition, indicating that even if you can't win every week's matchup, you're still the smartest player in the league.
Presumably you've already drafted your squad and now you just need the perfect name to accompany the roster. Well, don't fret, we're here to help — here's a quick list of 21 clever team names either invented by International Business Times, collected from past IBT lists, or found over at Bleacher Report and Athlon Sports.
1. The Bad News Beers - for those drinkers not feeling confident about their roster.
2. Cardinal Rules - for the Arizona fans out there.
3. Teenage Mutant Ninja Bortles - if you're not into the whole brevity thing.
4. Welker, Texas Ranger - A great name for the Chuck Norris fans (unfortunately Wes Welker is out of the league right now).
5. Zeke and Destroy - A great name for those lucky enough to have nabbed rookie Dallas Cowboys running back Ezekiel Elliot.
6. Eastbound and Brown - For the people who had the No. 1 overall pick and took wide receiver Antonio Brown.
7. Kung Suh Panda - A good one for Miami fans.
8. Charles In Charge - If you took Kansas City's running back, this might be the name for you.
9. Drinking Fortes - A perfect name if you like to get drunk on the cheap stuff and also selected the New York Jets running back.
10. Le'Veon On A Prayer - Oh, we're (almost) halfway there with this list.
11. Greener Pastures - For fans of Cincinnati Bengals wide receiver A.J. Green.
12. Down By The (Philip) Rivers - For fans of the odd triumvirate consisting of the San Diego Chargers' quarterback, Chris Farley and Neil Young.
13. Gronkey Kong - For if you had the good fortune to land Patriots tight-end Rob Gronkowski.
14. Wham, Bam, Thank you Cam - For the teams with Carolina Panthers quarterback Cam Newton.
15. Manningface - Oh, Eli.
15. The Real McCoy - For fans of LeSean McCoy, Buffalo Bills running back.
16. Game of Jones - Atlanta's Julio Jones is a very good wide receiver and this name ain't bad either.
17. Ladies and Edelman - Simple and clean.
18. Turn Down For Watt -For those fans of the Houston Texans' superhuman, J.J. Watt.
19. Nobody's Burfict - A clever play on words for owners of the Cincinnati Bengals' defense, featuring linebacker Vontaze Burfict.
20. Mr. Rodgers' Neighborhooligans - A Twitter user posted about this one, and it's pretty good if you have Green Bay quarterback Aaron Rodgers.
21. Forgetting Brandon Marshall - For New York Jets fans who also like Jason Segel comedies.
© Copyright IBTimes 2023. All rights reserved.