Female NBA Announcer Trolled Over 'Sexually-Suggestive' Commentary On Giannis Antetokounmpo
KEY POINTS
ESPN analyst Doris Burke's commentary on the recent Bucks vs. Clippers game sparked controversy
Burke's analysis of Giannis Antetokounmpo's defense has been deemed sexually-suggestive by some NBA fans
The renowned sports announcer has had a stellar professional career
Female NBA announcer Doris Burke may have just dropped a controversial in-game commentary.
On Sunday, two of the most dominant players in the NBA clashed as Giannis Antetokounmpo and the Milwaukee Bucks took on Kawhi Leonard and the Los Angeles Clippers.
As expected, the game was intense with both NBA superstars finishing the game with incredible numbers. But aside from the epic duel of Antetokounmpo and Leonard, another thing that got some NBA fans buzzing on social media was Burke's "sexually-suggestive" analysis of the former's impressive defense.
Social media star Bob Menery, who made quite a name in poking fun at play-by-play parodies in different sports, posted a short video clip of the play in which the renowned ESPN analyst made.
"You have to know when to come, so Khris [Middleton] does a great job, Giannis [Antetokounmpo] comes from behind and gets a piece of it," Burke said in the video while discussing the Bucks' defense on Leonard.
"It's not just when you come; it's how hard you come," she continued. "Are you coming when the dribble is dead? Are you coming when he gets into his shooting motion?"
Unsurprisingly, netizens trolled Burke over the said commentary.
" Doris must have some pent-up energy. The passion in that statement though," one fan commented.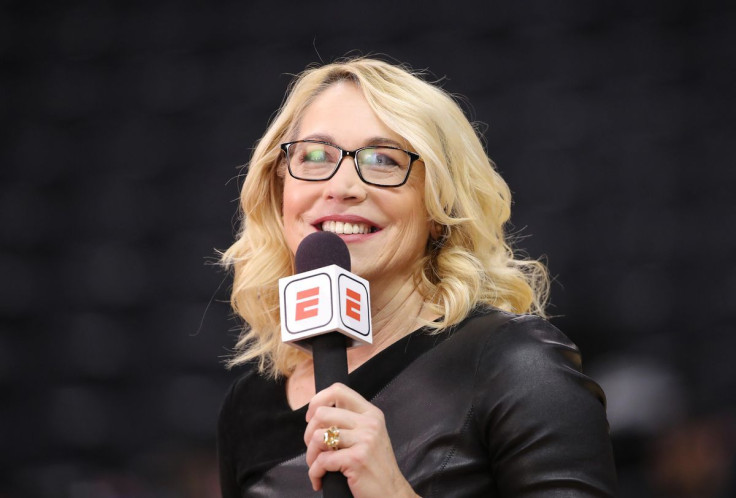 Though fans view Burke's recent in-game analysis as somewhat sexual and implicative in a not-so sporty way, the said commentary doesn't really sum up her stellar professional career.
In fact, Burke has been a respected name in sports broadcasting and " has changed how the public views women" simply by being good at her craft," USA Today reported.
Her in-depth knowledge of the game of basketball has even made her the first female broadcaster to be honored with the National Basketball Hall of Fame's Curt Gowdy Award, a prestigious accolade that recognizes media members who've made a "significant contribution to the game of basketball."
"I always say this: society is not going to change without both genders participating in this," Burke said on Episode 4 of the "Changing the Game" podcast. "And I've said this often. It's a very profound thing when you see the way NBA coaches and players respond to me. It's really kind of taken other people to say, 'Wait, it's clear, it's apparent that there's a mutual respect there.' And that's a very powerful thing that goes out, you know, to the casual fan."
"It's a bunch of small little acts, you know, that contribute to growth," she added.
© Copyright IBTimes 2023. All rights reserved.