FIBA Asia Cup News: Three Potential Filipino NBA Players Not Named Kai Sotto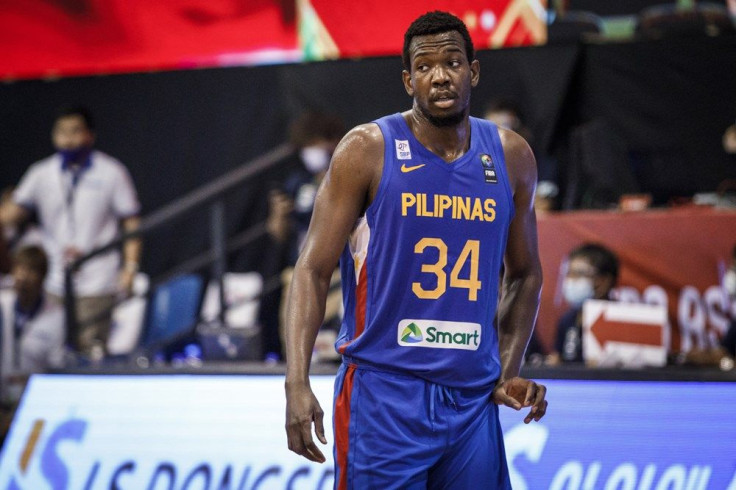 KEY POINTS
The FIBA Asia Cup Qualifiers saw the Philippine national team sweep the competition to finish at the top of Group A
The Philippines is a stacked team with world-class talent
There may be some players who could play abroad after a stellar showing
The Philippine national tea, went for a perfect 6-0 run in the 2021 FIBA Asia Cup Qualifiers and upended longtime rival South Korea twice in the span of a week.
Comprised mainly of cadets, the squad featured many of the country's biggest names in college basketball.
The newly-naturalized Angelo Kouame, SJ Belangel, Justine Baltazar, Isaac Go and Will Navarro all made the lineup at some point during the three-game window.
Many were impressed with the young lineup's ability to fight through adversity and pull out a win, best exemplified by Belangel's "Hail Mary" three-pointer to win the game against South Korea in their first meeting of the window last Wednesday, June 16.
The Filipinos also showed their dominant side in beating Indonesia by 25 points, led by a Dwight Ramos double-double.
By looking through the roster, Kai Sotto's name jumps out the most as he was once an NBA G-League prospect.
Sotto performed admirably well in the three-game window with averages of 9.3 points, seven rebounds and 1.3 assists.
With how well these youngsters have played thus far, here are some names that could potentially play in the NBA should their game continue to develop in the right direction.
Jordan Heading
Jordan Heading was brought in as a veteran leader for the young squad. Despite being 25 years old, the 6-foot-2 Filipino-Australian has been around the world.
His basketball career started off with a four-year stint with California Baptist University in Riverside, California, which saw him end up with the record for most three-point field goals made (231) and finished eighth all-time in scoring with 1,487 points.
He then signed with the Philippine team in the ASEAN Basketball League, which saw him face-off against some of the best players in the South East Asian region.
Heading has also suited up for the national team over a decade ago in his youth days.
Capable of scoring in bunches in rapid succession, his team calls upon him to make crucial baskets whenever they need it.
Heading can sometimes succumb to tunnel vision as he does have a scorer's mentality, but he has done a phenomenal job reeling it in to help guide his younger teammates towards securing an unbeaten record in this window despite not playing much.
NBA Comparison: Jordan Clarkson
Dwight Ramos
Possessing a 6-foot-4 frame, Ramos is the perfect wing player for his country's national team.
He's a volume shooter that's capable of heating up at any given moment, giving his team an offensive weapon that teams will have to gameplan for.
Ramos looked to fit in the same mold that former national team player Thirdy Ravena once filled prior to committing to the Japanese B-League.
He is an athletic wing who can defend opposing forwards and harass smaller guards into turning the ball over, as evidenced by his 2.3 steals in the qualifiers.
Ramos averaged 15 points and 6.6 rebounds in their unbeaten run to the top of the Group A standings.
National team head coach Tab Baldwin echoed sentiments about how Ramos' size and game allow him to play in more "physical, competitive competition(s) like European Basketball."
NBA comparison: Tyler Herro
Angelo Kouame
The 7-foot Kouame was brought in to reinforce the biggest problem in any Philippine basketball squad ever fielded--height.
He's an effective shot-blocker who uses his legs to quickly get on the help defense and swat away a shot in the interior.
Kouame averaged 3.9 blocks per game in college and helped bring his university to an unblemished 18-0 record en route to a title.
He is a nightmare on the post. Capable of finishing with either the left or the right hand, once he gets the ball in deep, it's an automatic two points.
His biggest weakness, however, is shooting the ball consistently from beyond the arc. Kouame takes a three every now and then, but he rarely uses threes as a consistent way to stretch the floor.
This window shows that he's been trying to expand his game. Through three outings, Kouame attempted six three-point field goals and made three of them.
Should he find a consistent shot from deep, there's no telling how potent a weapon he could be on both ends of the ball in the pros.
NBA comparison: Joel Embiid
The NBA dream is very much alive in the minds of many Filipinos as Sotto is still their best bet at fielding a full-blooded Filipino in the NBA.
But if these young guns continue to play at this level, don't be surprised if some of them are given G-League contracts because the potential is definitely there.
© Copyright IBTimes 2023. All rights reserved.