Flooded Nebraska Nuclear Plant Poses No Threat, Regulators Say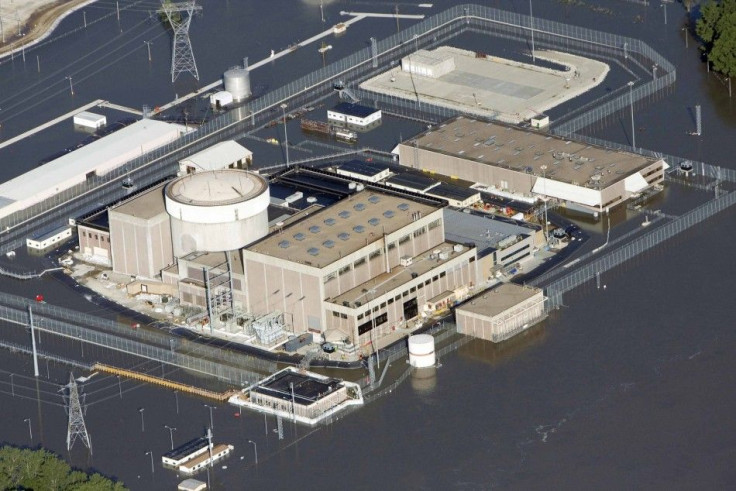 Regulators and officials at the Fort Calhoun Nuclear Power Plant assured an anxious public Tuesay that floodwaters inundating parts of the Nebraska plant do not pose any risk to public safety.
Multiple officials downplayed any connection between Fort Calhoun and Japan's Fukushima Daichi power plant, where a tsunami caused a near meltdown and sparked national panic. Concerns have mounted in recent days as water pouring out of the Missouri River has engulfed parking lots at the plant, led workers to construct makeshift catwalks to move between buildings and forced engineers to temporarily switch on a backup generator.
There's no likelihood of a Fukushima-like incident here, Fort Calhoun Manager Tim Nellenbach told CNN.
Gary Gates, CEO of the Fort Calhoun plant, stressed preparations to safeguard the plant from encroaching waters, noting that the Army Corps of Engineers had anticipated the possibility of a flood. He stressed that pumps were effectively funneling water away from transformers used to generate the electricity that keeps the plant from overhearing.
What's keeping me up at night is making sure that we're going to have electricity for everybody, says Gates. Electricity is so important to... the mitigation efforts of our whole community. Fort Calhoun's safe. It'll continue to be safe.
Gregory Jaczko, chairman of the Nuclear Regulatory Commission, toured the plant on Monday and afterwards said that the risk is really very low at this point that anything could go wrong.
Engineers shut the plant down for refueling in April and left it offline in the face of flood warnings. The situation at Fort Calhoun comes immediately after the Associated Press published an investigation detailing how regulators had become overly cozy with the nuclear industry and adopted a widespread practice of covering up safety violations that proliferate at the country's aging stock of nuclear sites.
© Copyright IBTimes 2023. All rights reserved.