Floyd Mayweather vs. Manny Pacquiao 2015: Prediction, Betting Odds And News In Countdown To Fight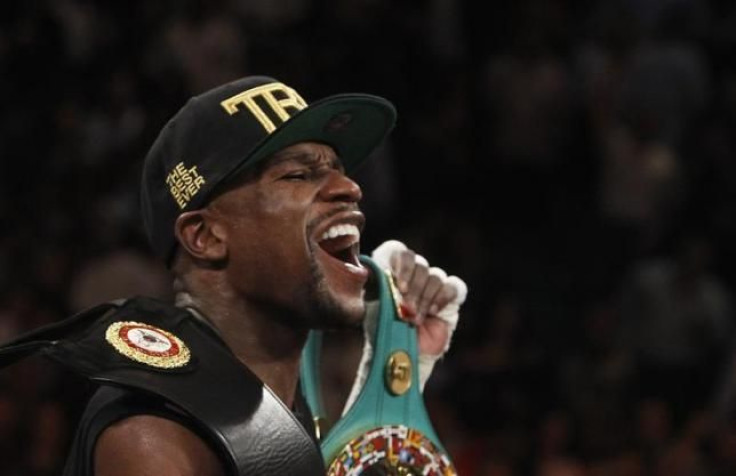 For more than five years, fans and boxing experts alike have been talking about a potential fight between Floyd Mayweather and Manny Pacquiao. The undefeated boxer was the underdog when it looked like the fighters might meet in 2010, but Mayweather is now the clear favorite, according to Bovada.lv.
Who will come out on top in possibly the biggest fight of all time?
The two sides agreed to fight in February, and a contract with the MGM Grand was finally signed on Wednesday. Tickets went on sale Thursday afternoon, and one of the biggest sporting events in recent memory is getting closer and closer. When Mayweather and Pacquiao finally meet in the ring on May 2 at the MGM Grand, all kinds of pay-per-view and revenue records will be broken.
Mayweather, 38, and Pacquiao, 36, are no longer as good as they were at their peaks. But the two boxers have yet to reach the twilight of their careers, and they are still the best the sport has to offer.
There hasn't been a boxer that's been able to challenge Mayweather's perfect record in quite some time. Since Jose Luis Castillo almost beat Mayweather 13 years ago, Mayweather has essentially breezed to 47-0. Oscar De La Hoya lost to Mayweather in a split decision, but there's no question that Mayweather got the better of his opponent. Even in Mayweather's majority decision victory over Marcos Maidana that was much closer than many expected, the champ pulled away in the later rounds and was the better fighter. Four months later, Mayweather dominated Maidana in their rematch.
It appeared that Pacquiao might be slipping about three years ago. However, his split decision loss to Timothy Bradley should have never been scored a loss for PacMan, and he bounced back from his knockout loss to Juan Manuel Marquez in December 2012. Pacquiao has been dominant in his last three fights, winning on all nine judges' scorecards. Against Chris Algieri in November, he recorded six knockdowns, arguably winning every round.
If anyone has a chance to finally defeat Mayweather, it's Pacquiao. The Filipino is a hard puncher, the likes of which Mayweather isn't accustomed to facing. Being a southpaw could give Mayweather some trouble, in addition to his aggressive fighting style.
Pacquiao might be able to land more punches on Mayweather than most of his previous opponents, but Mayweather is still the best defensive fighter in the sport. Despite what Pacquiao trainer Freddie Roach says, he still has the speed to avoid getting hit for the majority of his fights.
When Mayweather is at his best, there's not a fighter that can beat him. Canelo Alvarez was considered to be the biggest threat to Mayweather's perfect record in years. As the anticipation caused the fight to become the most profitable in boxing history, Mayweather put on a clinic, getting the better of his opponent round after round.
Much of the sports world is hoping to see Mayweather lose. Mayweather's run-ins with the law have made him unlikeable to a large portion of the public, and the perception that he ducked a fight with Pacquiao makes him easy to root against.
But a victory for Pacquiao isn't as likely as it would have been a few years ago.
While Pacquiao's punches might have more of an effect on Mayweather than what he experienced in his last few fights, Pacquiao is no longer in the prime of his career, and he could have a hard time landing enough power punches on Mayweather to get the decision. The fight should be competitive and go 12 rounds, with Mayweather coming out in a fairly comfortable decision.
Betting Odds: Mayweather -210, Pacquiao +170
Prediction: Mayweather by unanimous decision
© Copyright IBTimes 2023. All rights reserved.
FOLLOW MORE IBT NEWS ON THE BELOW CHANNELS