Foes No More, Iraqi Pilots Now Fly The F-16 -- And They Love It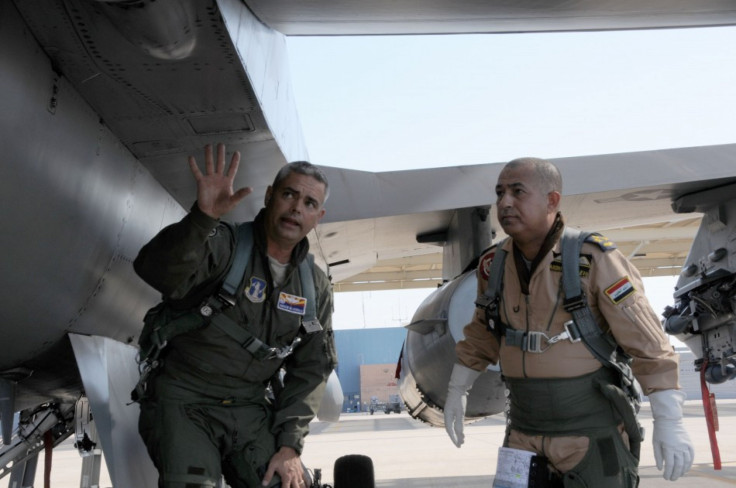 Iraqi air force pilots used to be wary of American planes. For more than a decade, during the final 13 years of Saddam Hussein's rule, they would have, in fact, tried to shoot them down had they encountered them in their airspace.
But today, with their country the latest client of America's weapon makers, things have changed: the Iraqis are learning to fly themselves the jets they once feared. That's because their government is spending billions to buy the latest version of the F-16, the workhorse of the U.S. Air Force.
And the Iraqis are loving it. Abdulhussein Lafta Ali Ali, an Iraqi general who once flew old, Soviet-made Mig-21s, said in an Air Force public affairs release that the F-16, assembled in Texas by Lockheed Martin (NYSE: LMT), "is the best airplane for us." General Ali and several of his fellow Iraqi officers are in Tucson, Arizona, to train on the Viper, as its crews universally call it (although it's officially dubbed the Fighting Falcon).
Iraq hasn't deployed fighter jets since 2003, when the American-led coalition destroyed the remainders of the once-powerful Iraqi Air Force. It was the only air force that managed -- at least according to a CIA report -- to shoot down an American warplane in air-to-air combat since the Vietnam War.
The move from having essentially no air force to flying one of the best fighter jets in the world is quite a jump for the Iraqis, who will be getting their 36 model C and D Vipers beginning in 2014. And it underscores the change in their status: from America's archenemies to its newest friends.
Colonel Mick McGuire, who commands the unit training the Iraqi pilots, called the country "a critical partner in a very strategic region of world" and "a true coalition warfighting partner."
The F-16s are part of a $12 billion purchase agreement that covers a wide swath of American equipment and training, according to industry publication DoDBuzz. The portion of the deal covering the Vipers comes to about $8 billion. While official figures are not available, a 2010 report by the Defense Security Cooperation Agency estimated a price of $4.2 billion for 18 planes. Iraq then doubled its order.
The Vipers are more advanced fighter planes than any other Arab nation has, except for Saudi Arabia and the United Arab Emirates. In a volatile region of the world that's already very heavily armed, 36 Vipers flown by well-trained pilots are a significant addition to air power.
Critics looking for ways that the Iraqi deal could backfire need only look next door in Iran, where in the 1970s the U.S. supplied advanced jets to the Shah's pro-American regime, only to see it toppled in 1979 by an Islamic revolution. That upheaval left more than 70 F-14 Tomcat fighters, at the time the best that the West could offer, in the hands of a now-hostile state. It's not far-fetched to imagine that, if Iraq were one day to fall into the hands of a government not friendly to the West, its F-16s would become a serious headache for any adversaries.
Could the U.S. government simply have decided to ship to Iraq some of the hundreds of unused, and still quite modern, fighter-bombers sitting idle at a huge open-air storage facility in Arizona?
That choice may have been sensible -- the Iraqis are, after all, already flying transport planes taken from America's enormous inventory of surplus military hardware -- but that would not have kept the F-16 assembly line open until 2015, as the current deal instead does. And that would have been a setback for Lockheed Martin, which, according to opensecrets.org, spent $15 million in 2011 alone for lobbying in Washington.
FOR FREE to continue reading
✔️ Unlock the full content of International Business Times UK for free
offer available for a limited time only
✔️ Easily manage your Newsletters subscriptions and save your favourite articles
✔️ No payment method required
Already have an account? Log in
© Copyright IBTimes 2023. All rights reserved.