Ford profit tops expectations on strong pricing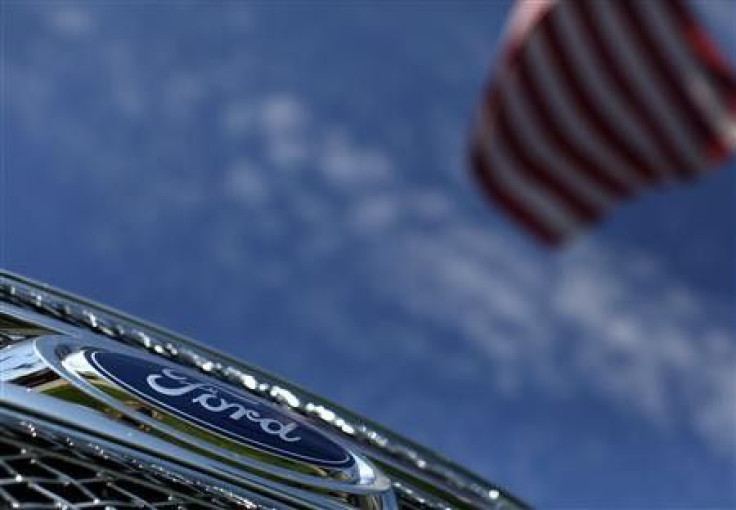 Ford Motor Co's quarterly profit topped Wall Street expectations due to higher North American vehicle sales and prices consumers paid globally for such cars as the Focus and Fiesta.
Ford, the only U.S. automaker that did not accept a government bailout in 2009, has posted a net profit for eight straight quarters. It racked up net losses of $30 billion from 2006 through 2008 when it cut jobs, sold unprofitable brands and reshaped a lineup laden with large SUVs and pickup trucks.
"These results are pretty good considering some of the stumbling bocks in the economy," said Mirko Mikelic, senior portfolio manager with Fifth Third Asset Management, which owns Ford shares.
"Even after we came out of the recession, this is still a fragile recovery," he added. "It's really tied to employment and the housing market."
However, Ford, scheduled to begin talks on Friday with the United Auto Workers union for a new labor deal, also said it expects U.S. industry sales this year to finish at the low end of its previous forecast.
Ford shares were little changed at midmorning on Tuesday after rising as much as 2 percent early in the session.
Smaller rival Chrysler also reported on Tuesday, posting a wider second-quarter net loss after the U.S. automaker repaid $7.6 billion in debt stemming from its 2009 federal bailout.
North America was the only region where Ford's profit improved but pricing rose in every region, helping to offset higher commodity costs. North America was particularly strong, with higher prices for vehicles accounting for $900 million in gains, almost evenly split between higher prices and lower incentives.
"While pricing has been a positive story for Ford for much of this cycle, the pricing gains have accelerated despite heightened incentives at selected Korean manufacturers," Jefferies analyst Peter Nesvold said in a research note.
He said the auto business saw pricing rise $1.1 billion over last year, almost double his estimate.
Ford's net income in the second quarter fell to $2.4 billion, or 59 cents per share, from $2.6 billion or 61 cents per share as it reduced debt by $2.6 billion to $14 billion.
In North America, Ford's pretax profit for the second quarter rose 0.5 percent to $1.91 billion.
"They're doing a great job holding (market share)," said Citi analyst Itay Michaeli. "That's why you're seeing a quarter like this, where they're realizing $900 million in positive pricing on a year over year basis in North America. We were expecting $700 million."
Excluding one-time items, Ford's quarterly profit of 65 cents per share was 5 cents better than what analysts polled by Thomson Reuters I/B/E/S had expected.
Revenue rose 13 percent to $35.5 billion. Analysts had expected $31.6 billion.
"This wasn't the easiest of quarters," Ford Chief Financial Officer Lewis Booth told reporters. "We've got through the Japanese tsunami issues very well. We lost some units (vehicle production) in Asia Pacific, but managed to lose a lot less than we expected and we didn't really lose any significant units anywhere else in the world."
However, Booth added Ford now sees U.S. sales for the full year at the bottom end of its previous forecast of 13 million to 13.5 million vehicles. Earlier in the year, Ford had expected the higher end of the range.
Ford's forecast includes medium and heavy trucks, which account for 250,000 to 300,000 in annual sales.
The shift in outlook echoed comments previously made by rival General Motors Co and comes after disappointing U.S. industry sales in May and June.
INVESTMENT GRADE PROGRESS
Ford is striving to return to an investment grade rating by the major ratings agencies. Booth said he could not predict when the company might return to investment grade, but expects that to occur "sooner rather than later."
Most major agencies have Ford rated two notches below investment grade. Ford was last at investment grade in May 2005.
However, Booth said he expected a re-examination by the agencies once talks for a new labor deal with the UAW are completed. The union represents about 41,000 Ford hourly workers.
Ford's hourly "all-in" labor cost per worker is about $58, compared with about $50-$51 per hour for Chrysler and about $57 per hour at GM.
The gap between Ford and its Japanese rivals with U.S. plants has narrowed from about $25 to $30 in 2007 to about $5 to $10 now, according to the Center for Automotive Research of Ann Arbor, Michigan.
Ford's labor costs are higher than Chrysler mainly because it has hired fewer than 100 so-called second-tier workers who make about half the pay of veteran UAW-represented workers, while about 12 percent of Chrysler's 22,800 union auto workers make the lesser wage.
The Center for Automotive Research also said Ford's estimated U.S. auto production labor costs are about $5.1 billion annually.
Booth said Ford's profit was hampered by higher commodity costs related mainly to higher oil prices. He said prices for plastics, steel, aluminum, cooper and precious metals are all on the rise and affecting profit margins.
"As we continue to see growth in Asia, commodities stay under pressure," he said.
In its home U.S. market, the No. 2 U.S. automaker had a 16.9 percent market share through the first half of this year, compared with 17 percent a year ago.
Ford's sales in the first half of the year rose 12 percent versus a 17 percent rise for GM and 20 percent for Chrysler Group LLC.
© Copyright Thomson Reuters 2023. All rights reserved.