Former General Motors Colombia Employee Brings Hunger Strike to CEO Akerson's Detroit Doorstep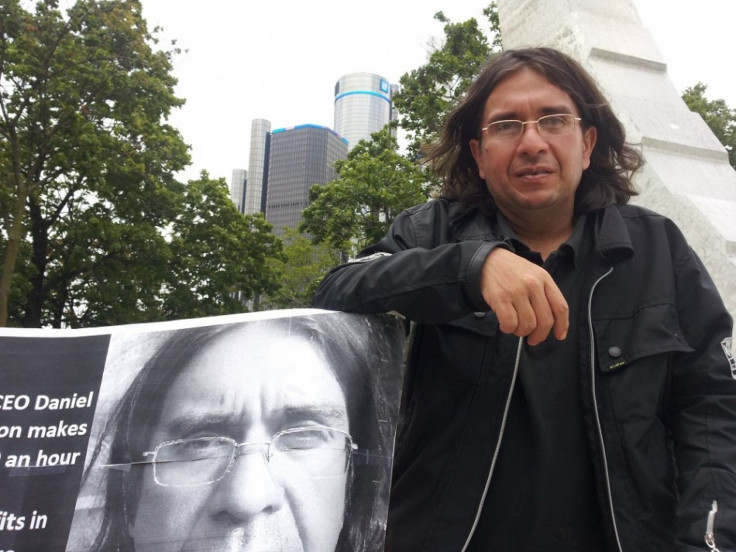 Following the breakdown in negotiations between General Motors Company's (NYSE:GM) Colombian subsidiary GM-Colmotores and a group of Bogota-based hunger-strikers calling themselves the Association of Injured Workers and Ex-Workers of General Motors Colombia, or Asotrecol, the strike has been brought to GM's and CEO Dan Akerson's Detroit doorstep.
The negotiations between Asotrecol, which had been camped out in front of the U.S. Embassy in Bogota for a year, and GM-Colmotores broke down at the end of August, when the company's proposals failed to meet the demands of the injured workers, asserted Asotrecol. Asotrecol was founded in May 2011 by 68 former GM-Colmotores workers who say they and as many as 200 other workers were injured on the job and subsequently fired. The workers are requesting that they be rehired and retrained by GM for jobs they can perform with their medical conditions and that GM provide pensions for those too disabled to return to work in addition to paying back wages for the time they have been without work.
The mediation, facilitated by the U.S. Embassy in Bogota and the Federal Mediation and Conciliation Service between GM-Colmotores, assisted by a corporate team from the U.S., and Asotrecol ground to a halt on Aug. 31 after four days of negotiation. GM says that it made generous offers to Asotrecol that were on par with similar deals with workers in the U.S., while Asotrecol has said that the offers would do little to help its members, fail to adequately provide health coverage, employment or a sufficient financial settlement.
At the core of the dispute is the issue of re-employment. Asotrecol has asked that its members be re-employed by GM, while GM's offer was an administered fund that Asotrecol members could use for "micro-enterprises," according to Asotrecol. GM did not comment on the details of the negotiation, but did say that it "offered proposals such as retraining/employability programs, health coverage and ongoing support for former workers and their families".
"We made, we, GM, made a number of very generous offers to Asotrecol, some of them on par with similar offers we have made in the U.S.," GM representative Katie McBride said Friday, adding that Asotrecol "walked away" from the negotiations in Colombia. Asotrecol disputes this, saying that they never requested that the mediation end, only that it take the form of direct communication between the protesters and General Motors' corporate office.
"We never received from GM Colombia a just offer of capital that would realistically cover the most minimal requirements for initiating our 'life project,' as they referred to our micro-enterprise," a statement from Asotrecol said. "They entirely forgot our physical situation and our yearning for a just future, and for these reasons there was no accord nor solution in this mediation."
Following the collapse of the talks, the sixth between GM-Colmotores and Asotrecol, Asotrecol President Jorge Parra traveled to Detroit with the goal of meeting directly with GM's U.S.-based corporate management. Parra's trip to Detroit was funded by a U.S.- based NGO. Asotrecol has targeted GM CEO Dan Akerson as the ultimate decision maker and final negotiator at GM. Parra held a press conference near GM headquarters in Detroit on Sept. 5 to highlight Asotrecol's demands, including "disability coverage for workers unable to continue work, continuing health insurance to pay the substantial costs associated with their injuries, reintegration into the GM workforce and just compensation for lost wages."
Asotrecol put its hunger strike on hold when the negotiations began on Aug. 22, but following the breakdown in discussions, the strike was re-instituted on Sept. 3 with 10 members participating, including Parra. The previous hunger strike lasted for 22 days, during which one striker was hospitalized because of a risk of heart attack.
© Copyright IBTimes 2023. All rights reserved.