Former UFC Champ Says Jon Jones Is Scared To Fight At Heavyweight
A former UFC champ blasted UFC light heavyweight champ Jon Jones for not fighting at the promotion's heavyweight division.
Aside from Bellator star Dillon Danis, another fighter seems to be taunting UFC champ Jon Jones these past few weeks. In a recent interview, former middleweight champ Luke Rockhold dissed Jones and discussed why Alexander Gustafsson got submitted by Anthony Smith, who he has an ongoing beef with, MMA Fighting reported.
Rockhold has once called Smith "a talentless b---h" in the past and swears that the 30-year-old fighter would lose easily to Alexander Gustafsson. But Smith proved the former champ wrong and submitted Gus. Despite an impressive win, Rockhold is still not a fan of "Lionheart" and said that Gus did not come to fight Smith during that night.
"It looked like he retired before that fight started, a long time before. So, I don't know where his head's at. His head wasn't there, he had a family and he just… he found an easy exit in Stockholm and found a way out in the fight obviously, Rockhold said.
Rockhold then said that Gus had a great career before mentioning current light heavyweight champ Jon Jones and discussing the possibility of them facing each other now that he is a light heavyweight.
"He had a great career, put up some amazing fights, pushed DC to a split decision and Jon Jones to a split decision. The guy made his mark. Good for him, good for him. But he didn't come to fight that night, I'll tell you that," Rockhold pointed out.
"You never know what's to come," Rockhold continued. "I'm gonna focus on fighting Błachowicz, and I'm gonna put this man away and then I'm gonna look forward. And if there's opportunities out there, we'll see what's up. You know, Jon Jones is right there, and I'm not looking to dance around too long. If there's an opportunity and things work out and I perform and he performs, you never know, you never know. And if there's a delay – there's also a business side of this thing too. So, Anthony Smith could work his way in too. Anybody above me, I'm looking to make a mark on their faces."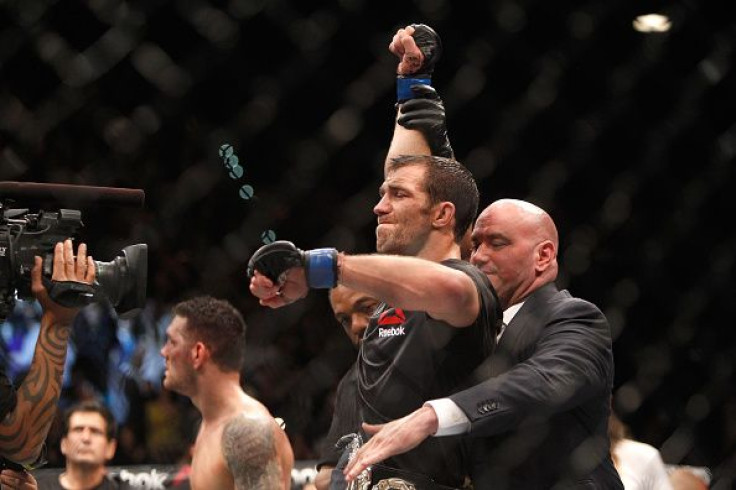 The former champ fired more shots at Jones and said that the undisputed UFC star is scared to fight his most famous rival Daniel Cormier at heavyweight.
"DC, I think it's foolish for him to come try to challenge Jon back down. I think Jon should have to come challenge him up for the heavyweight title. I mean, that's where the natural weight is. Jon's a big guy and he cuts a lot of weight too to get down. So, Jon's scared to fight DC at heavyweight. I don't know why DC thinks he's gotta come back down to fight him there to prove some point. It just… it doesn't make sense," Rockhold said.
"Jon ain't talking about fighting DC at heavyweight, he's just kind of beating around the bush and he's trying to bait him back down and antagonize him. So, Jon doesn't want to fight DC at heavyweight. There's only a few guys he wants to fight that makes sense," Rockhold added.
© Copyright IBTimes 2023. All rights reserved.