French GP: Leclerc To Ferrari Gathers Pace As Raikkonen Continues To Struggle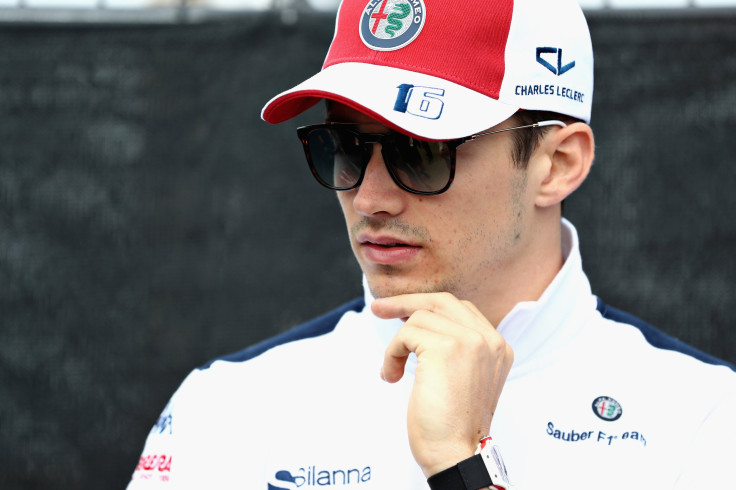 Kimi Raikkonen's potential exit from Ferrari gathered pace in the paddock Saturday at the French Grand Prix after the Finn continued to struggle to match his teammate Sebastian Vettel's performances.
The Formula 1 Drivers' championship leader qualified in third position just behind the two Mercedes cars while Raikkonen had to settle for sixth place over half a second behind his teammate after failing to set a competitive lap in Q3.
Reports emerged prior to the French Grand Prix weekend that Ferrari could look to replace the Finnish racer with rising star Charles Leclerc. The 20-year-old, who is part of the Ferrari young driver program, has been impressive in his debut F1 season with the Alfa Romeo Sauber team.
The Monegasque driver has continually outperformed in the underperforming Sauber car and reached new heights Saturday when he qualified in eighth position for the French Grand Prix. It was the team's first foray in Q3 in four years further underlining his quality in the car.
Raikkonen is out of contract at the end of the season and despite indicating he wants to stay, he is yet to be offered a new deal. Daniel Ricciardo was considered as an alternative for the Finn, but Ferrari are said to have dropped the idea after deciding it will bean expensive affair considering the already high salary they are paying Vettel.
Leclerc remains a realistic option for the Italian marque after he showed great composure in races especially at the Azerbaijan Grand Prix when he finished sixth. He has scored points in two other races thus far this season and will be hoping to again finish in the top 10 in France on Sunday.
Leclerc's rise to form has coincided with Raikkonen's dip in form which has given rise to talks about a potential switch in the Ferrari driver line up for 2019. Former F1 driver Martin Brundle, who is currently a television commentator, believes Ferrari have to make the change to have any chance of winning the Constructors' title in the coming seasons.
Raikkonen's driving, meanwhile, also came under criticism from Haas Racing's Kevin Magnussen on Saturday after the Danish driver accused the Finn of costing him seventh place on the grid. The Haas driver labeled the 2007 world champion's driving as erratic, but despite an investigation the Ferrari driver was let of without a penalty, which was predicted by the Dane during his post-qualifying press conference.
"Yes I'm upset. Because what is he doing?" Magnusses said after qualifying, as quoted on ESPN. "He f---ed all his laps. He had fuel for I don't know how many laps, everyone else has fuel for one lap so to begin with I thought he would box because he f---ed his lap. Then he tries again immediately the lap after that, overtakes us and then backs off again, so surely he's going to box?"
"But then he tries again. So it's three laps in a row that he tried to push, it makes no sense. There's no way to predict what he's going to do. Then he obviously overtakes me into Turn 1 and f---s my lap and then doesn't even complete his lap."
"I don't know if what he did was against the rules but it's impossible to predict but if he's stopping at Turn 14, then he's pushing, then he's stopping -- that's erratic driving in my mind," the Haas Racing driver added.
© Copyright IBTimes 2023. All rights reserved.