French Open: Rafael Nadal Admits He Doubted Himself Prior To Winning 20th Grand Slam
KEY POINTS
Rafael Nadal defeats Novak Djokovic in straight sets, 6-0, 6-2, 7-5, to clinch his 13th French Open title
Nadal ties Roger Federer for the most number of Grand Slam titles with 20
Nadal admitted that he had doubts regarding whether he could win the French Open this year
Rafael Nadal admitted that he was not confident about winning this year's French Open.
The Spanish great captured his 13th Roland Garros title after defeating Novak Djokovic in straight sets on Sunday, but he insisted he did not believe he would pull off such a dominant win.
"Honestly, one month and a half ago, if you told me you're going to have this trophy, I would say, 'this year will probably be too difficult,'" Nadal said, via BBC, after a 6-0, 6-2, 7-5 victory to tie archrival Roger Federer for the most number of men's Grand Slam titles with 20.
Certain conditions contributed to Nadal's doubts prior to the tournament in Paris, which was pushed back this year due to the COVID-19 pandemic. With the event rescheduled, the 34-year-old was forced to adjust and play away from the environment he dominated for the majority of his career
"I played at an amazing level of tennis," Nadal said. "For two sets and a half I played great."
After two lopsided sets, Djokovic tried to mount a comeback as the Serbian player went back and forth with Nadal in the third. But Nadal stayed poised to deny Djokovic any window of opportunity.
"It is impossible to have this score against him (Djokovic) without playing great," Nadal continued. "The personal satisfaction is big because, even if I played an amazing match, the conditions are not the conditions that I would choose to play an event like this."
Nadal, however, approached his personal doubts rather unconventionally, using it instead to fend off feelings of complacency.
"Doubts are part of life," he said. "For me, doubts are good because it means that you don't consider yourself too good."
"I was under doubt before the match, yes. But it's true that my level of confidence and tennis have been improving every single day," he continued.
Djokovic was gracious in defeat as he was left in awe of Nadal's performance despite the loss.
"Today you showed why you're the 'King of Clay,'" Djokovic told Nadal during the trophy presentation, via ESPN. "I've experienced it in my own skin. It was a very tough match for me today. Obviously, I'm not so pleased with the way I played. I was definitely overplayed by a better player today on the court."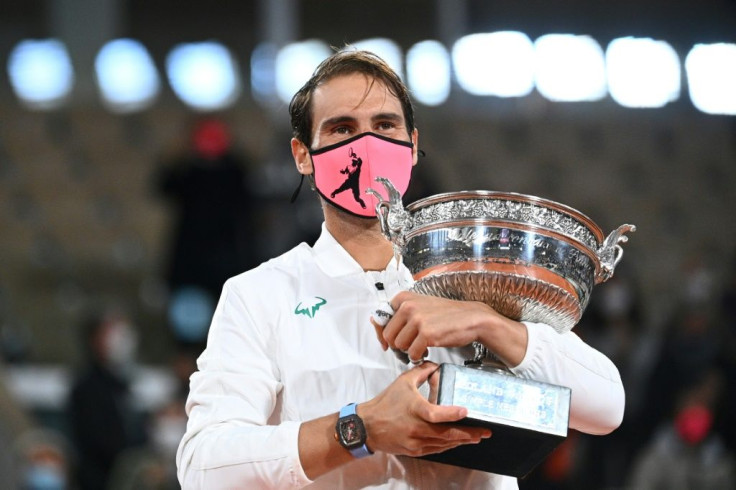 © Copyright IBTimes 2022. All rights reserved.
FOLLOW MORE IBT NEWS ON THE BELOW CHANNELS