Gay Robot 'RoboProf' Crashes Michele Bachmann Rally in Iowa City [VIDEO]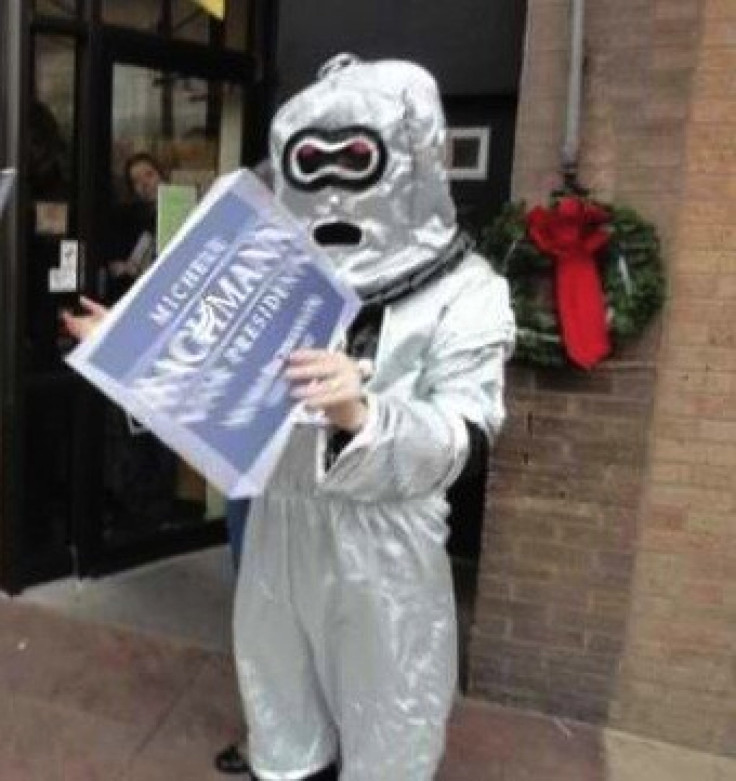 GOP primary candidate Michele Bachmann had to get police to calm a rally in met Iowa City on Thursday when a "gay robot" with a megaphone appeared and accused her of being both a homophobe and a robophobe.
The Republican presidential hopeful was at a dinner at Hamburg Inn No. 2, a popular stopping point on the campaign trail, when the demonstrator who called himself "RoboProf" first showed up.
Bachmann was traveling through the popular diner shaking hands and taking pictures, and the restaurant was packed with over 100 people, both supporters and protesters.
The candidate dealt with the situation when Occupy Iowa City demonstrators showed up, but when a gay robot appeared, somebody called the cops.
Occupy Iowa City Launches Attack
A group of demonstrators representing the Occupy Iowa City branch of the OWS movement showed began the backlash against Michele Bachmann.
Shouting to combat the noise in the Hamburg Inn diner and to combat the music campaign staffers blared through stereos, the demonstrators fought against supporters yelling words of encouragement to the conservative.
Michele Bachmann will fix the economy by laying off workers and cutting their pay," the protestors shouted. "Michele Bachmann fights proudly for marriage unless the couple happens to be gay."
About 15 people scattered throughout the restaurant were part of the initial protest.
"You're not wanted here," they screamed. "You're not wanted here so go, just go.
"RoboProf" Arrives
Occupy demonstrators were not an unexpected site at the Bachmann rally. Iowa City is a liberal bastion, and many of Michele Bachmann's goals are acknowledged on both sides to be antithetical to the OWS movement.
In fact, only Rick Santorum and Rick Perry have visited Hamburg Inn this caucus season, despite the diner reaching out to all candidates, precisely because the Democratic demographic makes demonstrations against the candidate almost a certainty.
But there was one protestor whose presence wasn't expected, and whose appearance in the raucous atmosphere helped prompt a call to the local police to intervene.
As Bachmann got off her campaign bus to head into Hamburg Inn No. 2, a man in a robot suit suddenly appeared, brandishing a microphone and demanding answers. Calling himself "RoboProf," he accused the candidate of both human and robot discrimination.
Not only are you a homophobe, you are a robophobe! the self-professed gay robot chanted.
The demonstrator was booed by Bachmann supporters and asked to leave Hamburg Inn No. 2 almost immediately, "Roboprof" declined.
"I am a gay robot," the demonstrator pressed on. "I oppose Bachmann's position on gays, whether they are human or robot."
Police Called to Iowa City Diner
Eventually, police were called to the restaurant after Bachmann supporters tried to drown OWS demonstrators out with Christmas music and the gay robot made his final statement to the candidate.
Four officers arrived toward the end of Bachmann's visit to help keep the peace, though no arrests were reported.
Who is Gay Robot "RoboProf"?
The man dressed in the silver robot costume declined to give his name at the Bachmann rally. I was programmed to do this, he said.
He did, however, admit to being the same robot who heckled former president Bill Clinton at the University of Iowa in 2007.
According to Patch, the "RoboProf" of 2007 was eventually revealed to be Prof. Kembrew McLeod, a communications professor at the University of Iowa.
Presuming that there's not an army of gay robots operating under one collective identity (though that scenario would certainly be Bachmann's nightmare), it's likely that Professor McLeof was the man behind the robot mask.
Watch Gay Robot Hassle Michele Bachmann
When it comes to embarrassing Michele Bachmann at a campaign rally, there's probably no one who can top Elijah, the little boy in South Carolina who told her, "My mommy's gay and she doesn't need fixing."
But as Bachmann's campaign continues to flounder in the days before the Iowa caucuses, gay robot "RoboProf" is sure trying to make his mark.
Below, watch videos of the encounter at Hamburg Inn No. 2:
Gay Robot Confronts Bachmann Outside Inn: I was programmed to do this!
RoboProf Booed Out of Bachmann Event:
© Copyright IBTimes 2023. All rights reserved.