Germany Anti-Islamization Demonstration 2014: Thousands In Dresden Protest Sharia Law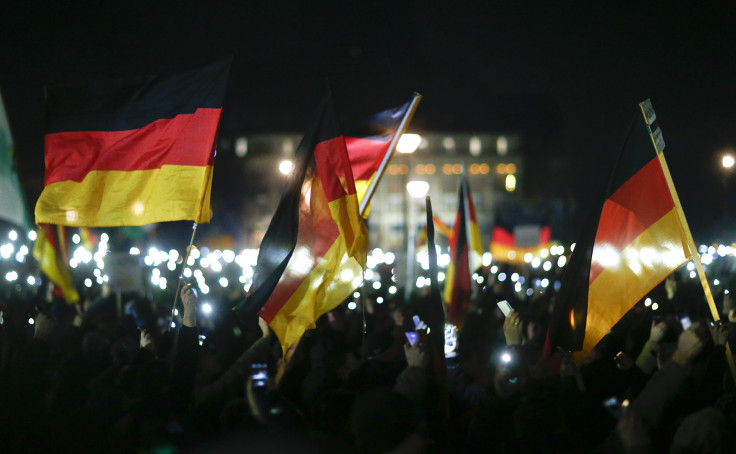 An estimated 15,000 people in the east German city of Dresden turned out to march against the "Islamization of the West" Monday night, with protesters demanding an overhaul of the country's immigration system. The demonstration, organized by a far-right populist group, is the largest of its kind since such protests began in the city in October, according to broadcasting network Deutsche Welle.
Demonstrators marched through the city carrying German flags and banners with slogans such as "protect our homeland," "zero tolerance towards criminal asylum seekers" and "no Sharia law in Europe." The crowds also chanted "we are the people," evoking the slogan adopted by protesters against the East German government ahead of the fall of the Berlin Wall, reported the Guardian. Organizers have sought to emphasize that their criticisms are focused on the country's refugee policy, but their opponents have labeled them Nazis and a counter-protest of 9,000 people also took to the streets calling for greater tolerance.
German Chancellor Angela Merkel sounded a warning ahead of the protests, urging Germans to not be exploited by extremists. "Of course there's freedom to demonstrate in Germany. But it's no place for agitation and mud-slinging against people who come to us from other countries," she said, according to the German site The Local. "That's why everyone should watch out that they aren't being instrumentalized by the initiators of an event like this."
The "Patriotic Europeans Against the Islamization of the West," or Pegida, movement behind the demonstrations claims that it initiated protests against Islam in October in response to clashes between Kurds and Sunni Muslims. However, the organization's broader aims, which have widened to include anti-immigrant views, have been condemned by many Germans, including by Ralf Jäger, an interior minister for the North Rhein-Westphalia state, who described the movement's members as "neo-Nazis in pinstripes," according to Deutsche Welle.
Immigration has become a controversial subject in Germany as an increasing number of asylum seekers arrive in the country as a result of the conflicts in Syria and Iraq. Germany expects to have 200,000 asylum claims for 2014, which would make it the largest destination for asylum seekers in the European Union, according to the BBC.
© Copyright IBTimes 2023. All rights reserved.