GM, United Auto Workers Union Tentatively Agree on New Contract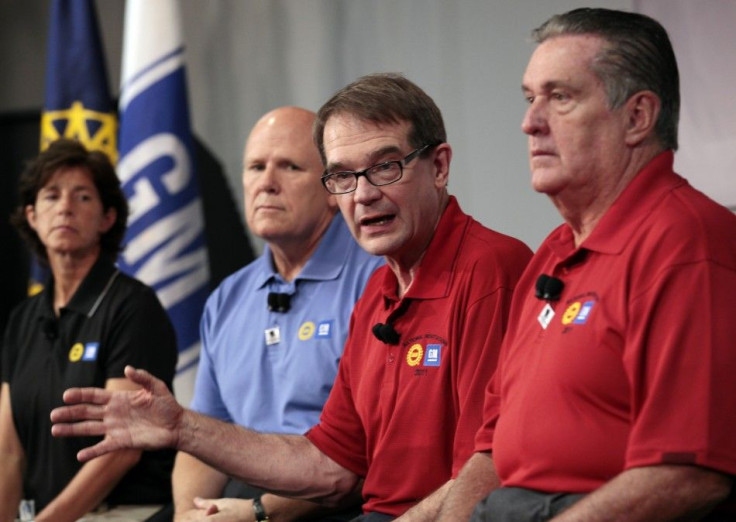 General Motors Co. (NYSE: GM) and the United Auto Workers (UAW) union reached a tentative agreement on a new four-year contract on Friday night.
Under terms of the new deal, hourly employees will receive a $5,000 signing bonus, according to the Detroit News. In addition, GM will re-open a plant in Spring Hill, Tenn. (which had been idle since the company's restructuring); calculate profit-share checks on profits derived from all of North America rather than just the U.S.; and give entry-level workers a higher hourly wage.
The prior contract expired at midnight on September 14.
The pact remains subject to approval by the union's rank-and-file membership.
UAW, which represents 48,500 GM workers, will unveil details of the contract to local members on Tuesday in Detroit. A vote to ratify the deal will be taken within the next week to ten days.
The UAW said in a statement that the new contract will provide for superior health benefits and for the protection of retiree pension plans.
First and foremost, as America struggles with record levels of unemployment, we aimed to protect the jobs of our members - to guarantee good American jobs at a good American company. And we have done that. This contract will get our members who have been laid off back to work, will create new jobs in our communities and will bring work back to the United States from other countries, said UAW President Bob King said in a statement.
In these uncertain economic times for American workers, and faced with the globalization of the economy, the UAW approached these negotiations with new strategies."
UAW Vice President Joe Ashton, who directs the union's GM Department, commented: When GM was struggling, our members shared in the sacrifice. Now that the company is posting profits again, our members want to share in the success. To be clear, GM is prosperous because of its workers. It's the workers and the quality of the work they do, along with the sacrifices they made, that have returned this company to profitability. The wages and benefits we negotiated in this tentative agreement reflect the fact that it was UAW members who helped turn this company around.
Ashton added: "We wanted a contract that provides our members with a real share of the success of the company and ensures its continued success. Our members cannot succeed unless the company succeeds, and we are strongly committed to that joint success, as this contract demonstrates."
GM spokeswoman Kim Carpenter said: We're pleased we reached a tentative agreement without UAW partners and the process is for the UAW to inform members about the specifics of the deal."
Workers at Chrysler Group LLC, whose contract also expired on September 14, continue to negotiate for terms of their new deal.
The UAW is not allowed to call strikes for workers at GM and Chrysler under the terms of the federal bailouts which those companies received.
Workers at Ford Motor (which did not receive a federal bailout, which allows them to strike) are also in talks for a new contract.
© Copyright IBTimes 2023. All rights reserved.
FOLLOW MORE IBT NEWS ON THE BELOW CHANNELS