Golden State Warriors News: Complete Look At The 2016-2017 Roster After Recent Trades, Free Agent Signings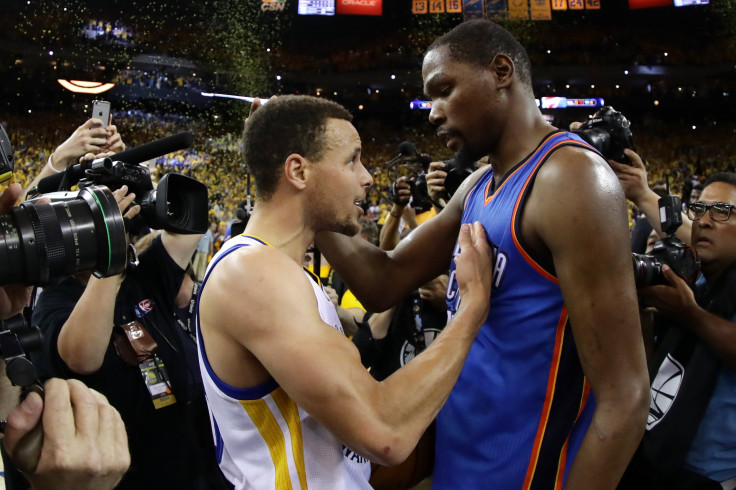 The Golden State Warriors should be the NBA's most dominant team in 2016-17 following the addition of four-time scoring champion Kevin Durant. Yet general manager Bob Myers will remain busy this summer as he fits some extra players on the roster with limited salary-cap space.
With only 10 players currently signed, and much of the defending Western Conference champion's bench moving on to make room for Durant's two-year, $54.2 million contract, Myers needs to add multiple reserves to the evolving 14-man roster. The current squad leaves head coach Steve Kerr without some size in the frontcourt and a dearth of playmakers in the second unit.
On Monday, the Warriors renounced the rights to center Festus Ezili and then on Tuesday sent Andrew Bogut and his $11 million salary to the Dallas Mavericks to free up cap space for Durant's deal. The two sides also reached a deal on small forward Harrison Barnes, which essentially allowed Dallas to sign the restricted free agent to a four-year, $94 million contract with Golden State giving up its rights to match it, according to ESPN.
Myers already found Bogut's replacement in big man Zaza Pachulia, who agreed to a one-year, $2.9 million deal, and padded the frontcourt even more with forward David West on a one-year contract for the veterans minimum of more than $980,000. There has also been talk that sharpshooter Ray Allen, who turns 41 in two weeks, could join the Warriors.
With Barnes and Bogut out, that now leaves Stephen Curry, Klay Thompson, and Draymond Green as the only holdovers from last year's regular starting lineup.
Here is how the Warriors roster currently looks:
Projected Starting Lineup
PG Stephen Curry
SG Klay Thompson
SF Kevin Durant
PF Draymond Green
C Zaza Pachulia
While Pachulia doesn't exactly strike fear in opposing big men or slashers, Kerr won't ask him to do much aside from clogging the lane, grabbing some defensive rebounds and staying out of the way of the squad's top scorers. Golden State should lead the league in scoring again, but maintaining a right distribution of minutes and rest will ultimately decide whether the Warriors can return to the finals for the third straight year. Keep in mind, Curry, Thompson, and Green didn't average more than 34 minutes a game last season. A rested and healthy bench might be vital for the Warriors avoid a postseason letdown.
And that's where Myers will have to earn his second Executive of the Year award as he tries to reconstruct a bench with more than $93 million of his $94 million cap already spent on 10 players.
Bench
PG Shaun Livingston
SG Andre Iguodala
SG Patrick McCaw
SF Kevon Looney
PF David West
C Damian Jones (unsigned)
Above is Golden State's bench, with only Livingston and Iguodala major contributors over the last two seasons. They are joined by first-round pick Damian Jones, an athletic center with lots of upside, and second-round pick Patrick McCaw, a swingman who will earn $543,471 next season. How much Kerr asks of both rookies is unclear, but Looney, who is entering his second season, should see a bigger role.
The Warriors are trying to retain Marreese Speights, according to The Vertical. But if the 28-year-old moves on, Kerr will look to West to fill his role. West, who turns 36 in August, averaged 18 minutes per game and played almost the entire season with the San Antonio Spurs, while shooting a solid 54.5 percent from the field.
Clearly the starting lineup will have offensive firepower, but rebounding and defense could be a glaring need off the bench. The Warriors were fourth in rebounding last season but will enter the season without Bogut (7.0 rpg) and Barnes (4.9 rpg) to complement Green.
Pachulia is expected to be a defensive liability in the paint. The 32-year-old is coming off a career-best 69 starts with the Mavs, but he's never averaged better than 0.5 blocks per game over his 13-year career and it seems unlikely Pachulia will be much of a defensive presence.
That leaves Jones, who averaged 1.7 blocks over 99 career games with Vanderbilt, as the Warriors best potential shot blocker with Iguodala and Green likely coming from the weak side to help out. Myers may have to look to the D-League to find some size or discover a promising rookie free agent in summer league.
© Copyright IBTimes 2023. All rights reserved.