Governor Elections 2014 Polls: Democrats Could Win More Gubernatorial Races Against Republicans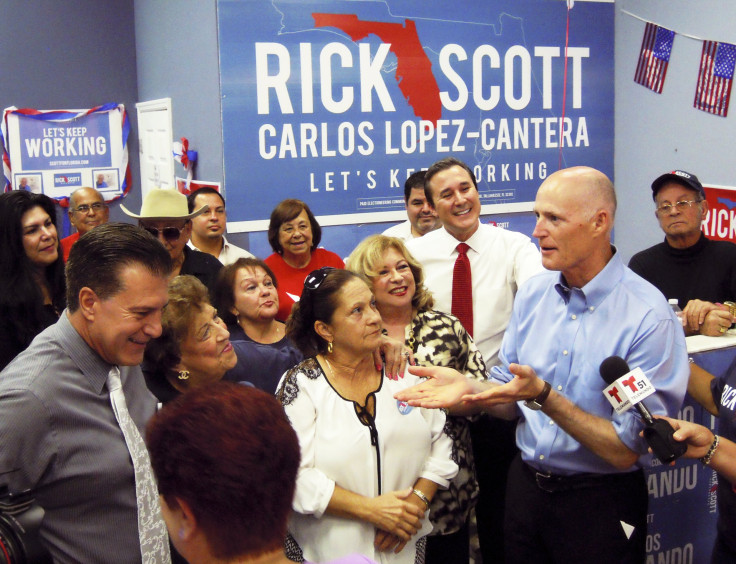 Thirty-six states are electing governors this year. And the Democratic Party is poised to gain control of additional gubernatorial seats in next week's elections, according to a new a New York Times/CBS News/YouGov poll.
Eleven races in states including Michigan, Florida and Wisconsin were within 4 percentage points. In other places, the results predicted red states generally staying red and blue generally states staying blue, The New York Times reported.
In Wisconsin, Republican incumbent Scott Walker had one percentage point over Democrat Mary Burke. In Michigan, Democrat Mark Schauer led by one point over Republican Rick Snyder. Florida's race between Republican Gov. Rick Scott and former Gov. Charlie Crist, now running as a Democrat, also saw Scott one point above Crist. All of those races were within the poll's margin of error. Other close contests included Massachusetts, Connecticut and Illinois, CBS News reported.
"The fight for control of the Senate has received most of the attention this year, but the results of the governors' races may ultimately play a big role in how analysts interpret the results Nov. 4, including whether this will be viewed as a 'wave election,'" New York Times reporter Nate Cohn wrote Monday. "Republican incumbents in purple and red states should have no business losing in a 'wave' year, yet as many as seven Republican incumbents remain vulnerable at this stage."
Democratic candidates in New York and California, both usually blue states, saw huge margins of success over their opponents. In New York, Andrew Cuomo was ahead of Republican Rob Astorino 56 percent to 31 percent. The numbers were similar in California, where Democrat Jerry Brown led Republican Neel Kahkari by 18 percentage points.
In Rhode Island and Maine, 21 percent of people polled said they weren't sure who they planned to vote for. About 20 percent of respondents in Alaska and Hawaii were undecided. On the flip side, most Texans knew who they were supporting -- only 6 percent of respondents said they were unsure.
The poll results reflected 100,000 respondents' opinions between Oct. 16 and Oct. 23. Every person polled had already participated in previous surveys, and nine out of 10 of them supported the same candidate as he or she had before, the New York Times reported.
© Copyright IBTimes 2023. All rights reserved.