Guatemala Leader Vows To Stand By 'Solid' Ally Taiwan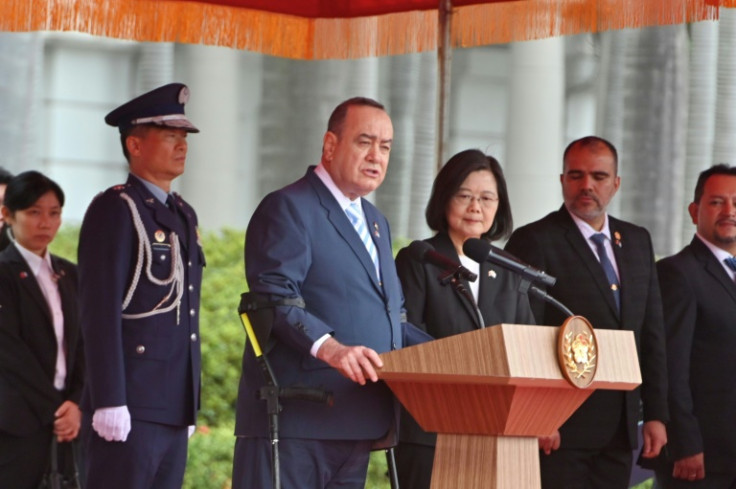 Guatemalan President Alejandro Giammattei on Tuesday pledged support for "solid diplomatic ally" Taiwan during a visit to the self-ruled island that has been slammed by China.
The Central American nation is one of the few remaining countries to recognise Taiwan, a list that has shrunk in recent years as Beijing moves to isolate Taipei on the international stage.
China considers democratic Taiwan a part of its territory to be taken one day, and does not allow nations to recognise both Beijing and Taipei.
Giammattei, who arrived Monday for a four-day visit, vowed to strengthen Guatemala's decades-long ties with Taiwan at a military welcome ceremony in Taipei.
"Rest assured that Guatemala will continue to stand by the Republic of Taiwan as a solid diplomatic ally and will deepen relations in all fields," he said.
Giammattei added that his visit was an endorsement of "Taiwan's aspirations to participate as a sovereign nation in the global community of countries".
Taiwan President Tsai Ing-wen thanked Giammattei for his support.
"I look forward to our countries deepening relations and exploring more opportunities for cooperation through this visit," she said.
During his visit, Giammattei is scheduled to address Taiwan's parliament and visit a technology company in Taichung city. He is also due to attend an event promoting Guatemalan coffee, according to Tsai's office.
Tsai travelled to Guatemala and Belize -- the only other Central American country that recognises Taipei -- to firm up diplomatic relations this month after Honduras switched allegiance to Beijing in March.
On her way back to Taipei, Tsai stopped in the United States to meet Speaker of the House Kevin McCarthy.
In response, China staged three days of military exercises simulating targeted strikes and a blockade of Taiwan.
Beijing has criticised Giammattei's trip and said switching recognition to China -- a major trading partner for the Central American nation -- was in Guatemala's interests.
Taiwan's defence ministry said Tuesday that in the past 24 hours, it had detected nine Chinese aircraft and 11 warships around the island, the highest number of naval vessels since the war drills ended.
Latin America has been a key diplomatic battleground for China and Taiwan since the two split in 1949 after a civil war.
Beijing has spent decades convincing Taipei's diplomatic allies to switch sides, gaining nine since Tsai took office in 2016.
Taiwan's ties with Paraguay are also at risk, with opposition candidate Efrain Alegre reportedly saying he would switch recognition to Beijing if he wins the presidential election on April 30.
© Copyright AFP 2023. All rights reserved.