Haiti Elections 2015: Presidential Candidates, Key Issues, Dates, Violence Concerns, How To Get Results And Everything Else You Need To Know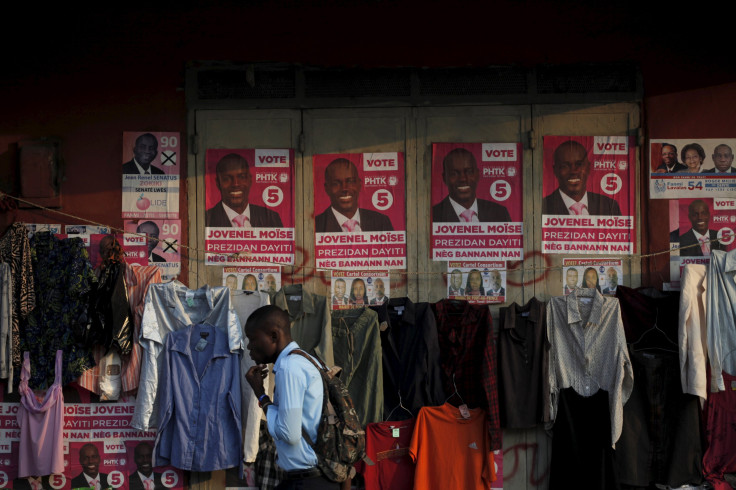 After years of delays, Haitians are set to finally head to the polls Sunday to vote for their president and members of parliament, in the wake of episodes of violence at polling sites during previous rounds of voting and despite reports of deadly pre-election violence. Here's everything you need to know about what's in store for these elections, including how to stay updated once the voting gets under way.
The Background
The votes scheduled for Sunday include the first round of the presidential election, a second round of legislative elections for 119 seats in Haiti's lower house (the chamber of deputies) and 20 in its upper house (the senate), and municipal elections. In Haiti, 5.8 million people are registered to vote. Several analysts expect the presidential election to require a runoff, which has been slated for Dec. 27.
The going has not been entirely smooth in advance of the elections. Pre-election violence in Cite Soleil, one of Haiti's most dangerous districts, led to the deaths of at least 15 people, including two pregnant women, the Associated Press reported Monday. The violence appeared to be politically motivated, a government official in the area told AP, while a local activist said that politicians were distributing money to gangs in an effort to influence voting: "Gangs are killing people over that money," Gueldy Rene said.
During the first round of legislative elections in August, violence forced several polling stations in Port-au-Prince to close. Several people also died in violence before that vote, BBC News reported.
Elections for Haiti's Senate were last conducted May 2012, the same year elections for municipal offices were last held. Meanwhile, the country has not had a presidential election since 2010. The current president, Michel Martelly, was elected in a runoff in 2011. He disbanded parliament in January and began governing by executive order. Constitutional law bars him from running for re-election Sunday.
Representatives of an organization of 15 Caribbean countries and dependencies called the Caribbean Community, aka Caricom, is expected to observe elections at the government's request. Such representatives previously observed elections in other Caribbean countries. Caricom's team was scheduled to arrive in Haiti last Wednesday and depart by next Wednesday.
The Candidates
Haiti has a whopping 54 presidential candidates and more than 1,800 legislative candidates vying for seats Sunday. Here are the top three presidential candidates, plus what they have indicated about what they stand for and their goals as president.
Leading the pack is Jovenel Moise, a 47-year-old from the Parti Haitien Tet Kale, which is the same party as incumbent Martelly. He is generally considered the presidential front-runner, although some dispute that, as TeleSUR English reported. In any case, polls have indicated he has 20.5 percent support. Moise has vowed to improve education, increase tourism and exports, enhance security and the rule of law, and revitalize agriculture in the country.
In second place and commanding 12.8 percent support is Jude Celestin. He is the candidate of the opposition party Alternative League for Progress and Haitian Emancipation. He was a runner-up in 2010. Celestin has vowed to combat corruption, revamp government spending and create jobs. He has also called for improving relations between Haiti and the Dominican Republic, which share the island of Hispaniola.
The third-place candidate is Moise Jean-Charles, a former senator and opposition leader who has 8.7 percent support. He has promised to fight poverty by renewing Haiti's economy.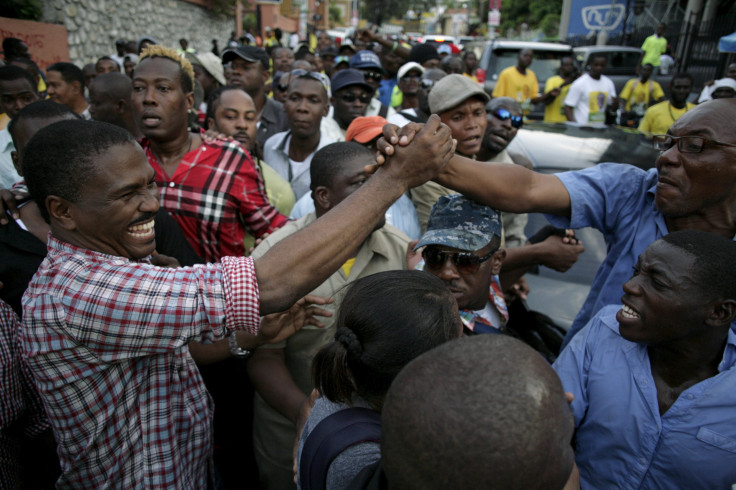 The Issues
The poorest country in the Western Hemisphere, Haiti has yet to fully recover from the devastating earthquake of 2010 that flattened most of its capital, Port-au-Prince, and some of the most pressing issues in many voters' minds likely center on poverty, economic growth and corruption.
Haiti's economic growth slowed to 2.7 percent in 2014 from 4.2 percent the previous year. More than 6 million out of Haiti's 10.4 million people live below the poverty line of $2.42 a day, and one-quarter of Haitians live on less than $1.23 per day, according to the World Bank.
A key issue for Haiti is the sustainable development of its economy. In the wake of the earthquake, international donor funds came flooding in, but, in the past three years, that support has subsided substantially as the country grapples with the question of how to make use of its own resources to fuel economic and social development.
In 2013, the organization Transparency International ranked Haiti as the most corrupt country in the Caribbean region. It lacks a robust judicial system and suffers from limited transparency and accountability in governance. Financial corruption is systemic in both the private and public sectors.
Education is another concern. Haitians 25 years of age and older have received an average of 4.9 years of education, according to United Nations statistics, while the vast majority of primary schools are privately managed, without government oversight, and many poor families cannot afford what constitute hefty fees for them to send their children to school.
How To Stay Updated
Because counting votes requires sending sheets of paper to a dedicated center in Port-au-Prince, results will not be immediately available, according to observer Caricom. But you can follow @HaitiVoteBlog on Twitter for live updates and check this blog to stay abreast of this historic election.
© Copyright IBTimes 2022. All rights reserved.
FOLLOW MORE IBT NEWS ON THE BELOW CHANNELS