Handkerchiefs at the ready as Best, Schmidt set for Dublin farewell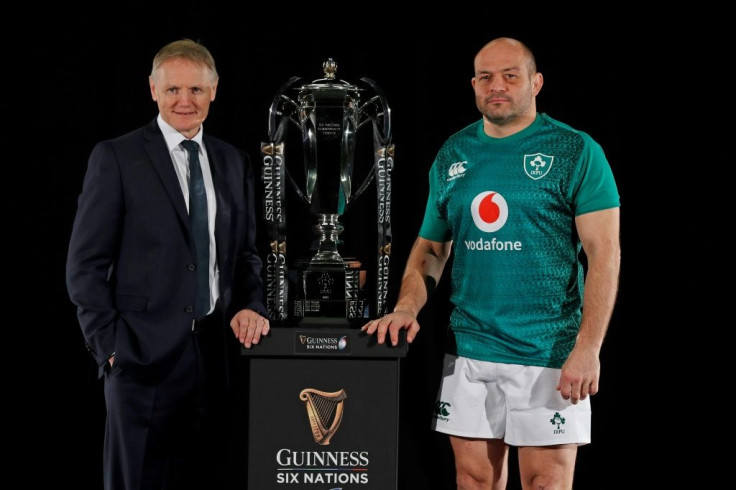 Captain Rory Best recalls how as a young boy the "rickety row of wooden seats" he, his father and others were sitting on at Lansdowne Road flipped up and broke as the home fans celebrated an Ireland try against Australia in the 1991 Rugby World Cup.
On Saturday, nearly three decades on, his wife and children will rise from their positions in the ground with 50,000 other spectators to salute the 37-year-old hooker as he leads Ireland out for a home Test for the last time.
Best will not be taking the applause alone.
Head coach Joe Schmidt too will be experiencing the fervour of an Irish home crowd for the final occasion as he brings down the curtain on his highly successful seven-year tenure at the end of the tournament in Japan.
Wales provide the opposition for Best -- appropriately so as he experienced his first home victory against the same opposition in February 2006.
Best, who will be winning his 120th cap, admits he finds these farewells draining, even though he is "reasonably emotionally level".
"I actually said to my wife afterwards 'I can't cope with this, this is not something I like doing'," he said on Thursday referring to his final home appearance for province Ulster in May.
"That's why probably subconsciously I haven't given it (Saturday's Test) much thought, or allowed myself to give it much thought, because this is about performing and a bigger picture."
'Moment of weakness'
Best, who has captained Ireland through a purple patch including two historic wins over world champions New Zealand and last year's Six Nations Grand Slam title, says playing in front of a Dublin crowd is something very special.
"It's just a fantastic place to play, whether it was Lansdowne Road, whether it was Croke Park," he said.
"Just the atmosphere you get and ultimately I think those are the things you'll miss, coming off the pitch there and someone's going 'I can't believe you won't train there again' and there is part of you going 'Thank God for that'.
"Coming back here (Carton House Hotel where Ireland are based) in January, February, March when the weather's horrific and the pitch is not great underfoot and you're just there going 'Why?'."
Best, though, admits with his trademark wry humour that matchdays have produced conflicting emotions.
"When you're sitting on the bus going to the game, you're so nervous, you're kind of looking out going 'What I wouldn't give to be sitting in that pub, having a pint and not having to worry about this?'
"But when you're in the game... You know that everyone there would give their right arm to swap with you.
"But when you're sitting there, in that moment of weakness, and there's the fear. When you're in the game, there's nowhere you'd rather be."
Best is, despite his reluctance to absorb the emotional impact of his last home Test, proud of the achievements -- especially the home win over the All Blacks last November.
Schmidt for his part says the past six years are a "bit of a blur".
However, the 53-year-old New Zealander -- who also experienced many Dublin-based highs as head coach of Leinster -- highlights the home win over England in 2017 to deny the visitors successive Grand Slams.
Schmidt, who after the World Cup is to take a spell out of the game, says it has been a "privilege" and harks back to the All Blacks match.
"Yeah, it was huge," he said.
"I think the glass is incredibly thick in the coaches box which is probably a good thing sometimes, but even then you could feel the atmosphere.
"Those are moments that you do certainly cherish."
Best, for his part, knows one of the things he will enjoy come next year's Six Nations.
"I'm looking forward to standing at the pub abusing the bus as it goes past as opposed to sitting on it," he said grinning.
© Copyright AFP 2023. All rights reserved.