Homegrown Malyuk Assault Rifle Is Ukrainians' Prized Weapon To Fight Russia
KEY POINTS
Malyuk, marketed as Vulcan or Vulcan-M, is a standard AK-series bullpup rifle
The bullpup configuration makes the rifle handier in confined spaces
The "chassis" of the rifle is made of polymer material that enables heat dissipation
Despite being heavily outgunned and outnumbered by the Russian forces, the Ukrainian troops have so far managed to put up an incredible resistance. Thanks to a multitude of cheaper-yet-effective weapons, Ukraine has managed to stall its invaders.
While the spotlight is mostly on imports like the Javelin anti-tank missiles, shoulder-launched Stinger anti-aircraft missiles and Turkish Bayraktar drones, the weapon of choice for Ukraine's elite forces is indigenous Malyuk rifles.
Malyuk, marketed as Vulcan or Vulcan-M, is a standard AK-series bullpup rifle (firearm configuration wherein the action and magazine are behind the trigger) repackaged inside a new chassis, according to a report by The Drive.
If the images that pop up on social media are anything to go by, not just Ukraine's special operation forces, but its volunteer Territorial Defense Forces, including individuals from the controversial neo-Nazi Azov Batallion, have also been seen with Malyuks.
The report added that the Malyuks have a 16.3-inch barrel (28 inches overall) and weigh just under 8.4 pounds when empty. The rifle has versions chambered for both Soviet-designed 7.62x39mm and 5.45x39mm ammunition and NATO standard 5.56x45mm cartridges. Since it has a bullpup configuration, the rifle is handier in confined spaces.
The rifles were unveiled in 2015 by InterProInvest (IPI), a firm that specializes in the development of military and non-military products. In fact, Malyuk, which means baby in Ukrainian, was actually the name of the prototype. But, that name stuck.
The highlight of the rifle is its "chassis" made of polymer material that ensures the heat from the barrel, located at the center of the gun due to its bullpup design, gets easily dissipated.
According to The Drive, the bullpup is not a widely used design due to its technical specialties, including specialized ejection mechanism, and very few militaries in the world have ever made such guns or used them. Though Ukraine had announced in 2016 that the Malyuk had passed state trials, its use remained limited.
That said, the Malyuks are reportedly the weapon of choice special operations forces since the invasion began. A few days ago, Ukraine had announced the capture of a group of saboteurs in the southern city of Nikopol. Images released then had shown soldiers dressed like Ukrainian special operators carrying Malyuk rifles.
A few images posted by the Azov Batallion had also shown Malyuk rifles equipped with magnifiers, foregrips, and silencers/suppressors. Another image showed over 70 Malyuk rifles that were rendered useless due to lack of cartridges.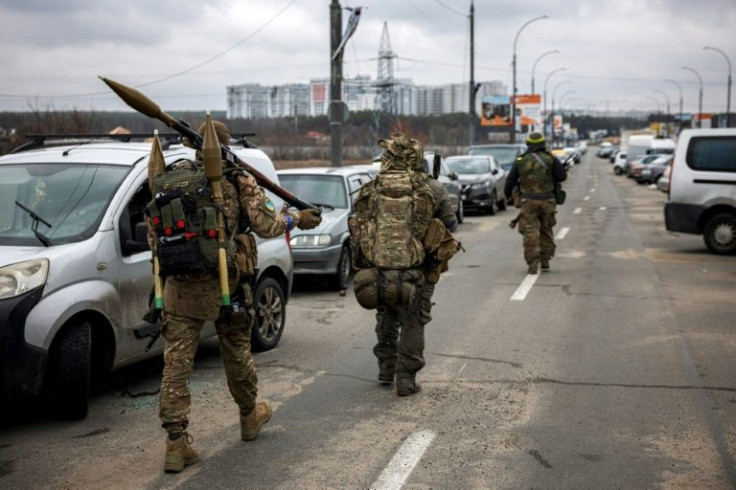 © Copyright IBTimes 2023. All rights reserved.