Hong Kong Leader Carrie Lam Denies Offering To Quit In Response To Leaked Audio
Hong Kong's hard-pressed leader Carrie Lam stated that she never contemplated stepping down from office, a day after Reuters published a leaked audio in which the chief-executive can be heard saying she would quit.
While Lam did not contest the authenticity of the video, she denied discussing her resignation with mainland China officials or even contemplating to resign.
"I have never tendered resignation to the central people's government. I have not even contemplated tendering resignation ... The choice of not resigning is my own choice. The reason being I believe I can lead my team to come out of this impasse," she told reporters at a press conference on Tuesday.
Her response comes a day after Reuters had obtained and published an audio of a closed-door meeting in which Lam said she would step down. She seemed apologetic for having caused "a huge havoc" in Hong Kong.
"In less than three months' time, Hong Kong has been turned upside down, and my life has been turned upside down," she can be heard saying in the audio. "This huge degree of fear and anxiety amongst people of Hong Kong vis-a-vis the mainland of China, which we were not sensitive enough to feel and grasp. And, of course, it has been exaggerated and misrepresented through very effective propaganda, if I may say so."
"It's just unforgivable. If I have a choice, the first thing is to quit, having made a deep apology, is to step down. So I make a plea to you for your forgiveness," she says in the audio.
Responding to CNN over questions regarding the leaked audio Lam said that she was very disappointed that her remarks had been recorded and handed down to the media. Lam was speaking with a group of business leaders last week when her message was recorded.
In a discreet press conference, China's Hong Kong and Macau Affairs Office reiterated the mainland's support for Lam, while refusing to address the recording. Spokesperson Yang Guang condemned the protests and said he smelled "terror and madness" in the actions of protestors.
"From their faces, we can see four words. On the left: oppose China. And on the right: 'Hong Kong independence. Hong Kong's sovereignty belongs to China and to the 1.4 billion Chinese people," he said.
The protests, which have now gone on for more than three months began over a now-redacted extradition bill in June. The bill that would have allowed the extradition of criminals to mainland China was shelved by Lam, but the protests themselves have turned into a pro-democracy movement, questioning the authority Beijing has on the independent Chinese territory.
Lam has come under increasing pressure from the authorities in China to put an end to the protests and cede any demands set forth by the pro-democracy protestors.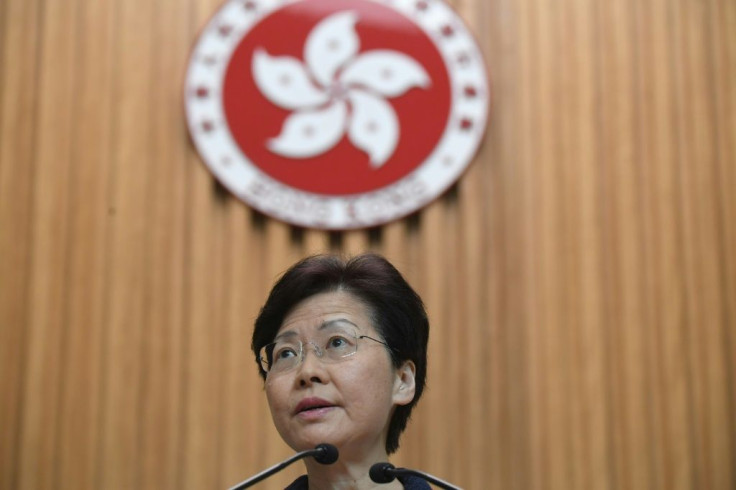 © Copyright IBTimes 2022. All rights reserved.
FOLLOW MORE IBT NEWS ON THE BELOW CHANNELS