Hong Kong Protests 2014: Authorities Policing The Web To Stop Protesters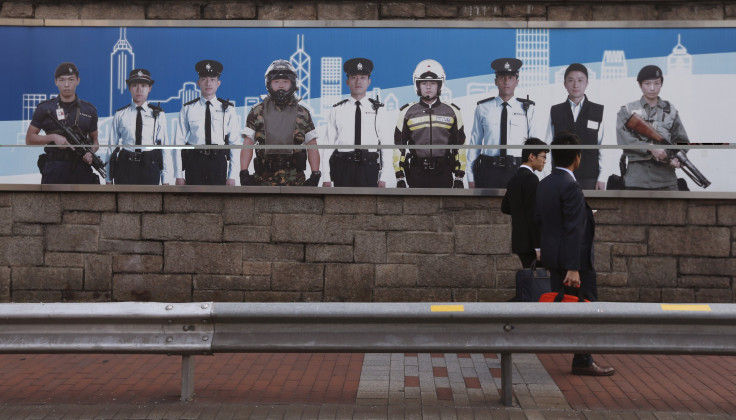 Authorities warned Hong Kong protesters it is illegal to post messages online to ask people to attend the Occupy Central demonstrations, after officers arrested a 23-year-old man earlier this month for urging residents in an online forum to retake streets in the city's Mong Kok neighborhood.
Police spokesman Hui Chun-tak announced the arrest, which occurred on Oct. 17, and said the man "incited others on an online forum to join the unlawful assembly in Mong Kok, to charge at police and to paralyze the railways." Chun-tak added: "I stress, inciting others to commit criminal acts on the Internet is illegal," the New York Times reported Wednesday night.
A user under the name Li Siu-ming posted on a popular online forum on Oct. 17: "Tonight, if you're a man, let's revive Mong Kok," according to the newspaper. "If there are no other options, we will have to blockade the railway station, paralyze the MTR," the user reportedly added, in reference to the city's subway system.
The following day, officers arrested the suspect, only identifying him by his last name, Tam. Police have declined to identify any connection between the messages posted and the arrest, but the website's chief executive told the Times that officers demanded he provide them with user data related to the Li Siu-ming account.
The fear that Hong Kong authorities have begun policing the Internet and are using other methods, more often associated with officials in mainland China, to deter protesters, adds to the overall concern about China's rising influence over the city, which has fueled the pro-democracy movement.
Maya Wang, a Hong Kong-based researcher for Human Rights Watch, told the Times that the protests "are about protecting these Hong Kong values and freedoms from mainland encroachment." Wang also said the arrest "raises suspicions and questions precisely about these values' being eroded."
The ongoing Occupy Central demonstrations in Hong Kong, which have swamped the city for several weeks now, demand direct nominations of candidates for the executive office in elections scheduled for 2017. But, China has maintained candidates must be approved by Beijing.
Over the weekend, Hong Kong Chief Executive Leung Chun-ying said during a televised interview that the United States is behind the Occupy protests and the pro-democracy movement, a theory that seems to be gaining traction among the city's population.
© Copyright IBTimes 2023. All rights reserved.