How Do You Know If You Have Monkeypox? Symptoms To Watch For
With the first known U.S. case of monkeypox detected in a man in Massachusetts confirmed by the Centers for Disease Control and Prevention (CDC) on Wednesday and six more people in the country currently under observation, the virus has not been deemed a concern, but the agency does want Americans to be aware of the symptoms.
Surgeon General Dr. Vivek Murthy said Thursday on CNN's "New Day," "At this time, we don't want people to worry. These numbers are still small; we want them to be aware of [the] symptoms, and if they have any concerns to reach out to their doctor."
Symptoms that people should watch are similar to the flu, including fever, chills, exhaustion, headache, and muscle weakness. This is then followed by swelling in the lymph nodes as the body works to fight the infection, which separates monkeypox from smallpox, according to the CDC's website.
Individuals with monkeypox infections will then see a rash that will cover the face and body. This includes the inside of the mouth, the palms of the hands, and the soles of the feet. These painful raised poxes are fluid-filled and often have red circles around them. They can scab over and typically heal in about two to three weeks, the CDC said.
While there is no treatment for the viral disease, there is a vaccine that can prevent monkeypox, which is spread through close contact with those that are already infected.
After infection, the incubation period of monkeypox is about seven to 14 days, the CDC said.
Other cases of monkeypox, which was detected in two people traveling from Nigeria to the U.S. in 2021, the CDC said, have been identified in Canada, the U.K., Italy, Portugal, Ireland, and Spain.
Another monkeypox case is also being invested by the New York City Health Department in a person who is currently at the Bellevue Hospital.
Monkeypox is traditionally linked to international travel or the import of infected animals, with the highest concentration of the virus found in West and Central Africa, the CDC said.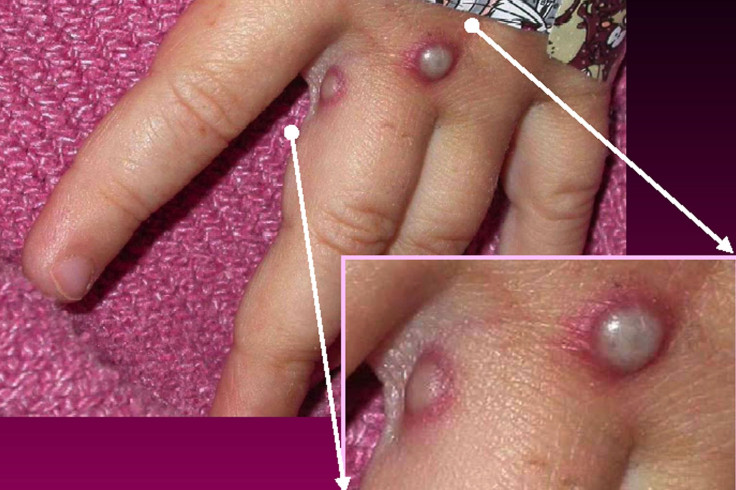 © Copyright IBTimes 2022. All rights reserved.
FOLLOW MORE IBT NEWS ON THE BELOW CHANNELS