How New Orleans Saints Quarterback Drew Brees Is Beating Father Time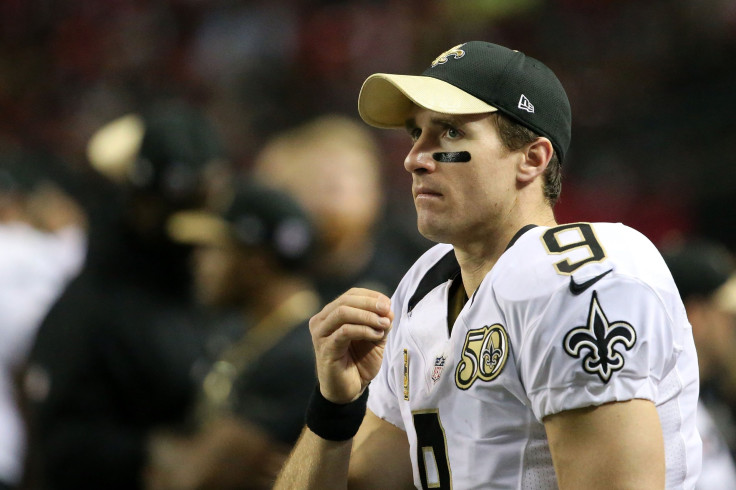 Tom Brady gets most of the attention when it comes to quarterbacks playing at an elite level during the latter stages of their career, but he isn't the only signal caller that's defying logic. New Orleans Saints quarterback Drew Brees is also redefining the position, putting up Hall-of-Fame numbers in what should be the twilight of his career.
Brees, 38, enters the 2017 NFL season as one of the best quarterbacks in all of football. It's a distinction he's held for nearly a decade, and like Brady, he's shown no signs of slowing down.
It'd be hard to find a more consistent performer at any position during his time with the Saints. Brees has thrown at least 4,300 yards and 33 touchdown passes in nine straight years, leading the league in touchdowns on four different occasions. His 101.7 passer rating was good for fifth in 2016, and he's failed to finish in the top eight in passer rating just once since 2008.
There have only been nine 5,000-yard seasons in NFL history and Brees is responsible for five of them, including last year when he totaled the fourth-best season ever in terms of passing yards. Even though Brees will celebrate his 39th birthday during the 2018 playoffs, it wouldn't at all be surprising to see him surpass the 5,000-yard mark yet again.
"I find that with the aging process, it's not that you still can't do things, but it's that you feel a little bit differently the next day," Brees told International Business Times. "To come back day after day and to perform at a high level, that's very difficult. Every offseason I take a really close look at what I'm doing from a training and recovery perspective, and I try to make that the most efficient that it can be."
Brees' best attribute might be his ability to stay on the field. His last major injury occurred when he underwent surgery to repair a torn labrum and a partially torn rotator cuff at the end of the 2005 season.
Since joining New Orleans in 2006, he's made 174 of a possible 176 starts, having missed just one game in the past seven seasons. That's hard to fathom, considering how often Brees drops back to pass.
Only Eli Manning has been more durable during that time, and the New York Giants' quarterback hasn't been nearly as productive.
"I try to be very disciplined with my diet, be very disciplined with my sleep habits, with all the things I'm doing from a recovery standpoint. Also with my body maintenance. I spend a lot of time in the weight room, but it's not necessarily lifting weights. It's doing band work, it's doing other types of exercises to maintain strength and flexibility. That's how I stay young, being efficient as I can in all those things," Brees told IBT, promoting the Performance Health Biofreeze and Theraband, which he uses for pain management and shoulder maintenance.
"All the rehab techniques that I had to do in order to come back from surgery, many of them I still use today. I call it 'prehab'. It's injury prevention."
No one could have predicted what was to come after Brees had his procedure early in 2006 and was unable to play for eight months. The San Diego Chargers chose to let him walk in free agency in favor of Philip Rivers, who was an unproven commodity after riding the bench for his first two years in the league. Brees met with the Miami Dolphins that offseason, but they passed on the quarterback because of health concerns, trading for Daunte Culpepper instead in one of the biggest NFL blunders in recent memory.
Eleven years later, Brees is an even better player than when the Saints took a chance and signed him to a six-year contract worth $60 million.
Brees focuses on natural methods and physical therapy to recover during a grueling NFL schedule. He's an advocate against using pain pills and opioids to mask the pain of injuries as so many players do, believing that the proper diet, rest and training regimen are the most important parts of keeping him on the field.
"I think that one of the big problems in this country, especially when it comes to athletics, is medication and over medication. Guys using pain pills or other opioids, as a mechanism to fight pain or for pain relief, and I think that's going down a dangerous road because obviously that can be very addictive," said Brees, who's third all time in passing yards, completions and touchdowns. "I think the most natural techniques that you can use and certainly safer techniques you can use, the better. Part of what makes my body feel so good is all the things that I do that are very natural and don't involve any type of medication."
Despite what Brees has been able to do, football is still a young man's game. The average NFL career lasts a little more than three years. Brees is at least five years older than every top-10 rated passer from 2016, with the exception of Brady. Five of those quarterbacks ranked in the top 10 while being closer to 25 years old than 30.
If Brees looks like a traditional 38-year-old quarterback, the 2017 season will be a long one for the Saints. The NFC South might be the toughest division in the NFL. At the very least, it's the one with the best quarterbacks.
Matt Ryan led the NFL with a 117.1 passer rating a year ago, winning the MVP award and taking the Atlanta Falcons to Super Bowl LI. Cam Newton was the 2015 NFL MVP as he led the Carolina Panthers to Super Bowl 50. Jameis Winston had an impressive sophomore campaign with the Tampa Bay Buccaneers, and the former No.1 overall pick might be ready to make the leap and become a Pro Bowl quarterback in 2017.
"Obviously there's great quarterback play in our division, and the two NFC representatives in the Super Bowl the last two years are in our division with Carolina and Atlanta. We feel like we could be a really good football team if we continue to make strides forward each day during training camp. I like our team. I like the attitude that we've approached this year with and the direction that we're headed, but we've still got a lot of work to do."
"I think Tampa is as talented a team as there is out there, and they continue to get better and better. I think Dirk Koetter is doing a great job with the offense and Mike Smith is a great defensive coach, and obviously Jameis Winston continues to impress. So we've got our work cut out for us, there's no doubt about it. It's a tough division and each one of those games is extremely valuable."
Brees' historic seasons haven't meant much in the way of wins for the Saints in the last few years. New Orleans has gone 7-9 in three consecutive seasons, making the playoffs once since 2012.
New Orleans' defense has consistently been among the worst in the league, ranking 27th last year and 31st in each of the previous two seasons. With half of the Saints' schedule coming against the other NFC South quarterbacks, Brady and Aaron Rodgers, the unit might not be much better in 2017.
The Saints drafted cornerback Marshon Lattimore with the No.11 overall draft pick and added running back Adrian Peterson in free agency. They also traded Brandin Cooks, the team's leading receiver for the last two years, to the New England Patriots for the No.32 overall pick. Brees has never had a Pro Bowl receiver with New Orleans, despite leading a top-four offense in each of the last six years.
There's speculation that another year of missing the playoffs could be the end of the marriage between Brees and the Saints. It's almost unheard of for a head coach and starting quarterback to survive four straight years of losing football.
Brees signed an extension last year that will pay him more than $24 million for the upcoming season, but he doesn't have any guaranteed money coming his way in 2018. As a free agent next offseason, he could potentially shake up the league, making whatever team he joins an immediate Super Bowl contender.
"As long as I'm having fun playing at a high level and able to stay healthy, I'll play this game," Brees said. "I don't know how long that's gonna be. I'll take it one year at a time and enjoy the journey."
Considering the way he's played over the last few years, that journey might not end anytime soon.
FOR FREE to continue reading
✔️ Unlock the full content of International Business Times UK for free
offer available for a limited time only
✔️ Easily manage your Newsletters subscriptions and save your favourite articles
✔️ No payment method required
Already have an account?
Log in
© Copyright IBTimes 2023. All rights reserved.