'I Believe That We Will Win:' A Brief History Of The Team USA Chant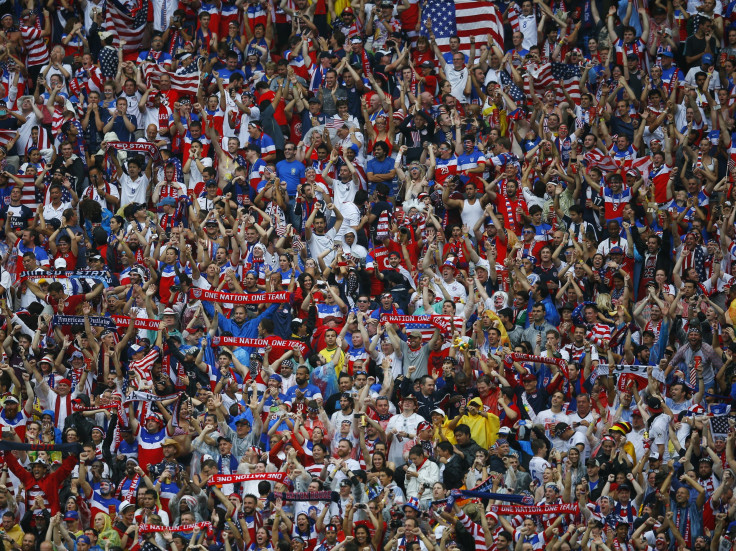 Soccer fan or not, you're undoubtedly immersed in the drama of the World Cup by now, whether you're watching the game secretly at work, walking past bars or following coverage on the Internet.
This means, of course, that you've heard the unofficial Team USA chant, "I Believe That We Will Win." But where did the cheer come from?
According to ESPN, the six-word chant, sometimes shortened to "I believe," was not always a part of soccer. It has its roots in the U.S. Navy.
"I Believe That We Will Win" was coined in 1998 by Jay Rodriguez, then a student at the Naval Academy Prep School in Annapolis. Rodriguez passed the chant on to a fellow student and cheerleader for the midshipmen, Corey Strong, who first used it at the 1999 Army-Navy football game.
"I think it took off because midshipmen take it everywhere they go," Strong told ESPN.
ESPN said the cheer moved from Annapolis to high schools and colleges around the nation. It eventually made its way to soccer, said Justin Brunken, co-founder of the U.S. soccer support group known as the American Outlaws.
"The first time I heard the 'I believe' chant for a U.S. game was in Kansas City [in 2011]," he told ESPN. "It was a chant that just grew from there and caught on and on. It resonated with the crowds across the country and became synonymous with what we believe in and became the battle cry for this World Cup."
Strong, who started the movement, said he is shocked at how fast it has caught on but understands why.
"It's really funny that something I did 15 years ago as an 18-year-old JV cheerleader is relevant today," Strong said. "I still get swept up in it."
Watch ESPN's brief history of the "I Believe That We Will Win" chant here.
© Copyright IBTimes 2023. All rights reserved.
FOLLOW MORE IBT NEWS ON THE BELOW CHANNELS