Indonesia Sinks 23 Vietnamese, Malaysian Fishing Vessels To Tackle Poaching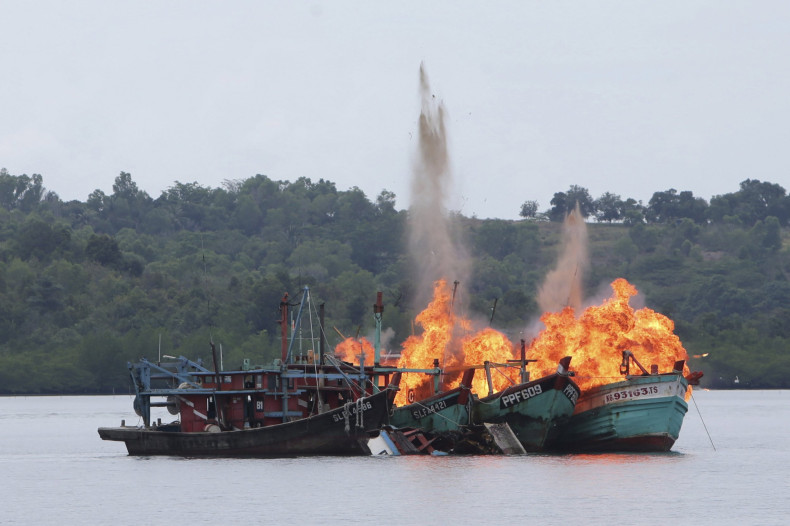 Indonesian officials destroyed 23 Vietnamese and Malaysian fishing boats Tuesday for trespassing in the Indonesian waters, Malaysian news agency Bernama reported, citing China's Xinhua News Agency. The sinking was part of the country's efforts to tackle poaching.
The vessels, 13 Vietnamese and 10 Malaysian, were "operating illegally in the archipelago's vast waters in continuation efforts for anti-poaching," Xinhua reported, according to Bernama. The boats were destroyed across seven locations including Sumatra island's Batam and Aceh.
"The government will continue to sink poaching ships," Indonesian Minister of Maritime and Fisheries Susi Pudjiastuti reportedly said.
The latest move marked Indonesia's third sinking of foreign poaching vessels this year. Indonesia has reportedly sunk 174 such ships since 2014.
Last August, Indonesia scuttled 38 boats seized for illegal fishing as part of the country's 70th Independence Day celebrations. Four boats were local, but 34 others were from neighboring countries such as Vietnam, the Philippines, Thailand and Malaysia. At the time, Indonesian President Joko Widodo reportedly said that his country loses over $20 billion a year due to illegal fishing.
© Copyright IBTimes 2022. All rights reserved.