Inflatable Toad Stories Censored After Chinese Netizens Draw Comparisons To Jiang Zemin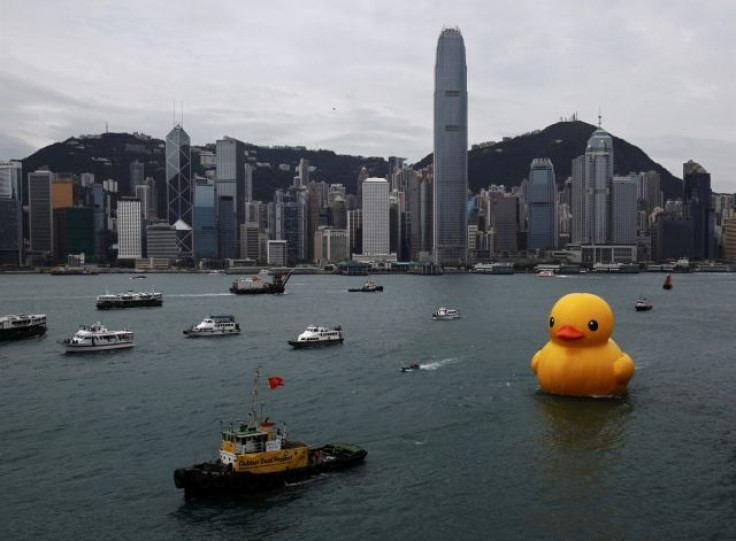 China's sensitive leadership has not taken too kindly to a recent comparison that appeared online likening the former Chinese president Jiang Zemin to a giant inflatable toad. In response, China's swift censors began blocking all stories and mentions of the inflatable toad art installation from official media outlets.

According to news-blog The Shanghaiist, a 22-meter, or 72-foot, tall inflatable toad sitting in Beijing's Yuyuantan Park is at the center of the most recent criticism of the country's ruling Communist Party. The inflatable toad is the latest animal to grace China's landscape after Dutch artist Florentijn Hofman unleashed a giant rubber duck in Hong Kong's harbor. Since then, many copycats (or toads) have popped up.
Among them was the auspicious amphibian which was placed at the park this past weekend, in hopes of bringing fortune and blessings (toads are omens of good luck in China, and are supposed to help bring wealth). However, when social media users saw an uncanny resemblance to the former Communist Party Chief Jiang Zemin and began superimposing photos of the two side by side, China's censors stepped in.
China's state-run Xinhua News Agency and popular news site and web portal Sina had all deleted their reports and posts on the new inflatable art installation by Wednesday. Attempts to access stories only returned a message that read, "Sorry, the report you are attempting to access has been deleted of has expired."
The attention to Jiang has added to the rumors swirling around the former Party chief. Current Party chief and president, Xi Jinping, is targeting big names within China's government in his overarching anti-corruption drive. Jiang may be reaching out to Xi, warning him to rein in the anti-corruption campaign.
This isn't the first time that an inflatable animal prompted Chinese censors to step in. Last year, around the 24th anniversary of the deadly Tiananmen Square protests, a time of heightened political sensitivity in the country, the search term "big yellow duck" was blocked on China's Twitter-like microblog platform Weibo. Netizens replaced the tanks in the infamous "Tank Man" photo with images of Hofman's ducks in hopes of outsmarting censors.
© Copyright IBTimes 2023. All rights reserved.