Iowa Freedom Summit: Donald Trump Knocks Mitt Romney, Jeb Bush; 'Seriously' Considering Presidential Run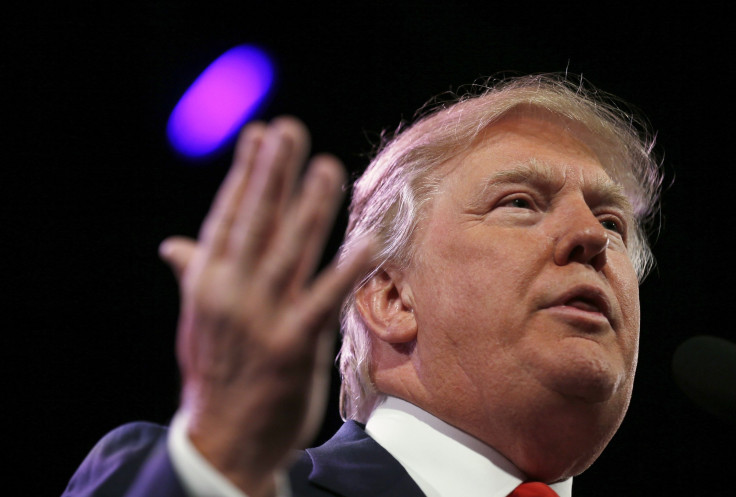 Donald Trump told a crowd of conservatives at the Iowa Freedom Summit in Des Moines Saturday he was "seriously thinking of running for [U.S.] president," after knocking both Jeb Bush and Mitt Romney as potential candidates in 2016.
"It can't be Mitt -- he ran and failed. He failed," the businessman and reality-television personality said. "He chokes. Something happened to him in the last month. He had that election won." Romney, the Republican challenger, lost to President Barack Obama, the Democratic incumbent, in 2012. "You can't have Bush," Trump later added. "The last thing we need is another Bush." Jeb Bush's father served one term (1989-1993) and his brother served two terms as president (2001-2009).
Trump told the audience of roughly 1,250 that Romney, a former Massachusetts governor, should not run a third time, and that Bush, a former Florida governor, is out of step with conservative idealogy, as demonstrated by his education and immigration policies. Both Romney and Bush have dropped hints of presidential bids, but neither men attended the Des Moines event. Bush declined the invitation, citing a scheduling conflict, according to the New York Times.
"You just can't have those two," said Trump, who drew a standing ovation when he said he is "seriously" considering a White House run in 2016 and will return to Iowa "many more times in the future."
Louisiana Gov. Bobby Jindal, as well as U.S. Sens. Rand Paul of Kentucky and Marco Rubio of Florida, were among other potential presidential candidates in 2016 who did not appear at the summit, which was hosted by U.S. Rep. Steve King, R-Iowa, and Citizens United, according to Politico.
The event still boasted a long list of Republican attendees. They included New Jersey Gov. Chris Christie, Wisconsin Gov. Scott Walker and U.S. Sen. Ted Cruz of Texas, as well as ex-governors Mike Huckabee of Arkansas and Rick Perry of Texas, former U.S. Sen. Rick Santorum of Pennsylvania and retired neurosurgeon Ben Carson. The summit gave 2016 hopefuls a chance to test their messages among conservatives.
Former Hewlett-Packard CEO Carly Fiorina also attended the event Saturday and even took a shot at Hillary Clinton, a popular pick in the polls for the 2016 Democratic presidential nomination. "We must understand our role in the world – which is to lead – and the nature of our allies and especially, our adversaries. Like Hillary Clinton, I too have travelled hundreds of thousands of miles around the globe. But unlike her, I have actually accomplished something. Mrs. Clinton, flying is an activity not an accomplishment," Fiorina said in her speech at the summit Saturday. She expressed interest last week in launcing a possible 2016 GOP campaign, focused on business and helping the middle class.
The GOP's 2008 vice-presidential nominee Sarah Palin, the former House of Representatives Speaker Newt Gingrich and U.S. Sen. Joni Ernst of Iowa, who gave the Republican response to Obama's State of the Union address last week, also spoke at the summit. Palin told the Washington Post in an interview Friday she is "seriously interested" in running for the White House in 2016. Palin also had expressed interest in a 2012 presidential race, but subsequently decided to not run.
© Copyright IBTimes 2023. All rights reserved.
FOLLOW MORE IBT NEWS ON THE BELOW CHANNELS